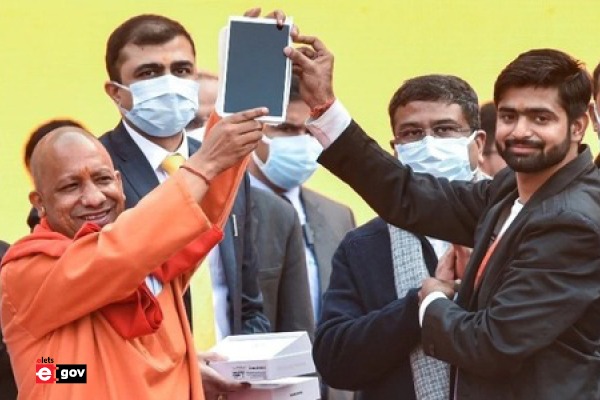 In pursuance of the promises made in the Lok Kalyan Sankalp Patra, and to ensure the welfare of the youth, the Yogi Adityanath-led Government of Uttar Pradesh has so far distributed over 2.45 lakh tablets and smartphones in the state.
To digitally empower the youth of Uttar Pradesh, as many as 97,740 tablets and over 1,48,238 smartphones have been distributed. Out of these, topping the list, as many as 16,936 tablets in Lucknow, 11,541 tablets in Gorakhpur, 8,518 tablets in Moradabad, 7617 tablets in Saharanpur and 5323 tablets in Pratapgarh have been provided so far.

Similarly, over 25,770 smartphones in Lucknow, 24,620 smartphones in Ambedkar Nagar, 12,990 smartphones in Moradabad, 10,776 smartphones in Saharanpur and over 10,346 smartphones in Muzaffarnagar have been distributed.
Under the direct supervision of CM Yogi Adityanath, the distribution process is being carried out with complete transparency and without any kind of discrimination.
To ensure a hassle-free distribution process, as many as 7,20,000 tablets and over 10,50,000 smartphones have been allocated to the districts for distribution.
As per the announcement made by the government, free smartphones and tablets will be given to two crore youth in order to make them technically advanced. Wherein, the first phase of the distribution started in the state on December 25, 2021.
The government is also providing free digital access to the youth along with gadgets in view of the ongoing pandemic crisis, making online education more accessible.
UP government committed to youth welfare
The UP government is making all efforts to fulfil the expectations of the youth in the state. The youth aims for jobs, economic progress, equality, and freedom from poverty. The government is working in this direction. In the last five years, five lakh youth have been given jobs, and 2.5 crore youth have been linked with self-employment. As promised in the Lok Kalyan Sankalp Patra (manifesto), the Yogi government is also working on a series of arrangements to provide jobs and employment to the unemployed.
Also Read: Eyeing 10 Lakh Crore Investment Targets, Yogi Govt 2.0 to Hold Groundbreaking Ceremony Within 100 Days
The CM has also set a target of providing five crore employment opportunities in UP over the next five years, including one member of each family of Uttar Pradesh getting a job.