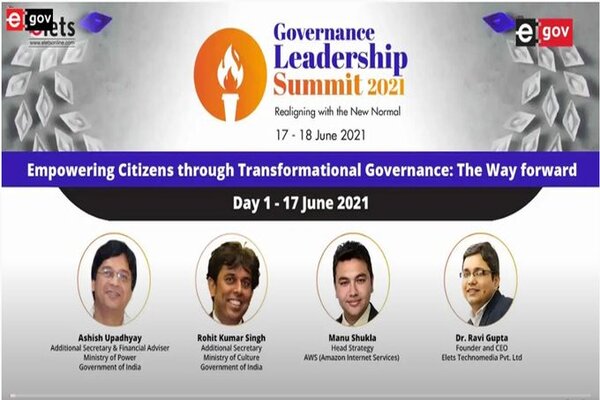 India, to be at par with the developed economies, need to transform its governance and adopt digital modes for government operations and delivering citizen services. In recent times, the need for digitalisation has only surged especially after the onset of the COVID-19 pandemic. Emphasising this, Elets Technomedia Pvt Ltd organised Governance Leadership Summit 2021. The first panel discussed the theme 'Empowering Citizens through Transformational Governance: The Way forward'
Manu Shukla, Head Strategy, Amazon Web Services (AWS) moderated the panel discussion. He welcomed the panellists Rohit Kumar Singh, Additional Secretary, Ministry of Culture, Government of India, and Ashish Upadhyay, Additional Secretary and Financial Adviser, Ministry of Power, Government of India. Shukla opened the discussions by calling Rohit Kumar Singh to present his vantage point on the significance of technology transformation for the country and the government.
Singh began by saying, "It is not the technology transformation, we need to transform the governance." Citing his experience in working with the government, he said, "Almost 32 years back, when we started our careers, the government was a very formidable entity. It was a closed thing. There was hardly any focus on engaging with the citizens. As technology played the role of an enabler, it became easier for the people to come forward to engage with the government."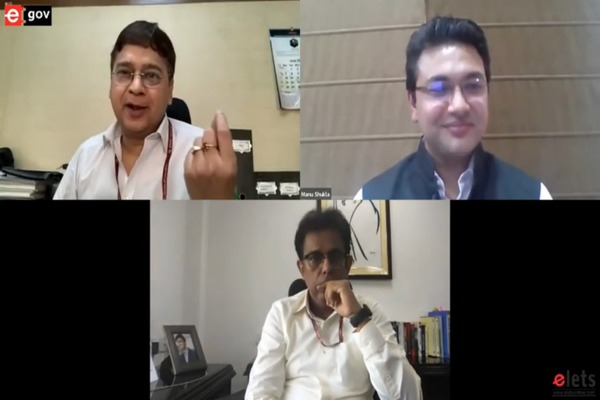 Elaborating on 'transformation', Singh pointed out that "Transformation cannot be achieved in one go. It follows a three-step path… First is Information. The government needs to put out information (relevant to people) on public platforms so that people are aware. The second is Interaction. The government should let the people interact with it by taking people's feedback, suggestions, etc. through online platforms or public meetings. The third is Transaction. Then the government should have a path for citizens to transact like filling up forms and applying for schemes, paying bills online, etc. These three steps if implemented in a successful manner will lead to transformation." As an example of transformation, Singh cited the example of CoWIN portal and said that this is a good example where citizens get the needed service at a click of a button and can engage with the government on the same.
Also Read: Master Plan Delhi-2041 for a Sustainable DelhiElets News Network
When asked to share examples of technology implementation, Singh said, "During the first wave of the COVID-19, I was the Additional Chief Secretary, Health, Government of Rajasthan. This was a novel virus and nothing much was known about it, back then. A sudden widespread was seen in the walled city of Jaipur and we made decided to prioritise the saving of lives. Also, back then, only the National Institute of Virology in Pune had the facility to test. So, we had to figure out a way to identify people who are vulnerable to this infection. We found that Rajasthan has a really good database of health insurance so we quickly zeroed down to the database of that area. S on the basis of that we identified a list of people who have comorbidities and can be potential victims of the infection. Then we sent our healthcare staff to test those and isolated many as per the requirement." Technology is not used in isolation but also the existing databases or methods are to be considered for improved functioning.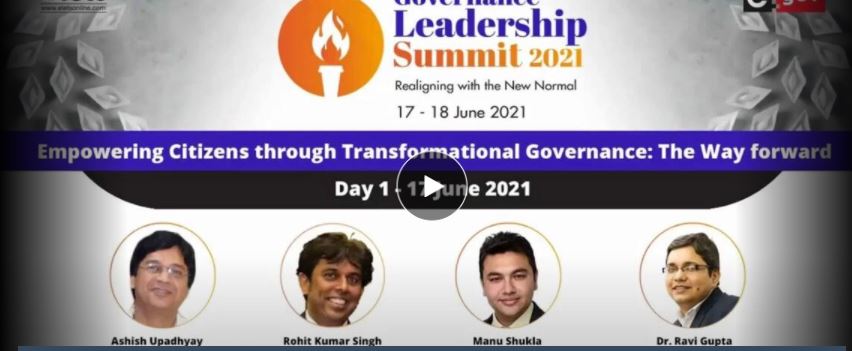 Addressing how the technology-led transformation of governance is the way forward for India, Ashish Upadhyay said, "The theme of the panel discussion itself clearly states that 'empowering citizens through transformational governance' and technology is only the enabler." Governance is doing good for the people as is decided by them through their elected representative, he added.
Also Read: India's Digital Evolution: From Bill Notes to DBT
Adding on Upadhyay said, "Technology does disruption and also provides solutions. While governance is how to handle those disruptions and use them to provide a solution to the problems of the people. This is the correlation between the two. An example of where there is governance but no technology could be Tukaram Omble controlling Kasab with just a "danda", tremendous courage but no technology. Whereas an example of technology without governance or active governance could be Jamtara. It could be highly dangerous." Therefore that challenge lies with us to judiciously use technology to do good and some examples highlighting that could be Aarogya Setu, CoWIN portal and more, he added.
On the adoption of cloud technology to improve operational efficiency, Upadhyay said, "If we talk about power sector as such. It has three parts – generation, transmission and distribution. As far as generation is concerned, we're in a comfortable position today. So even if the economy grows at 10 per cent per annum then also we will be in a position to supply power. Initially, we had issues in transmission, especially while supplying power to the Eastern and Southern parts of India. Later with high-tension transmission lines and then the One Nation One Grid projects, projects, almost all the transmission issues have been done away with. Now, we can send any amount of power to any part of the country. However, the distribution sect is still not reformed the way we wanted it to be and has a lot of issues." Hence, to deal with this, an amalgamation of governance and technology, he added.
On the government's efforts to efficiently run the power sector, Upadhyay said, "First, we started with project UDAY (Ujjwal DISCOM Assurance Yojana). Under this, the states took over 75 percent of the DISCOM debt. Then, in the year 2020, a liquidity infusion scheme was launched and a sum of Rs 1,20,000 crore was earmarked for state utilities to pay our outstanding dues to GENCO to keep the power running. So, this poses a reason why people faced a shortage of a lot of things during the lockdown but not power.
Also Read: Securing Cyberspace of Smart Cities
"We're planning to introduce pre-paid meters on large scale. Ultimately, the power sector after the introduction of newer technologies should become like telecom. For this, we need a lot of data to back up and we will require cloud computing there. Maybe in the next three to four years, we will be having these emerging technologies in the power sector. In this year's budget, the Union Finance Minister has announced the scheme for the power sector and have allocated a budget accordingly. In the scheme there are many technology interventions that have been mentioned," said Upadhyay.
Briefing about his organisation AWS, Manu Shukla said, "We at AWS are highly supportive of innovation, disruption and supporting India in moving to the way forward. We look forward t collaborate with the government and help you in taking the vision of technology-powered governance forward."
Shukla delivered a short vote of thanks to the panellists and ended the session.