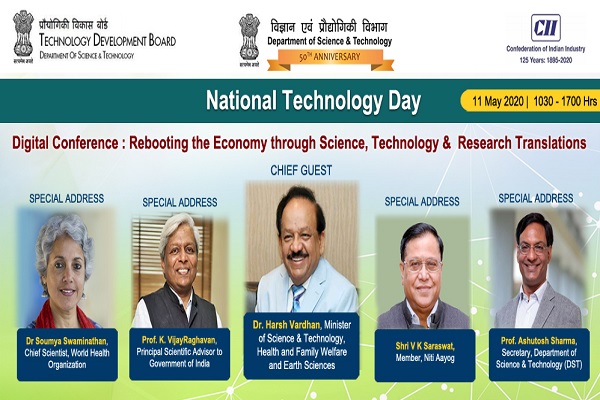 The session on 'Global Innovation & Technology Alliance for Global Economic Leadership' at the digital conference on RESTART – Rebooting the Economy through Science, Technology, and Research Translations' organised on the occasion of Technology Day on May 11 highlighted the importance of global collaborations in dealing with the challenge of COVID-19.
The session held on the occasion of National Technology Day on May 11 was organized jointly by the Department of Science & Technology (DST) and Confederation of Indian Industry (CII) saw the presence of esteemed dignitaries from India and the world as panelists.
"In today's scenario, virtual collaboration is the key to connect globally to fight against the common challenge of COVID-19. Over the years, the whole area of S&T has moved in a direction where we talk about collaboration, be it national or global & collaboration between countries must continue with much vigour", said Dr Renu Swarup Secretary, Department of Biotechnology, Government of India while addressing the session.
HE Vincenzo de Luca, Ambassador of Italy to India, talked about Italy & India's robust S&T cooperation, which came into force in 2009. He said that it has directly evolved with counterpart DST to sponsor research. He also mentioned how the regular organisation of joint workshops on topics likes Info. & Comm. Technology, Sustainable Energy & protection of the environment has also helped build S&T cooperation with India.
Hongryel Felix Choi, Director, International R&D Cooperation Team, Korea Institute for Advancement of Technology, reflected that they are working closely with Global Innovation & Technology Alliance (GITA) in India in S&T field and hopes to work with other Indian partners in this direction. "Our government has done direct investment in vaccine development for highly contagious diseases like COVID-19 and investment in AI, online education, providing remote medical services, AI-enabled chat robots," he said.
The day-long digital conference which brought together scientists, government officials, academia, and representatives of the industry was organized by Technology Development Board, an autonomous organization of the DST along with CII.
Joakim Appelquist, Deputy Director-General, Vinnova, Government of Sweden, highlighted the long-standing collaboration of Sweden with DST, DBT, GITA, and India-Sweden Collaborative Industrial Research & Development program launched in 2018. He said that  the Swedish Government has launched a broad range of stimulus measures for immediate crisis and is rebooting the economy for future without implementing a nation-wide lockdown and closed only certain differentiated parts of the country."
Luc Tran, Industrial Technology Advisor from National Research Council (NRC), Canada, talked about the steps taken by the Canadian Government to contain COVID-19. He mentioned, "NRC Canada has taken up a Pandemic response challenge program, an initiative for breakthrough technologies, leveraging of Global Presence, Innovation Assistance program and program like 'Life Without a Vaccine' are some of the initiatives making Canada COVID ready."
Javier Ponce, Director-General, CDTI, Ministry of Science, Innovation, and Universities, Government of Spain, said that his government has been fast-tracking evaluation of projects related to COVID-19, launched a multilateral Eureka program on PPP model with its overseas network in a technology partnership."
Dr Amiram Appelbaum, Chairman, Israel Innovation Authority, Government of Israel, highlighted how his government is harnessing its innovation ecosystem with the health crisis. "We are assisting the high-tech ecosystem to survive the financial crisis and addressing the immediate needs of startups and MSME of Israel to ensure the economy stays on track."
"India is willing to collaborate & we are looking forward to international collaboration to fight the pandemic and win it over," said Dr SK Varshney Head- International Cooperation, DST.
The inaugural session of the conference was graced by the dignitaries like Minister of Science and Technology, Health and Family Welfare and Earth Sciences, Dr Harsh Vardhan; Member, NITI Aayog Dr V K Saraswat; Principal Scientific Adviser Government of India, Prof. K VijayRaghavan; Secretary, Department of Science & Technology Prof Ashutosh Sharma, Dr Soumya Swaminathan, Deputy Director-General, World Health Organization, and officials from DST and Technology Development Board (TDB).