The Mission for Elimination of Poverty in Municipal Areas (MEPMA), an initiative by the Government of Andhra Pradesh which has been working through Self-Help Groups (SHGs) and providing various opportunities to poor women to work, earn and live an independent life. MEPMA is not only making these women self-reliant by providing them earning opportunities but is also nurturing them by providing training to improve their skills. Moreover, MEPMA is also providing technical assistance from MECCs to fetch more market opportunities.

There are numerous success stories of the initiatives taken by the Government's Poverty Eminiation programme turning poor women into "Womentrepreneurs", making poor women self-reliant and independent.
Success stories
'Sakhi' Sanitary Napkin Unit in Kurnool is a success story of Shamshad who was a housewife but had set her aspirations high. She had completed her 10th before her marriage. Shamshad not only thought about her but also for other women like her and liaise with the MEPMA to give wings to her aspirations and support others. With the financial aid from the SHG and loan from a bank, Shamshad set up a machine to make sanitary napkins for women to help them during their menstrual phase. She started making sanitary napkins with the name of 'Sakhi' and is earning Rs 25,000 a month leaving apart the cost of manufacturing and maintenance.
Bramarambha Jute Bags is a jute bag producing unit which is another successful initiative by womentrepreneurs. The jute bag unit is run by collective efforts of the women working with the SHG. The women in the unit have been trained under the MEPMA programme of the state government. As the production quality of the unit is atop, the SHG has bagged a Rs 1.09 crore project of stitching and supplying jute bags to the infamous Srisailam Devasthanam temple for the third time in a row. Today, the Kurnool ULB where the unit is located houses 55 SHG tailors stitching and producing jute bags. Another such jute bag unit is at Machilipatnam and is being run by L Vani, a womentrepreneur from Divya SHG. The unit not only produces jute bags for regular use but also bags which are trendy and popular among both the young and aged people in the area.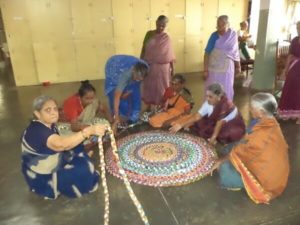 Ayyamma, a woomentrepreneur of Lakshmi SHG has also chosen the path to follow her aspirations and become successful in life. Aoyama attended the entrepreneurship programmes offered by MEPMA and also learned about the nutritional deficiency. She took an initiative and started preparing food with millets and pickles that were supplied to the poor and those in need. Her journey started slowly but took her to heights. After preparing food for distribution for a few years, Ayyamma opened a millet store with the help of SHG with the name 'Annapoorna Foods'. The millet store gained popularity in no time due to quality and delicious food served.
Similar to the above examples is of Naga Jyoti of Maruti SHG. With the help of the SHG, Jyoti left no opportunity to turn her jewellery making occupation into a business and started making and selling imitation jewellery. The SHG proved to be a boon for Jyoti and today she has expanded her business to an extent that she is supporting 20 workers working under her. Jyoti along with her husband, crafts and moulds various jewellery items out of raw materials. Jyoti's unit produces over 1,000 gold covered works in a day and she makes Rs 50,000 a month apart from business expenses.
Another exemplary womentrepreneur is Krishnaveni, a member of Satyavedha Podupu Lakshmi SHG. Krishnaveni's journey started 15 years back when she started making falls for sarees and selling it to her neighbours. She had an idea to make something out of the cloth cuttings that she dumps in the bin. Krishnaveni started utilising the waste cloth for making doormats and her efforts were lauded by her neighbours and family. With the help of SHG, she started her business of doormats with a basic Rs 7 lakh investment and an additional investment of Rs 13 lakh from the bank. She is a successful womentrepreneur leading an independent life with pride.
The efforts of the State government through MEPMA have enabled a lot more poor and needy women to work and give them a chance to become a womentrepreneur.
Follow and connect with us on Facebook, Twitter, LinkedIn, Elets video