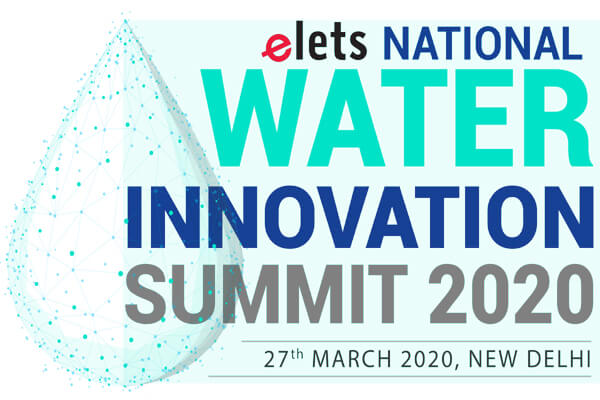 The water resource management is the need of the hour for a developing country like India. It needs focussed approach to address the challenges posed by scarcity of water, be it in urban or rural areas. At the same time, innovation & technology can be leveraged more to transform water resource management ecosystem in the country. As per the 'Composite Water Management Index' released by NITI Aayog in June 2018, Delhi and 21 other cities in India is feared to be ran out of groundwater by 2020. It is being projected that water demand in India is going to be as high as 24 percent by 2025 and 74 percent by 2050.
To address this challenge, Elets Technomedia Pvt Ltd, in association with the Ministry of Jal Shakti, Government of India is organising National Water Innovation Summit on March 27, 2020 in New Delhi.
Upendra Prasad Singh, Secretary, Ministry of Jal Shakti, Department of Water Resources, River Development & Ganga Rejuvenation, Government of India is the Programme Mentor of the National Water Innovation Summit.
The Summit would act as a knowledge sharing platform for policymakers, industry experts, NGOs, technocrats and relevant stakeholders on water management, water uilisation and reuse/recycle, rainwater harvesting, role of data, Artificial Intelligence, Internet of Things (IoT) etc.
The key themes that would be discussed and deliberated during the summit include:
Demand Side Management of Water in Agriculture, Industries & Municipal Bodies
Rejuvenation of Water Bodies
Budget at Community Level
Waste Water Treatment
Water Security Plans
Atal Bhujal Yojana
Water Conservation
Interlinking of Rivers
Rain Water Harvesting
Research and Development
Dam Improvement
Innovation & Technology
Global Best Practices
The key speakers are Naveen Mahajan, Secretary, Indira Gandhi Canal Agriculture Command Area, Development and Water Utility, Government of Rajasthan; Shalini Agrawal, Collector & District Magistrate, Vadodara, Government of Gujarat; Heera Lal, Collector & District Magistrate, Government of Uttar Pradesh; Mayur Dixit, Chief Development Officer, Udham Singh Nagar, Government of Uttarakhand and Anil Joshi, Founder, Himalayan Environmental Studies and Conservation Organization (HESCO) among others.
The Summit is expected to be participated by members of Central Ground Water Board, Central Water Commission, National Mission for Clean Ganga, Water Regulatory Authorities among others.
For details, visit: https://water.eletsonline.com/