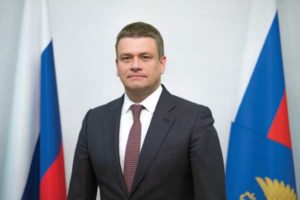 A major Indian delegation constituting Chief Ministers of several Indian States and representatives of 130 Indian companies visited Vladivostok in August this year under the leadership of Piyush Goyal, Minister of Commerce and Industry of Government of India. This unprecedented visit has instilled confidence that more and more Indian investments will flow to the Russian Far East, says Leonid Petukhov, General Director of Far East Investment and Export Agency (FEIEA).

What preferences have been created for investors in the Far Eastern Federal District and in what ways do they differ from one region to another, as the Far Eastern Federal District includes 11 constituent entities?
The economic development of the Russian Far East, which was declared a national priority for the 21st Century, has become a testing ground for various economic models. However the task remains simple: to ensure that business operates seamlessly and comfortably.
What has been done so far in this context?
A system of preferences with the lowest level of taxation in the Asia- Pacific region has been established in the Russian Far East. Several preferential regimes—similar to those of special economic zones— are in force here. These are areas of advanced development. In addition to tax benefits and preferences, the government also provides a company with all necessary infrastructure— water, gas, and roads. The advanced development territories are ahead of their Indian counterparts in a number of indicators, such as the Andhra Pradesh FEZ (including profit tax and the time of registration of a legal entity within the preferential treatment system). There are 20 zones like that in the Russian Far East. Also five regions have access to the free port of Vladivostok with a free customs zone. These tools have been used to launch 1,786 investment projects with value of over USD 60 billion. As many as 214 enterprises have started working there.
Electricity tariffs have been reduced throughout the Russian Far East, and an eVisa mechanism for entry into the Russian Federation has been introduced. This simplified visa regime, which ensures that the visa is received within four days, can be used by Indian citizens, both tourists and businessmen. So far, the visa has been short and is valid for eight days only. The electronic visa has already been used by over 130 residents of India.
At least 33% of direct foreign investment received by Russia made its way to the Russian Far East since 2014. Seventeen countries including China, Japan, Republic of Korea, Australia, New Zealand, and Vietnam are investing in the Russian Far East. India has also started launching projects in the region. With the help of the ASEZ and free port regimes, five investment projects are being implemented with the participation of Indian capital, estimated to be valued at over 53 billion rubles.
Tata Power Company acquired license for the development of the Krutogorovskoye coal field in Kamchatka Krai. KGK Company, in cooperation with the Singaporebased Sudima Company, is preparing a project to create a timber processing complex in the Russian Far East. These two projects are supported by Far East Investment and Export Agency (FEIEA). KGK Company has launched a diamondcutting production enterprise in Vladivostok. M. SURESH Vladivostok Company has become a resident of the Free Port of Vladivostok and has launched their diamond cutting enterprise this year. JT Company has implemented a project to create a tea-packing factory. The Indian investors are operating in the oil and gas sector. ONGC Videsh Ltd. Company holds a 20% interest share in the Sakhalin-1 offshore development project, in which it has been participating since 2006.
Please tell us about the results of your meetings with the Indian delegation headed by Mr. Piyush Goyal, Government of India's Minister of Commerce. What documents have you managed to sign, in what industrial sectors, and which of those will be followed up at the EEF-2019? On which industrial sectors, in your opinion, will cooperation between Russia and India in the Russian Far East be primarily focused on?
I'd say that a historic event happened in the Russian Far East. A visit of Indian delegation of such a grand scale was unprecedented in Russia. And this gives us confidence that more and more Indian investors will implement their projects in the Russian Far Eastern regions.
The visit of the business mission to Vladivostok has become yet one more example of our efforts. Since the beginning of the year, our agency has held regular road shows, and in June, the Eastern Economic Forum held a retreat in Mumbai, which brought together 130 representatives of more than 50 Indian companies. Talking about the business mission itself, I would say that thematic industry discussions were held. As a result of the discussions, interest was displayed in cooperation in the field of energy, agriculture, logging, infrastructure, high technology and IT-sphere. A special issue was the development of the Northern Sea Route, which may become a year-round project as part of NOVATEK's programme.
Heads of the Russian Far Eastern regions have been invited for a meaningful and businesslike talk. They presented both the separate areas and the projects that require investors. A wide range of memorandums of understanding (MoUs) have been signed between the Russian Far Eastern regions and the Indian states. The Republic of Buryatia and Maharashtra State are planning to cooperate in the field of mechanical engineering and tourism. Zabaykalsky Krai and Uttar Pradesh State have agreed upon cooperation in the field of agriculture and food industry. Kamchatka Krai and Goa State will cooperate in the field of coal mining and tourism. The Sakhalin Region and Haryana State have outlined prospects for cooperation in the oil and gas industry. Republic of Sakha (Yakutia) and Gujarat State intend to discuss implementation of projects in diamond industry. The MoUs are only the first steps towards longterm economic cooperation.
Since the beginning of the year, our agency has held regular road shows, and in June, the Eastern Economic Forum held a retreat in Mumbai, which brought together 130 representatives of more than 50 Indian companies.
Several agreements were focused on strengthening cooperation in the field of education. An agreement has been signed on the cross-opening of representative offices including a Yoga centre and a Pushkin centre for studying the Russian language and culture. Another MoU has been signed between the Far Eastern Federal University and the Amity University with the aim of strengthening relations between the universities and promoting academic and cultural exchanges in education, research, and other fields.
For several days, close door meetings were held in the B2B format, where investors could discuss in more detail the aspects of cooperation and the possibility of implementing joint projects in the Russian Far East. As a result, representatives of a number of companies went to see various production facilities. For example, employees of Coal India Limited went to Yakutia to get acquainted with the work of coal companies Dolguchan, Kolmar, and Mechel.
Prior to that, Yakutia has been visited by representatives of the Tata Power Company. Besides that, India's Medanta Group of Hospitals expressed their interest in implementation of a project that envisages developing a network of oncological clinics in the Russian Far Eastern regions. Thanks to our agency, Indian partners have had meetings with the leadership of the Republic of Buryatia and the Russian companies. All these endeavours will no doubt be continued to be discussed during the Eastern Economic Forum.
What should the leadership of the region do to become more "investor friendly" for Indians?
We are trying to make the Indian partners feel comfortable. A representative of our agency has been working in Mumbai since the beginning of 2019. Our agency acts as a communicator, interlinking the Indian partners and the Russian businesses or authorities. We help them identify potential sites for the implementation of projects; conduct analysis; assist in the preparation of business plans including the necessary documents, etc. Our agency is a non-profit organization, which was created for the purpose of simplifying the work of investors.
Tell us where should an investor interested in investing in the Russian Far East apply?
All one has to do is contact our agency. We have English-speaking specialists. Unlike regional agencies, our range of functions is much wider. We cover 11 Russian Far Eastern regions, or more than 40 per cent of our country, which is a vast territory. We guide a project from the very beginning—from the conceptualization of business idea to its launch, i.e., when a company has already been built and starts its operations. We always support an investor to expand his/her business. We also provide selection of government support measures.
Why do you think the Eastern Economic Forum has become such a significant business platform?
The Forum is a powerful tool for development of economic relations, especially for the launch of new projects. It is very important that an investor gets an opportunity to directly make a request for making an investment to the country's leadership. For example, Tata Power made a request at the previous forum for launching a project. As a result, Kamchatka's Advanced Special Economic Zone has been extended; part of the cost of road construction and port infrastructure is expected to be compensated at the expense of the state; changes have been made to the regulations providing for introduction of "grand-fathering clause" (non-deterioration of investment conditions); and the transfer of losses of the previous years to the subsequent periods. We are currently working to help find companies that may act as investors and operators of transport infrastructure. It is planned to sign a binding agreement within the framework of the EEF- 2019 Forum.
Follow and connect with us on Facebook, Twitter, LinkedIn, Elets video