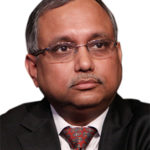 By Chandrajit Banerjee
Chandrajit Banerjee is the Director General of Confederation of Indian Industry. Having spent more than three decades at CII in different capacities, he has been playing a crucial role in key areas of CII's work including in all sectoral verticals like Manufacturing, Services, Agriculture, Life Sciences Sectors and the SMEs. He has also led key policy work of CII in the areas of Economic Policy, Financial Services and Corporate Governance. Mr Banerjee is also the Secretariat for several bilateral CEOs Forums constituted by the Government of India. These include Forums with Australia, France, Russia, Canada, Malaysia, Indonesia, Myanmar, Japan, Sweden and South Africa, among others.
Marked by amity and close economic and security cooperation, the Indo-Russian relations are gradually expanding to new areas including infrastructure, transportation, industry, frontier technologies, digital technologies such as AI, Block-Chain, Big Data, pharma and medical technology, that are being explored by both the countries. However, earnest action from both the sides is required to unleash the full potential of this partnership.
Over almost seven decades, Indo-Russian relations have been marked by genuine amity and close economic and security cooperation. Russia has been one of the closest allies of India. As the two countries celebrated 72 years of their diplomatic ties in April 2019, they enjoy a strategic partnership encompassing multidimensional cooperation. From the economic perspective, trade, investment, energy cooperation and defence partnerships are important.
The total trade turnover between India and Russia is around USD 11 billion, and the potential is yet to be fully exploited. Currently, new areas to expand India-Russia trade are being identified and actioned. Infrastructure, including transportation; industry and new tech; digital technologies such as AI, Block-Chain, Big data, etc; pharma and medical technology; and biotech are some of the sectors being explored. These sectors will also be critical for contributing to the vision of USD 30 billion bilateral trade by 2025 that was set by the two governments.
CII believes that the following areas would be of great potential going forward.
Start-up and Innovation are amongst the most promising areas for cooperation. Collaboration between new-age enterprises and start-ups of India and Russia can leverage the strengths of both economies of both countries. India has seen intense activity in the startup space, building on its technology capabilities and mobile phone connectivity. Similarly, Russian businesses too are active in this area with programmes such as Skolkovo to promote technology businesses. CII is working on creating a collaborative ecosystem for Indian and Russian entrepreneurs to source funds, market and test their products in joint projects. The CII Start-up delegation to Russia in 2018 had a fruitful visit and hopes to continue the engagement.

Another area for the growth of bilateral cooperation between India and Russia is Digital Economy with special focus on social sciences, biotech, nanotech, medical and meteorology technologies. These can be identified in greater detail through special task forces. India's mission to provide healthcare to 500 million people under the Government of India initiative—Ayushman Bharat scheme- will open up many new avenues of cooperation in these areas.

In the view of the fact that India and Russia have extensive cooperation in several fields, unleashing the potential of small and medium businesses can lead to a perceptible increase in economic cooperation. The Indian Micro, Small and Medium Enterprises (MSME) are very much the backbone of industrial development and economic growth, contributing to employment and exports as well. Similarly, the Russian SME sector is an integral component of its economy. Partnerships between the MSME sectors of India and Russia is key to deepening our economic relationship.CII has a strong agenda to promote SME cooperation with Russia which would significantly enhance trade and investment volume between the two countries. The first ever India Russia SME Business Forum was a great success and we propose to institutionalize it in order to keep the momentum going.

For India and Russia to achieve productive outcomes, it is critical that both countries consistently upgrade the modalities of their cooperation and also continue to accord greater importance to the Far East Region of Russia. India should intensify its cooperation with Russia's Far East in the sectors of Timber, Oil & Gas, Tourism, Healthcare, Pharmaceuticals and Minerals & Mining. India can also assist Russia in providing skilled workforce in sectors like agriculture, construction, IT related services, hospitality and healthcare without engaging in permanent settlement. Given that the situation is particularly acute in the Russian Far East due to low population, India can provide a solution to the demographic problem apart from being a partner in investing in energy and other projects in the region.

In addition, CII has identified the Trade in National Currency route as one of the key areas of collaboration. At present, there are not enough Rupee-Ruble payment/ swap mechanisms available between India and Russia to ensure remittance of funds both ways. There is a dire need to develop a framework to conduct bilateral trade in rupee and ruble. This can provide the much-needed impetus to bilateral trade. Also, this will insulate two countries from the volatility of dollars.CII has organized multiple rounds of consultations with relevant stakeholders to build an architecture for facilitating the Rupee-Ruble Trade.

Russia and India are an extraordinary example of two major economies relishing, since the commencement of their relations, a strong and sustained relationship. To enhance the existing relationshipRussia could also consider issuing long term business visas for Indian businessmen and entrepreneurs to ensure that businesses can travel freely at short notices to Russia for various business engagements.

CII has identified the Trade in National Currency route as one of the key areas of collaboration. At present, there are not enough Rupee- Ruble payment/ swap mechanisms available between India and Russia to ensure remittance of funds both ways.

CII believes that the India – EAEU FTA has the potential for trade to reach its desired level with many positive benefits for India and Russia. The implementation of Green Corridor, International North–South Transport Corridor (INSTC), removal of tariff barriers and investment protection treaty are important enablers to realise the trade potential between the two countries.

Last but not the least, India and Russia should exchange capability and knowledge sharing in the area of Regulatory and Financial Technologies (Regtech/Fintech) which will allow/open up Indian IT companies to offer its cutting solutions/services for Russian financial industry. This kind of collaboration will eventually lead to alignment of norms in financial sectors of both countries thereby enhancing business potential between the two countries. We see these as areas where action from both ends are possible and should be considered with some earnest.
Follow and connect with us on Facebook, Twitter, LinkedIn, Elets video