There is a need to realise the significance of water, sanitation and hygiene (WASH) in life collectively than viewing them as separate entities. It is so because they are inter-related, with one influencing the other every day. The endeavour to bring much-needed transformation in the country is being brought by the National Institute of Urban Affairs (NIUA) with the support of USAID and project partner Ennovent, observes Sandeep Datta of Elets News Network (ENN).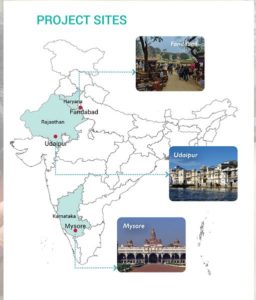 It is significant to remember that urban India's population is growing at the annual rate of 2.1%. By 2050, India is likely to add 416 million urban dwellers to the world's urban population, which will be about 58% of the total global population, according to an estimate stated in the UN Department of Economic and Social Affairs Report (2018). The increasing need for water and sanitation services in the growing urban settlements presents critical challenges. It is estimated 1,00,000 young lives are lost annually due to poor sanitation and hygiene facilities. Moreover, the Indian economy loses nearly $54 billion annually due to inadequate sanitation and its adverse effect on other sectors such as health, environment, tourism, etc. Some of the pressing issues related to sanitation include the lack of adequate infrastructure (sewerage networks and treatment facilities), non-compliance with national standards of waste management, and inequitable distribution of WASH services affecting the urban poor.
It has been observed that the inadequacy of facilities largely affects the inhabitants of slums, informal settlements and illegal colonies, with women being the most affected lot. Moreover, poorly planned and managed systems (public toilets) are mostly supply-driven. They are oriented towards asset-creation rather than service delivery. As a result, they fail to meet the benchmarks of service quality, efficiency and cost recovery.
The Big Challenge
With the steadily expanding size of the Indian cities, there is an influx of floating population that arrives in cities for livelihood or work purpose and tourism. These people most of the time face difficulties in accessing sanitation facilities. The inadequacy is not only prevalent in the work environment of daily labourers, but also during their commute to work from peri-urban areas to the cities; travellers out for sightseeing; local residents commuting for various purposes. Women, who also form a major part of this moving population, suffer a lot due to lack of public sanitation facilities. There is a vital need to address it, as it inadvertently leads to open defecation. Such challenges require solutions with an innovative edge at the local level essentially implemented by the urban local bodies.
Need of the Hour
The need of the hour is to bridge this gap with an inclusive ecosystem within existing working framework that can accommodate innovative solutions for the urban WASH challenge; while considering future of these ever expanding cities.
Urban WASH's Challenges and Need for Innovative Solutions
Rapid urbanisation, along with growth opportunities, is giving birth to multiple challenges for cities in India, one of them being accessing clean water, sanitation and hygiene (WASH) for all. There is an acute shortage of WASH infrastructure and services in the Indian cities. It is only making the issues more glaring. Hence, it is crucial for the city administrators to make steadfast efforts, and implement best practices and models to resolve these pressing concerns before they aggravate further. In this light, as a measure to address these problems, the Government has launched flagship missions such as Swachh Bharat Mission (SBM), Atal Mission for Rejuvenation and Urban
Key Measures to Provide Succour
To address the above challenges, the Government has launched flagship missions such as Swachh Bharat Mission (SBM), Atal Mission for Rejuvenation and Urban Transformation (AMRUT) and Smart Cities Mission. However, to sustain the efforts through these missions and be cognizant of the future landscape of issues of urban India, adopting innovative technologies and solutions for provisioning of water and sanitation needs to be a plausibility factor.
NIUA And the WASH
The National Institute of Urban Affairs (NIUA) is a premier institute and an autonomous body under the Ministry of Housing & Urban Affairs, Government of India for research and capacity building in the urban sector. Its primary goal is to promote integrated solutions for rapidly growing urban centres in the country, and address various challenges they face to provide improved services to citizens.
Over the years, NIUA has also been supporting a number of urban local bodies through its capacity building programmes, conducting research for specific urban issues, and creating knowledge platforms like Smartnet. The experience helped NIUA learn that at the city level the intra-departmental coordination and engagement with all relevant stakeholders to augment efforts for provisioning of clean water and sanitation facilities for the citizens are rare to find. NIUA has been actively engaged in addressing WASH focused issues through an array of projects, and has worked towards developing new research and expertise for supporting effective innovations in the urban WASH sector.
Role of IHUWASH
The Innovation Hub for Urban WASH Solutions (IHUWASH) is creating an ecosystem to addresses the challenges of urban WASH sector by engaging multiple stakeholders from the public and private sectors, civil society organizations, urban local bodies, academic institutions. The NIUA, a premier research institute under the Ministry of Housing and Urban Affairs, is implementing the project in partnership with Ennovent. The project is supported by United States Agency for International Development (USAID).
IHUWASH Project to Benefit India's Urban WASH sector
NIUA conceived the IHUWASH project, which primarily focuses on scaling and replicating localised solutions and work as an ecosystem. NIUA with the support of United States Agency for International Development (USAID) endeavoured to create an Innovation Hub for Urban Water, Sanitation, and Hygiene (IHUWASH) solution in India. During its inception stage, the hub focused on understanding the local WASH needs of the cities and identify innovative solutions—new and existing—that are relevant to the local context. The idea was to adopt business models and best practices, and replicate them in the local context. The solution may not be the same for each city, as it would differ depending on their needs. Hence, it was essential to create an ecosystem to support that replication and scaling of solutions. The IHUWASH project has a very important dimension, which is provisioning of innovative public and community toilets.
IHUWASH — The Roadmap Ahead
IHUWASH in its focus cities of Mysuru, Udaipur, and Faridabad has created City Innovation Hubs within the municipal corporations under the guidance of the city commissioners. The municipal corporations with IHUWASH facilitation have collaborated with local technical institutions to create WASH labs that support the municipal corporations in implementing the innovative WASH solutions.
The National Institute of Engineering at Mysuru, Geetanjali Institute of Technical Studies at Udaipur, and Manav Rachna International Institute of Research Studies at Faridabad house the WASH Labs in the respective cities. The labs will work with the municipal corporations to find locally relevant WASH solutions and extend their efforts in involving the private sector and citizenry to create a WASH forum.
A Glimpse of Vital Innovative Measures IHUWASH Accelerator
The IHUWASH Accelerator is working in coordination with Faridabad, Mysuru and Udaipur. Over a period of 7 to 12 months, the programme will help the selected innovations to raise funds and get support from city governments, private sector companies, experts and impact investors.
It is a unique opportunity for the private companies to showcase their innovations through a nationwide programme which is supported both by the Central as well as the State Government. "The delivery mechanism of IHUWASH makes it different from other ongoing WASH projects. IHUWASH not only focuses on WASH infrastructure development but also emphasises on building partnerships with and between public, civil society and private sector stakeholders," said Siddharth Sihag, Commissioner, Udaipur Municipal Corporation. The programme focuses on WASH domain specific programme. This means that only WASH innovators will directly work with the Governments, companies, experts and investors. It offers sector relevant insights, funding and opportunities that a generic program cannot match.
WASH Parks
To increase awareness about sanitation and Swachh Bharat Abhiyan, sanitation parks and water technology parks have been proposed. The idea is that these parks will serve as knowledge and tourist hubs and help provide information on latest technologies tackling the various issues concerning water, sanitation and hygiene. NIUA wants to change the perception of people regarding toilets. Instead of perceived as a bad dirty stinking place, toilets will be developed as an amusing place for experiencing a natural process.
Follow and connect with us on Facebook, Twitter, LinkedIn, Elets video