Uttar Pradesh has embarked on a journey to realise the dreams of millions of citizens inhabiting the country's most populous state and home to some of the largest cities. The history of the state, which forms a significant part of the Great Plains of north India, is that of rise and fall of many cities since the prehistoric period. Kannauj, Prayagraj, Kashi, Mathura, Meerut are among the cities which, at one time or the other, have served as the engines of growth and prosperity. Some continue to do so even to this day.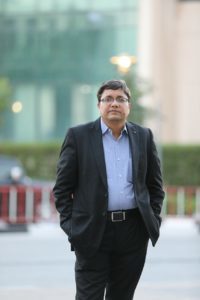 However, owing to the changing socio-economic and political dynamics in the state, the process of urban transformation relatively slowed down. The state now pins its hopes on the Smart Cities Mission, launched by Prime Minister Narendra Modi on June 25, 2016, to rejuvenate its urban centres by infusing a new vigour to reclaim their relevance in the national scheme. This special issue of eGov has the singular focus of capturing this urban transformation happening on the ground.
The cities in Uttar Pradesh are fired up with a new vision, of which building smart infrastructure around the aspirations of the people is an outward reflection. This special issue carries interviews of who's who of Smart Cities including top decision makers, industry captains and other key stakeholders to help develop a better insight into the vision and plans driving the change in urban centres of the state. This issue also carries a feature on Kumbh Mela 2019 at Prayagraj, which is set to bring forth the best of planning, organisational and administrative human traits to achieve a feat of this scale and size. Listed as an 'Intangible Cultural Heritage of Humanity' by UNESCO in 2017, Kumbh is a reflection of faith of millions of pilgrims and Uttar Pradesh Government's vision.
The feature covers multitude of initiatives that have been planned to make this unique gathering of humanity a memorable experience for pilgrims and tourists. This issue of eGov is also special as it will be launched at our 35th Smart City Summit, which is being organised jointly in association with Lucknow Municipal Corporation and Lucknow Smart City Limited. The summit with its innovative themes, will serve as a unique platform for Smart City stakeholders to huddle together and decide on the future trajectory of growth in Smart Cities. I sincerely hope that this issue of eGov would help our readers get useful insights into the Smart City ecosystem and contribute its bit to introduce innovations in India's urban space. Looking forward to the invaluable feedback from our readers.
Dr Ravi Gupta
Editor-in-Chief, eGov Magazine
and
CEO, Elets Technomedia Pvt Ltd
Follow and connect with us on Facebook, Twitter, LinkedIn, Elets video