While transforming Lucknow City into a world–class Smart City, we are also focussing on developing this historic city into an International culture and heritage centre, says Dr Indramani Tripathi, Municipal Commissioner, Lucknow Municipal Corporation & Chief Executive Officer, Lucknow Smart City Limited, in conversation with Arpit Gupta of Elets News Network (ENN).
What are the focal points of the Smart City proposal of Lucknow?
The pan-city Smart City proposal of Lucknow comprises a number of components under the focal points of Sugam Lucknow and Jeevant Lucknow.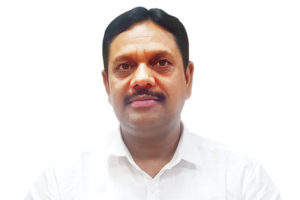 Under Sugam Lucknow, an Integrated Traffic Management System (ITMS) is under implementation, which will lead to junction improvement, intelligent traffic signals using traffic sensors.
There is a provision of variable message signs, pelican crossing, augmentation on and strengthening of the existing command centre.
The Smart City Surveillance System will have installation of additional CCTVs, networking, augmentation and strengthening of existing command centre.
There are smart solutions for existing parking spaces, an electronic ticketing system and ICT for city bus services.
There is also provision for a GPS-based bus tracking system (automatic vehicle tracking system), CCTV cameras on board, on board display panels, automatic fare collection system and bus operation command centre, smart bus shelters, passenger information system, ticket vending machine and water ATMs.
Tell us about the major challenges in executing the citizen-centric initiatives across the city?
Smart City Mission Guidelines, which govern the implementation of the mission projects in various cities, are being treated as bible by all stakeholders, including the Ministry of Housing and Urban Affairs (MoHUA). These guidelines lay special emphasis on the SPV structure, delegation of power to the SPV and its functionaries. However, the cities are facing challenges in adhering to these guidelines and ultimately have to resort to the traditional ways of approval and implementation of projects.
Which are the ongoing projects aimed at conserving the rich heritage of the city?
We are transforming the city into an international culture and heritage hotspot. Concerning this objective, the other important projects include our ongoing development works on an International Culture and Heritage Centre at Chhattar Manzil; a tourist information centre at Sibtainabad Imambara; façade lighting and restoration of Lal Baradari; Archaeological Research and Heritage Centre at Roshan-ud-Daula Kothi; a public library at Kothi Darshan Vilas; Heritage Conservation Institute at Kothi Gulistan-e-eram; a Cultural Club at Rifa-e-Aam Club and restoration of Morris Market near the Qaiserbagh Crossing.
Besides, we have started the Lucknow Awadh Walk on Thandi Sadak. We have also created an Awadh Point – which is a centralised recreational space at the Begum Hazrat Mahal Park.
For making a positive difference in the air quality of the city, we have adopted a tech-enabled approach. Under this, across the city, various environment sensors shall be deployed to inform about the prevailing environmental conditions and send data to the integrated control system where real-time data resides. The same shall be made available to various other departments and applications for decision making. The information is relayed instantaneously to signage – large, clear, digital-display screens – which let citizens know the prevalent environmental conditions. At present environmental sensors are deployed at: Dayanidhan Park, Nishatganj Bridge, Polytechnic Circle and UP Dial 100 office on Shahid Path.
Tell us about the sanitation centric projects being executed in Lucknow city.
Under our sanitation centric efforts, we have started door-to-door collection of garbage through vehicles which are installed with GPS. We have also started using sensor-based smart road bins and smart community bins under our Smart Community bins programme. The project is being carried out at a cost of Rs 18.40 crore. Under this, door to door collection started in 107 wards. Worth mentioning here is that 100 percent coverage has been achieved in 76 wards.
To improve the drainage system, we are creating sewers along nullahs and are also strengthening the existing network. Under our plans of covering of nallahs, we are strengthening the entire network. This is part of our ongoing project whose DPT has been prepared so far, at a project cost of Rs 197 Crore.
The project was proposed with expectation of funding under AMRUT scheme.
DPR for drainage project limited to SCM funding is prepared by LMC
DPR will be referred to IET, Lucknow for technical appraisal.
Post appraisal of DPR RFP will be floated for selection of contractor. Jal Nigam will be the implementing agency.
Please throw some light on the Smart Road project.
The Institute of Urban Transport has been awarded work of preparation of DPR for road and junction improvement in the ABD area for 50 km road stretch. The proposal envisaging improvement of following roads has been submitted for:
Daliganj intersection
Rani Laxmibai Marg
B N road, Ashok Road
Rana Pratap Marg to Lohia path
Cantt Road
Charak Chauraha
Rana Pratap Marg to Nation College tri junction path
Hussainabad road from Nibu park to Hardoi Road
Work on the Daliganj intersection has been started.
With the help of these digital initiatives, what future plans do you have?
Lucknow Municipal Corporation plans to achieve various things in the next five years through digital initiatives such as:
Bus utilisation increment by 20 percent (Current: 153.6km/bus/day)
Number of road cutting cases reduction by 50 percent on account of better coordination among various departments through One Lucknow Smart City Management System (Average number of cases in last three years: 91, with an average affected road length of 76 kms]
Traffic on One Lucknow Smart City website/portal to be increased by 50 percent (No such integrated website/portal exists and current annual traffic on LMC website: approx. 430,000)
Increment on a number of app users: 2.5 lakh users (No such integrated app exits and current LMC PGRS has 9,200 users)
Increment in house tax collection efficiency by 12.5 percent (Current Level: 75 percent with collection of Rs 143 crore (2014-15)
Timely response to citizen grievances as per charter: 99.9 percent (current: 99.7 percent)
Increment in revenue generation from international tourists: 25 percent [current: Rs 30 crore)
Rs 0.88 crore saving in fuel consumption (public transport) by improving traffic condition on account ITMS and ICT solutions for bus system (current fuel efficiency: 4.4 km/kg of CNG).
Follow and connect with us on Facebook, Twitter, LinkedIn, Elets video