Coupled with widened road, redesigned traffic junctions, sculptures, LED lights, painting on the walls, flower pots and plantation in every nook and corner of the city, Prayagraj city gets a 'smart' makeover on the road to become a truly Smart City, says Dr Ashish Kumar Goel, Divisional Commissioner, Prayagraj Division & Chairman, Prayagraj (Allahabad) Smart City Limited, in conversation with Arpit Gupta of Elets News Network (ENN).
How are you leveraging ICT for the benefit of citizens of Prayagraj?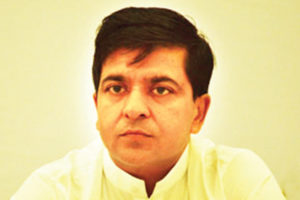 A number of ICT-enabled projects, aimed at bolstering the image of the Prayagraj as a truly world-class city, are currently being executed by Prayagraj (Allahabad) Smart City Limited. One of the major noteworthy projects is the ongoing work on Integrated Command and Control Ceantre (ICCC) – a project being implemented at an estimated cost of 246.62 Crore is on the verge of completion. We floated the ICCC tender in mid of April 2018 and within one and a half month we had awarded the project. Thus, this is perhaps the fastest processing of any ICCC project in the country. The project will be going live very soon in the early December. We are not only intelligent targeting traffic management and city surveillance but we are also targeting Solid Waste Management.
We are installing GPS in all our all solid waste management disposal vehicles for their real time tracking and monitoring through ICCC. Our GPS vehicle tracking system (500 SWM Vehicles of Nagar Nigam) is also being set up at a cost of Rs 1 Cr.
Further, we are doing GIS mapping and tagging all over the city properties including the larger area of the Prayagraj Summary of Smart City Proposal:
Total Project Cost: 2239.28 Cr
Area Based Development: 1670.64 Cr
PAN CITY: 568.64 Cr city and development area so that these can be appropriately taxed, thereby giving us more revenue to spend on citizen welfare schemes.
Tell us about your other Smart –City centric initiatives?
We have identified a lot of plots for developing parks, parking and social facilities. Whichever open are we are finding in the city, we are removing encroachment from them and we plan to develop parks, parking and sports facilities. We are laying emphasis on greenery in our existing parks. We are investing heavily on our signature park – Azad Park – to make it theme-based park. Also, our Open Air Gym project, being pursued in 12 Parks across the city is under progress too. This is being realised at a total cost of 1.41 crore. We are doing some municipal property development projects on PPP model. We are developing night markets at two places, where the youth of the city can spend some quality time. We are also exploring that how to improve service delivery on the basis of ICT backbone. Further, plans are afoot to set up 200 Water ATM (100 in Kumbh Mela Area). This project being executed at a cost of 10 Crore is scheduled to be completed soon.
Further, about 20 per cent of development work has also been completed in our Day Parking and Night Market project which is being actualised at a cost of 4.63 Cr. The project covers development works from Maharana Pratap junction to Dhobighat junction. On similar lines, Night Market at Kamla Nehru Road is being built at a cost of 1.35 Crore. Along with this, Junction improvements' (within ABD area) design and drawings have also been submitted now.
We are developing Smart Roads across the city and have developed some Smart Roads in the Kumbh area also. Under this, electricity lines have been removed from the middle of the roads. We are developing drainage on both sides and pavements with green belts and streetlights. We have widened most of the roads by removing encroachments. We are beautifying the city by installing sculptures. We have done extensive work on redesigning of traffic junctions and crossings. Almost, 45 main junctions and crossings have been redesigned.
As a result, traffic jam in the city will be alleviated and this initiative will take care of traffic jam in the city for the next two-three decades. Coupled with intelligent traffic management system, redesigning of traffic junctions and crossings, and widening of most of the trunk roads, we should be able to fulfill the traffic needs of the city. Tell us about your efforts on imporving the existing sanitation and drainage sytem in the city.
Prayagraj is already way ahead in the sewerage system. Under 'Namami Gange' programme, we are revamping the sewerage system of the city and enhancing our city-wide sewage projects. Many new and uncovered areas are now being covered. Due to the upcoming Kumbh Mela, we have accelerated the pace of all such developments to meet the deadline. I am happy to state that the laying of sewer work in the city has been completed before the Kumbh and some work of household connections is pending, which will be finished after the Kumbh Mela.
Pryagaraj will probably be the first city to have full coverage of sewer in the main city. Now, we are reaching out to the outer suburbs of the city. In the next two years, sewerage network will be strengthened and sewage treatment plant would be established across the city. Development of Smart Public Toilets is also an important project currently being executed by Smart City Limited. Around 200 Smart Public Toilets are being installed across the city. Under this, a total of 81 Toilets from Smart City Mission's (SCM) funding, and 154 Toilets from 'Namami Gange' project's funding are being actualised.
The total cost of the project is 36 Cr. So far, work orders for 47 Toilets have been issued.In Prayagraj, there are many low-lying areas so we are also working on a master drainage framework that will address drainage issues of such regions. In the Summary of Smart City next two years, many new areas will be covered and in the near future we will be able to make the integrated drainage management system of the city. A DPR pertaining this is being prepared.
What are the newly identified projects currently being pursued?
There are many projects that have been identified recently. These include: Annapurna canteen (under Annapurna Bhojanalaya yojana of Govt of UP) at an estimated cost of 66 lakhs. Another important project is the development of smart roads, and streetscape (approximately 78 Km length) whose feasibility is currently being assessed. We are also determined to take up the development of vending zone and vegetable markets – such as on Khuldabad, Stanley Road, Bakshi bandh etc. Though, at present, it is out of ABD area, we will take this up with a justification that it would reduce congestion within the ABD area too.
Further, under Allahabad Smart City Proposals (Phase –II), noteworthy is our bicycle sharing system being implemented under PPP Mode – which is a form of the public transport system allowing the users to commute using bicycles which can be picked from a station near the origin and returned to any other station near your destination. Under ICT based solutions for improvement in service delivery and citizen convenience, work is under progress for One City One Card, to ensure citywide common card system..
Elaborate on how 'Paint My City's campaign is being used to beautify the city.
Under our 'Paint My City' campaign, with the help of more than 500 artists, 20 lakh sq foot of area is being painted with beautiful paintings. Our 'Paint My City' campaign, is aimed at highlighting various forms of street art projects pertaining to the following aspects:
Cultural Diversity and Heritage of Uttar Pradesh and Allahabad
Religious, Spiritual and Scientific connotation of the Kumbh
Mythological background of the Kumbh
In addition, at an estimated cost of Rs 500 lakhs, various social facilities for citizens are currently being promoted. Further, we have identified construction of toilet in High Court as one project worth taking up.
Summary of Smart City Proposal:
 Total Project Cost: 2239.28 Cr
Area Based Development:1670.64 Cr
 PAN CITY: 568.64 Cr
Follow and connect with us on Facebook, Twitter, LinkedIn, Elets video