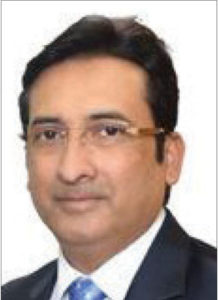 Keen to target a wide spectrum of markets in India, AVEVA is helping industries which are looking forward to achieving the next level of operational efficiencies to get ready for future, says Sayaji Shinde, Business Head – Smart Cities and Infrastructure, Asia Pacific, Aveva in conversation with Elets News Network (ENN).
Give an overview of AVEVA's products and solutions?
Schneider Electric's industrial software business and AVEVA have merged to create a new global leader in engineering and industrial software. It is the power of two – the coming together of two successful industrial software companies. The combination brings together AVEVA's design, engineering and construction capabilities for capital assets along with Schneider Electric's industrial software business that covers the gamut from simulation to asset lifecycle management and supervisory control software that helps our customers to manage their operations, processes, people and site.
How is AVEVA driving digital transformation in the country?
The digital transformation has become an imperative for almost all industries across the globe and we are seeing huge interest in Indian Industries as well. We are keen to target a wide spectrum of markets in India like oil and gas, power, food and beverage, life sciences, marine, process industry and infrastructure projects like smart cities, airports, sea ports, industrial townships, water and even multisite data centres. Today, most of these industries are looking forward to achieving the next level of operational efficiencies to get ready for future, which needs competitiveness and responsiveness to meet challenges like rapid response to issues and incidences, adhering to stringent statutory regulations, meeting customer SLA's, maximising asset utilisations and bringing down the operational expenses.
Traditionally, infrastructure industry has been implementing silo solutions to achieve departmental or process specific automation to drive better operational efficiencies and these investments have certainly delivered huge benefits so far. However, the silo solution implementations have many gaps which give rise to human interventions as the information is fragmented and contributes to inefficient operations.
We at AVEVA believe that digital transformation is all about connecting people, systems, process and sites which allow our customers to eliminate the value leaks in their processes and operations through integration of systems with people and people with process cutting across geographically spread infrastructure assets, resources and systems. For example, water system of a city may have multiple water treatment plants, sewerage treatment plants, drainages, pump houses, reservoir operations, and sensors which are managed through independent control systems. Our solutions integrate all these on one common platform which allows us to connect people, systems, and processes across multiple sites. Thus, this digital transformation not only establishes the single view of entire water system of the city but also allows management of interconnected incidences and events, process, human resource management and accountability through SOPs.
How are your solutions helping clients across the country to analyse critical data for infrastructure?
Well, to analyse the critical data the first step is to have an ability to acquire data in its native format. The digital transformation of infrastructure is a complex process as in infrastructure management one needs to deal with data, which not only originates from IT solutions and IOT sensors but also from Operational Technologies (OT) like control systems. Unless and until, the transformation strategy has explicit design consideration for integration with different sources in native protocol and storing these data's in their native format, one cannot acquire critical data easily.
We are adopting a disruptive innovation by bring our two decades of Industrial automation experience and platform technology, which creates a solid foundation for digital transformation of Infrastructure projects. Our platform technology allows conversion of IT, OT and IOT data on same platform with real time integration with desperate systems, which make it possible to access and manage critical data in real time. Once data is acquired we use advance analytics to analyse critical data to find patterns, correlation, events and anomalies, etc.
What projects are you working on for the Indian Smart Cities?
We are offering City Command and Control Centre platform technology to smart city projects in Indian market. We have won NRDA's smart city tender in consortium with ILFS which has been successfully deployed. NRDA's City Command and control Centre is now acknowledged by Prime Minister Narendra Modi as a role model for rest of the India. The reason is in its unique capabilities. This is the first operational city command and Conrol Centre which has successfully deployed IT and OT conversions by integrating water treatment, sewerage treatment, Energy SCADA along with IT applications like LED street lights, Bus Rapid Transport solution, Intelligent Traffic Management Solutions, CCTV surveillance, etc.
The uniqueness of this design is that the CCC users not only monitor the water systems, energy systems, traffic, law and order, street light operations etc but also can control these applications from city command and control centre platform and these capabilities improves the operational efficiencies further. As of today, none of the other deployment of city command and centre has these control capabilities spanning across IT and OT solutions. Apart from NRDA we have also won Rajkot smart city tender along with BSNL and look forward to having few more successes in next 4-6 months.
What are your plans for the next year?
With great success in smart city implementation, we are planning to increase our footprint in other sub segments like airports, sea ports, industrial townships, water and even multisite data centres. Many customers in these segments are aggressively looking for digital transformation. Particularly water industry in India is going through massive transformation and we offer very advanced technology to monitor real time water network pressure, which solves the most critical issue faced by the water industry, which is managing water pressure across transmission and distribution lines. This technology will allow conservation of water and energy usage. It also allows detection and prevention of leakages resulting in reduction in NRW. These technologies are very unique to India and other Asian markets and will be largely benefitted by them in times to come.
Follow and connect with us on Facebook, Twitter, LinkedIn, Elets video