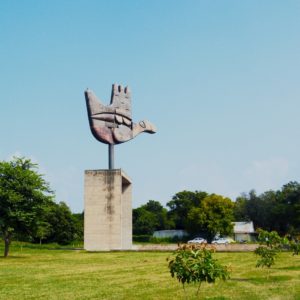 Planned by internationally acclaimed Swiss-French architect Le Corbusier, Chandigarh has always been ahead of times when it comes to urban planning. Also known as the City Beautiful, Chandigarh is unique in many ways. With its clean wide roads, immaculate parks and a distinct social milieau developed over a period to make every citizen feel special, living in Chandigarh is an experience in itself. Having been selected under the Government of India's Smart Cities Mission, the city has found a new impulse to effectively strengthen its position to lead India's urban transformation. Our cover story, 'Smart Chandigarh Empowering Citizens', is an attempt to capture Chandigarh's march towards becoming the most livable city not only in India but across the globe. As part of our efforts to back Chandigarh's endeavour to become smarter, the eGov magazine in partnership with Municipal Corporation Chandigarh and Chandigarh Smart City Limited is organising the second edition of Smart City Conclave-Chandigarh on November 16.
The conclave will serve as a platform for intense deliberations and interactions among top thought leaders, decision-makers and industry stakeholders on various innovations being undertaken in Smart Cities across India. On this occasion, eGov is coming up with this special edition of the magazine to offer better insights at the pace of development in Chandigarh.
To take into consideration the perspectives of the decision makers and their vision for the City Beautiful, this special issue of Chandigarh is carrying interviews of Davesh Mudgil, Mayor, Chandigarh; Kamal Kishor Yadav, Commissioner, Municipal Corporation- Chandigarh; Rahul Kapoor, Director (Smart Cities), Ministry of Housing and Urban Affairs, Government of India; Sourabh Mishra, Addditional Commissioner and Additional CEO, Municipal Corporation-Chandigarh; Manoj Bansal, Chief Engineer, Municipal Corporation-Chandigarh; and Andrew Ayre, British Deputy High Commissioner, Chandigarh, among others. To present perspectives from other states, we have also included in this issue interviews of Dr TK Sreedevi, Commissioner and Director of Municipal Administration, Government of Telangana; JC Maneria, Chief General Manager of BSNL (Punjab Circle); and Dr Ajay Pal Sharma, Senior Superintendent of Police, Gautam Budh Nagar. As innovation driven companies are playing a pivotal role in helping India achieve its goal of developing 100 Smart Cities till 2020, we have included an insightful interview of Deb Deep Sengupta, President and Managing Director, SAP-India Subcontinent. In this interview he shares his vision of contributing towards India's rise as a regional super power and help Indian industry gain competitive advantage through its world-class innovative solutions.
We hope this special issue of eGov magazine will help you gain better insights into the Indian smart city ecosystem and grab the countless opportunities that lie ahead of us. Looking forward to our reader's invaluable fedback.
Follow and connect with us on Facebook, Twitter, LinkedIn, Elets video