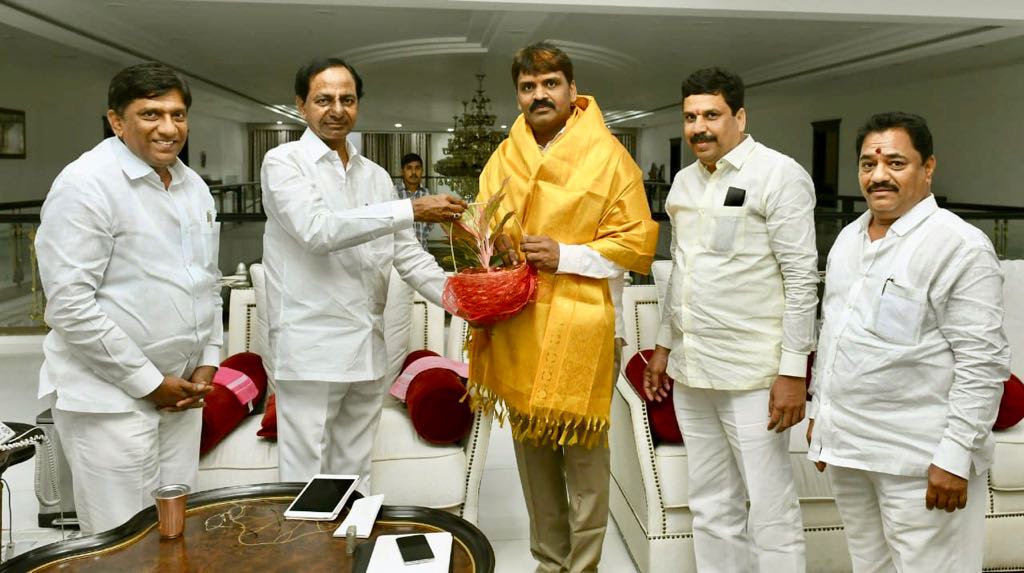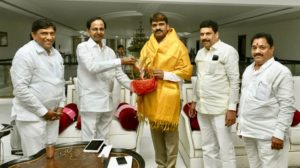 Taking Swachh Bharat campaign forward, Hyderabad is showing way in cleanliness drive to the entire country, says Bonthu Rammohan, Mayor, Greater Hyderabad Municipal Corporation (GHMC), in conversation with Rakesh Roy of Elets News Network (ENN).
Please apprise us about 'Swachh Hyderabad' campaign and its initiatives?
In line with the central government's 'Swachh Bharat Abhiyan', GHMC has started the Swachh Hyderabad project with an aim to transform Hyderabad into a clean, green and slum-free city. Under this initiative, we started 'Swachh Namaskar', which is a unique campaign initiated by GHMC to create awareness among citizens on cleanliness. All the staff members of GHMC greet everyone with a 'Swachh Namaskar' instead of the regular way of greeting. Also, GHMC has come up with a mobile caller tune to propagate the importance of recycling and segregating garbage in the city. In order to educate and sensitise citizens, GHMC has launched a free e-learning course on solid waste management and sanitation activities.
This course is designed to teach the importance of solid waste management and existing scenario of the same in Hyderabad. Also, the course discusses the ways in which GHMC collects, transports, processes and disposes the garbage and also the effects of improper garbage disposal. The course is also available for general public and is a good way to get exposure on solid waste management and sanitation activities handled by GHMC. GHMC, aided by Radio Mirchi, has initiated an awareness campaign to mobilise citizens and sensitise them about waste management to make a small yet significant contribution to enhance the city's cleanliness. This campaign is planned to extensively support causes like 'Beat the Plastic Pollution', 'Source Segregation', and waste management.
In aiming to curb the menace of plastic, GHMC has accorded approval for imposing ban on manufacturing, supply, sale and use of all types of plastics, including above 50 microns, in the areas falling under GHMC. GHMC has collected a penalty amount of more than Rs 6 lakhs in the month of July this year for using plastic less than 50 microns. As many as 1,062 cases have been filed against violators. GHMC has initiated a novel programme to sensitise citizens about the generation of plastic waste (in a day) and its impact on environment in long term. Under a campaign titled Black- Bag, the authorities in coordination with Resident Welfare Associations (RWAs) and volunteers have collected plastic waste dumped in open plots and held ward-wise rallies throughout GHMC, prominently displaying this collected plastic waste in blackcoloured bags.
GHMC has also initiated a signature campaign on "What I will Practice as a Swachh Citizen" to make people realise their responsibilities towards Swachh Hyderabad and Swachh Bharat Mission. The campaign was held in public areas such as shopping malls, bus stations, metro stations, universities and cinema halls, etc, where citizens were asked to provide consent for at least one swachh practice such as source segregation, practice home composting, carrying cloth bags to super markets, carrying tiffin boxes to meat shops, avoiding open littering on roads, avoiding open urination/ defecation, etc. GHMC has been certified as Open Defecation Free (ODF) on 27th December, 2017. As per ODF protocol and norms, the ODF recertification happens every six months. Accordingly, GHMC has completed its field inspection for ODF recertification on 11 July, 2018 and GHMC has been successfully re-certified as an Open Defecation Free city.
Hyderabad generates nearly 5,000 metric tonnes of waste every day. How is GHMC managing the solid waste and its sustainable disposal?
GHMC has distributed 22 lakh (wet and dry) household twin bins and for daily door-to-door collection 2,500 swachh auto tippers are provided by replacing tricycles. It is observed that the waste collection efficiency is improving year by year. The waste collected from different sources has been transferred to 21 intermediate transfer stations through SAT vehicles. From these transfer stations, the solid waste is transported to final processing plant (Hyderabad Integrated Municipal Solid Waste Management Plant) located at Jawaharnagar and operated by Ramky Group. The wet waste is converted into compost and dry waste is converted into RDF (Refused Derived Fuel), while inert material is sent to scientific land filling. GHMC has taken up new project named as capping of existing old dump site located at Jawaharnagar. These measures helped in improving daily waste collection efficiency, otherwise the city would have experienced garbage vulnerable points and waste being thrown on street side, in parks, into nallas and lakes creating nuisance and health hazards.
GHMC in collaboration with ITC and Godrej introduced 30 Dry Resource Collection Centres (DRCCs). The facility has the ability to segregate all recyclables from the mainstream input to make sure they are recycled back to their original plastic form by using double stage extrusion. Each centre has been built with a capacity of five tonnes and can easily handle 2-3 tonnes per day of recyclables on an average all throughout the year. These centres are run by ragpickers as an additional livelihood opportunity to better their living with nearly 70-100 families for each centre.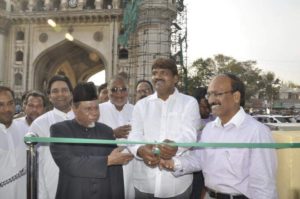 What are the initiatives taken by GHMC to provide sanitation to its citizens?
In order to promote source segregation, GHMC has launched 'Swachh Dhooth' mobile app, offering Rs 10,000 as a cash prize every month for one lucky winner who practices wet and dry waste segregation at home and uploads it through the app. It is further proposed to re-energise the campaign for promoting source segregation. Which are the other elements areas GHMC is presently focused on to make Hyderabad a worldclass city? As a step towards promoting gender sensitive planning, GHMC has proposed to install 50 'SHE Toilets' in various parts of the city organisations under Corporate Social Responsibility (CSR) of private companies. Among these, 32 units are open to public, three units are pending with site disputes and remaining are under progress. Recently, SHE toilets of GHMC have been bestowed with prestigious ISO 9001:2000 certification. This way, privacy, dignity and safety of women are being ensured. In order to declare GHMC as a bin-less city, a circular has been issued to all GHMC officers to initially implement this in six circles as a pilot project. In 2016, 1,116 major Garbage Vulnerable Points (GVPs) were identified and eliminated throughout GHMC. Further, the spots were sustained by beautifying with rangolis, ornating with plants and wall painting reflecting 'Swachhata' messages and celebrating various festivals at the locations. The Greater Hyderabad Municipal Corporation has decided to set up 178 integrated smart washrooms (toilets) free of cost across the city. The corporation has invited tenders to take up the project in Build, Finance, Operate and Transfer (DBFOT) basis. Recently, a model smart washroom, named 'Loo Café', was piloted in Serilingampally zone and received great appreciation from the public. The GHMC will hand over suitable sites to selected agencies for installation of the smart washrooms under certain terms and conditions. The agencies shall install the smart toilets with separate entries for men, women and differently-abled persons and with all required facilities such as water, ramps, handrails and sanitary napkin vending and disposal arrangement for women.
They have to operate and maintain the toilets without collecting usage charges from the public. GHMC stands first and top in the list of corporations using social media platforms for citizen services and complaints. It is the first corporation in India to maintain a robust and systematic mechanism in handling public complaints. Hyderabad citizens are using Twitter, Facebook and MyGHMC App extensively in bringing out civic problems to the notice of GHMC. Instructions have been issued to all the BBGs to install on-site composting units within their premises for treating bio degradable waste generated. In order to sensitise citizens towards waste segregation, GHMC has proposed to advertise the sense of responsibility (towards waste segregation) by playing jingles by the Swachh Auto Tippers (SATs) while collecting the garbage generated by all the residents across GHMC and implemented accordingly.