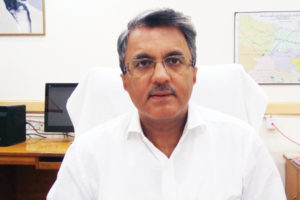 Inland Waterways, a network in the form of rivers, canals, backwaters and creeks that can be used for transportation in place of or in addition to roads and rails, is the cheapest and the most environment-friendly mode of transportation. It reduces a lot of environmental pollution and pressure on both other modes of transportation, says Pravir Pandey, Chairman, Inland Waterways Authority of India (IWAI) in conversation with Gautam Debroy of Elets News Network (ENN).
Give us an overview of the Inland Waterways Authority of India.
Inland Waterways is a large socioeconomic project in India. For many years, we have concentrated on railways, airways and roadways. Countries like the US and China have used their waterways as a very effective mode of transportation. In China, 10 percent of transport is handled by waterways. Vietnam is utilising 40 percent of its waterways and Bangladesh is utilising 22 per cent of its waterways.
The US is using 13 percent of its waterways while in India we are utilising just one percent. Time has come to look at the waterways very seriously and move towards this cheap, environmentfriendly mode of transportation. The Government is committed to develop waterways in a big way. We are doing a Jal Marg Vikas Project on National Waterway I on river Ganga with the technical and financial assistance of World Bank. It is a Rs 5,369 crore project. The Government has enacted the National Waterways Act, 2016 through which we have declared 111 waterways.
What initiatives have been undertaken by you for North- Eastern States?
In the North East, the main waterway is Brahmaputra, another is Barack river. They not only serve Assam but have the potential to connect mainland India with the Indo- Bangladesh border. Eighteen other waterways have been declared in the North East apart from these two. Again, we are talking to the World Bank for financial and technical assistance. We have started Ro-Ro service on the river Brahmaputra. There are very few bridges on Brahmaputra and that too very far from each other. Earlier, people use to travel at least 300 km to reach these bridges and pass them. Now through these Ro-Ro service, citizens cross the river in just 1-2 hours and save time and transportation costs. So, overall logistics costs automatically come down. There is a huge demand for Ro-Ro services now.
What role is your organisation playing in connecting business with the Bangladesh?
Three million tonnes of cargo move to and fro Indo-Bangladesh border. It is primarily fly-ash, construction material. Now, there is a treaty between Bangladesh and India — a protocol treaty of trade and transport. Under this, cargo vessels can come to India through Sunderbans and our vessel can go to Narayanganj, Dhaka, Ashuganj (the places in Bangladesh), etc. There is a good cooperation between the two countries. It is a seamless travel between the two nations. The treaty facilitates trade and good relations between them.
What sort of challenges that you come across usually?
We face technical issues of hydrological, river morphology, issues of adequate draft of depth in the river during the lean season, etc. Our rivers are highly silted. For the first time, a serious study has been done in river Ganga by top consultants in the world who are teaching us ways and methods through which we can augment the capacity of rivers through safe navigation.
Where do you see IWAI five years down the line?
The authority has been in existence since 1986. The total expenditure on inland waterways was roughly Rs 1,300 crores from 1986-2013. Since 2014 till date, we have spent more than Rs 2,000 crores. So a major turnaround has happened. There is a huge potential for inland waterways to grow exponentially as work on all our rivers is still raw. But financial and technical assistance will be required. The Hamburg Consultancy report states that at this stage more than five million tonnes of cargo is moving. We are doing a lot of things like building multi-modal transport, navigational jetties, etc. We plan to move more than 20 million cargo in the next two-three years shifting the burden from road and rail to waterways.
Follow and connect with us on Facebook, Twitter, LinkedIn, Elets video