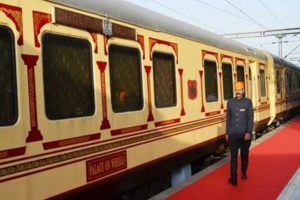 The tourism landscape in Rajasthan when viewed, in terms of both quality and quantity of product offerings, has undergone huge transformation, courtesy efforts of Rajasthan Tourism Development Corporation (RTDC), the Government body mandated with the task of bolstering the image of Rajasthan as the dream destination, writes Ahmad Shariq Khan of Elets News Network (ENN).

Set up in 1978, the Rajasthan Tourism Development Corporation (RTDC) is the topmost agency of Government of Rajasthan mandated with the task of enhancing image of Rajasthan as the leading tourist destination in the country. Fully owned by Government of Rajasthan, RTDC is a company registered under Companies Act 1956, with its headquarter at Jaipur. Apart from working towards making Rajasthan the dream destination for both domestic and foreign tourists alike, it also manages many motels, hotels, restaurants, cafeterias and bars across the State. All RTDC-run hotels in Rajasthan are well maintained by the government with all the modern amenities and facilities. These are known to offer excellent hospitality services on a budget-friendly tariff. There are numerous hotels managed by RTDC all over the Rajasthan.
Further, apart from providing tourists with a comfortable stay at its managed properties, the RTDC also organises guided tours to all the important historic locations of the State. In addition, the Corporation also organises package tours, fairs, festivals, entertainment, shopping and transport services. It is worth mentioning here that in collaboration with Indian Railways, the company also runs the luxury tourist train 'Palace on Wheels'
. RTDC acts as a catalyst to establish develop, execute project and scheme that accelerate tourism in the State. Besides, RTDC through its wellestablished marketing network in India and abroad plays a vital role in promoting the tourism in domestic and international markets. Some of the recent initiatives in which RTDC, along with Department of Tourism, has been playing a key role include: Branding Rajasthan as Ideal Film Tourism Destination For many big Bollywood film production houses, the State has emerged as the preferred film shooting destination in recent times. This is mainly due to its various USPs, which include:
A clear sky in a majority of calendar months
Historic ambience and unique landscape – vast stretches of desert
Better, speedy and improved connectivity
Ample logistics service providers
Excellent hospitality support and facilities Rajasthan — the Prime Mover State to Initiate:
Single Window System for film shooting permissions l Exempting charges such as application fee, processing charges and security deposit
Issuing Permission within 15 days.
Some of popular films shot in Rajasthan in recent years: Rang De Bansanti, Delhi-6, PK, Bajrangi Bhaijan, Bajirao Mastani, Badrinath ki Dulhaniya, Dhadak by Dharma Productions
Big Production Houses shooting presently:
Thugs of Hindustan by Yash Raj Films
Super 30 by Phantom films
ManiKarnika by Kairos Production
Illumination of Monuments and Heritage City Jaipur
Rajasthan boasts of some pioneering work in illuminating heritage monuments. Amber, Hawa Mahal, Jantar Mantar and Albert Hall have already been lit up. Amber is now open for the tourists in evening as well and Sound and Light Shows are conducted at Amber and Jantar Mantar. Recently, the Chief Minister inaugurated the first phase of 'illumination of Old City of Jaipur' – which is a treat to the eyes for being simply majestic and unparallel. Further, the State Department has developed 'Masala Chowk' as a hub of cultural activities.
All this is part of the State's tourism department's mega plan to make Jaipur especially Old City and Ram Niwas Bagh area as a hub for night tourism.
Niche Tourism's Promotion  Rajasthan with its majestic forts, palaces, lakes and other architectural legacies provides a perfect setting for Destination Weddings. The State Tourism Department, along with RTDC, is actively collaborating with relevant stakeholders for promoting this segment through participation in events related to promotion of wedding tourism.
Thanks to persistent efforts of State policymakers overseeing the tourism development in Rajasthan in recent years, Jaipur, Udaipur and Jodhpur have emerged as preferred destinations for meetings, incentives, conferences and exhibitions (MICE) related activities. With Jaipur Exhibition and Convention Centre (JECC) as a world-class convention centre, Jaipur can now host biggest of MICE events.

The State Tourism Department along with other urban planners believe that Jaipur holds potential to emerge as hub for Medical Tourism. With modern medical centres and vast resource pool of doctors and paramedics, Jaipur can offer best of the medical facilities at most competitive rates. The State Government led by the Chief Minister has been proactively working on actualising this aim for the State of Rajasthan. Infrastructure Development In the last three years, the Rajasthan Tourism has undertaken significant steps to strengthen tourism-related infrastructure in various parts of the State through the sanctioning of five projects under 'Swadesh Darshan' and 'Prasad' schemes of Ministry of Tourism, Government of India for Rs 400 crores.
1. Krishna Circuit – (Project cost Rs 91.44 Cr) covering Govind Deo Ji temple Jaipur, Nathdwara, Charan Mandir Jaipur, Khatu Shyamji Sikar
2. Spiritual Circuit- (Project cost Rs 93.90 Cr) covering religious places of Dholpur, Churu, Jaipur, Alwar, Virat Nagar, Bharatpur, Dausa and Chittorgarh
3. Heritage Circuit – (Project cost 99.60 Cr) covering Kumbhalgarh, Nahargarh, Bala Quila Alwar, Ranthambhore Fort, Khandar Fort S Madhopur, Gagron Fort Jhalawar, Chittor Fort, Jaisalmer Fort, Bhatner Fort Hanumangarh, Kalibangan Hanuman Garh, Jalore Fort, Pratap Gaurav Kendra Udaipur. (Major Works under these three projects mentioned above): Parking & Pathways, Yatri Sheds, Benches and Amenities, Tourist Facility Centres, Landscaping, Signage, High Mast light, Solar Lamp Posts, Wi-Fi and CCTV, Rainwater harvesting structures)
4. Pushkar-Ajmer Project- (Project cost Rs 40.44 Cr) (Major Works: Façade Improvement, renovation and Illumination of Pushkar Ghats, Renovation of Brahma Temple Sound and Light show) 5. Sambhar Lake Town Development Project- (cost Rs 64 Cr) (Major Works: Dining Salt Train experience, Log Huts and Caravan Park, Laser Sound and Light show, Bicycle Trail, Open Air Theatre, Craft Haat) In addition to those mentioned above, the work is currently on three more projects.
These are:
1. Tribal Tourism Circuit- Rs 99.58 Crore
2. Mega Desert Circuit- Rs 99.90 Crore
3. Eco-Tourism Circuit (Sariska & other sites) under Swadesh Darshan scheme- Rs 99.97 Crore  Development of Amber as iconic site-(Project Cost: Rs 60.0 Crore) Amber Fort and Palace Complex, selected as one of the 10 iconic sites by the Ministry of Tourism, Government of India. Amber Fort is not only the pride of Rajasthan but it is also the most visited monuments after Taj Mahal, the monument of love in Agra city.
Follow and connect with us on Facebook, Twitter, LinkedIn, Elets video