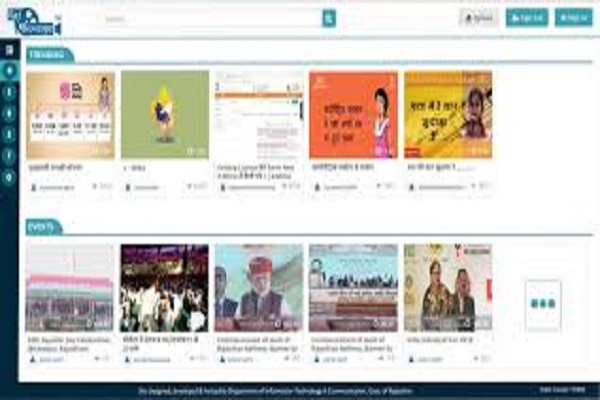 With the idea of spreading awareness about various government schemes, the Government of Rajasthan envisaged a video-based programme – Raj Bioscope. It's an e-initiative of Government and one of its kind which encourages public participation on the Government portal as well, writes Elets News Network (ENN).
Citizens can log in to Raj Bioscope through their SSO ID and upload knowledge-based videos related to benefits of various schemes and projects. One can also upload videos showcasing the beauty and heritage of Rajasthan and contribute to popularisation of the State tourism.
Before Raj Bioscope, there was no such platform to explore the Government schemes and understand policies visually or in an engaging way. Multiple challenges were faced by the Government, which included lack of preparation for an integrated platform, Raj Bioscope – A Move for Public Involvement in Government Schemes lack of Internet literacy, Internet connectivity etc. But the Rajasthan Government successfully overcame all those and actualised this mission. Also, while implementing this idea of spreading awareness of various Government schemes and to bring the change and awareness about Government's welfare schemes, there were multiple challenges faced by the Government which included a lack of preparation for an integrated platform, lack of Internet literacy, Internet connectivity, etc, but Rajasthan Government successfully overcame those and actualised this mission.
Raj Bioscope is today a novel way of accessing information and it facilitates exchanged it in an easy and interesting manner. All this is performed through:
Online video portal of Government of Rajasthan
The portal contains useful videos of various Government schemes and programmes
Users can make and upload engaging videos from their mobiles on new ideas and knowledge on interesting topics. It holds significance to observe that this e-initiative of the Rajasthan Government is today considered as one of its kind in the country that encourages citizen participation on a government portal.
As it also allows public to upload their videos related to tourism or schemes, there are a number of videos that have been uploaded on the portal and the number of videos is on the rise with each passing day. The number of hits on the portal has also increased ever since its inception. The unique digital interface, which is an excellent example of a Government-to- Citizen (G2C) interface, promotes citizen participation whereby the government and citizen can work collaboratively towards spreading awareness about various welfare schemes.
RAJ BIOSCOPE SERVES TO ENCOURAGE: 
An integrated platform for uploading videos
Invited public participation
Video/multimedia – based awareness about various schemes