The primary objective of the Bhamashah Scheme includes financial inclusion, women empowerment and effective service delivery. It is the first of its kind Direct Benefit Transfer scheme in the country, observes Elets News Network (ENN).
Bhamashah – An Icon of Philanthropy and Benevolence Bhamashah Scheme draws its name from a remarkable character in the history of Rajasthan. Bhamashah was an aide of Maharana Pratap of Mewar. At one point, during constant wars against the invading Mughal army, Mewar King Maharana Pratap was left with no state resources to carry on the war. This meant an inevitable defeat – that too for no lack of will or valour. Bhamashah stepped in and did the incredible. He donated his entire wealth to the State so that his warrior king could continue his campaign and the people could live with their head held high. Bhamashah went down in history as an icon of philanthropy and benevolence.
A Move to Empower Women of Rajasthan
To build a better society, empowerment of every woman is imperative because it means empowerment of the society, believes Rajasthan Chief Minister Vasundhara Raje. Conceptualised with this very aim, the Bhamashah Scheme envisaged by the State government in 2008, even before the Aadhaar programme was thought of, was launched, wherein, around 50 lakh women were enrolled and 29 lakh accounts were opened. At present, the primary objective of the scheme includes financial inclusion, women empowerment and effective service delivery. It is the first of its kind direct benefit transfer scheme in the country.
The scheme is a family-based programme of financial inclusion, where each family is issued a 'Bhamashah Card'. The card is linked to a bank account that is in the name of the lady of the house who is the head of the family. The card leverages bio-metric identification and core banking. The card is used for transferring of all cash benefits directly to the bank accounts of the beneficiary and also for transfer of non-cash benefits of various government schemes. Thus, the scheme aims at making every woman empowered, capable and independent. "Thanks to Bhamashah scheme, I got my bank account opened along with Bhamashah card. Now, we get a message on our mobile phone as soon as our pension is credit. My children inform me about it and I go and collect it. Indeed life has really become so easy with Bhamashah," says Jamuna Devi, a beneficiary of this scheme.
It is one of its kind scheme where all benefits — cash and non-cash, e.g. services of Public Distribution System (PDS), education scholarships, payments under MNREGA (Mahatma Gandhi National Rural Employment Guarantee Act) and social security pensions, benefit of other schemes like distribution of scooties to students, Indira Awas Yojana, CM BPL House Scheme, Janani Surakha Yojana, unemployment allowance, skill training, other individual beneficiary schemes and many other services are routed through Bhamashah Scheme. Under the unique initiative, the family is being mapped correctly and single unique data set for the residents of the State is being made. Thus, duplication is checked. The Bhamashah platform does not limit the financial inclusion to mere opening of bank accounts, but simultaneously ensures door step delivery of banking services through Business Correspondents (BCs) of the banks and micro ATMs being established at all the panchayats. Further, various mobile payment gateways have been integrated with the Bhamashah platform, thereby making service delivery through JAM (Jan Dhan; Aadhaar; Mobile) trinity a reality across the nook and corner of the State.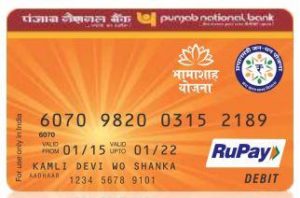 Bhamashah Card
The Bhamashah Card, with its smart features provides multi-dimensional benefits to the cardholder. With an entire back-end solution mapped with the card number, the card truly empowers the cardholder, ensuring inclusion to the best possibilities. As the card relies on back-end data set encompassing complete entitlement profile, neither there is a storage limitation as in case of chip or magnetic strip-based cards nor is there a requirement of updating profile on the card-based storage. Thus, the entire control can be managed from central servers Bhamashah Mobile App Various transactional facilities to all the stakeholders of Bhamshah Scheme are being provided through Bhamashah mobile app. The app works on all the operating systems.
The features available in the App include:
For Beneficiaries: 
Apply for Bhamshah enrolment
Check status of enrolment
Check status of transactions
Transactions via various digital wallets such as Paytm, Vodafone m-pesa, Airtel Money as per RBI guidelines
For Government Officials 
Verification and tracking
MIS for monitoring and supervision
Service charge management
Primary Objective: A state of the art IT–backed project to reform direct benefit delivery mechanism in Rajasthan and to empower State's women. Under this, Resident Data Hub, offers:
• Comprehensive family/resident profiling, including entitlements pertaining to all the departmental schemes.
• To be mandatorily used by all departments for deciding entitlements
• Unique ID for both family and individuals; lady of the house as 'Head of the Family'
• All cash and non-cash benefits for a family available at one place
• Built in Direct Benefit Transfer(DBT) engine, configurable for any new service
• Financial inclusion and banking service near the doorsteps of the residents
Points of Service:
• eMitra
• Mobile App •
Web Portal
• Departmental Outlets
Follow and connect with us on Facebook, Twitter, LinkedIn, Elets video