Ghaziabad was once the most polluted city in India, however due to the constant efforts of Ghaziabad Municipal Corporation (GMC), the pollution level in the city has decreased. This achievement cannot be ignored and should be seen as an opportunity to implement best environmental solutions,says Chandra Prakash Singh, Municipal Commissioner, Ghaziabad Municipal Corporation in conversation with Ritika Srivastava of Elets News Network (ENN).
What are the various initiatives taken up by Ghaziabad Municipal Corporation?
Swachh Survekshan 2018 gave us an opportunity of doing self-assessment to know what we lack and what are our strengths to implement solutions accordingly, to bring in place smart solutions for the benefit of residents of Ghaziabad. It was the most polluted city in India. However we have been successful to a great extent to reduce the level of pollutions in the city. This achievement cannot be ignored and should be seen as an opportunity to implement best environmental solutions.
When I took over as the Municipal Commissioner of Ghaziabad, the daily average waste collection was approximately between 900 metric tonne (MT) to 1,050 MT. Now the waste collection has reached up to 2,000 MT per day and that shows that we have improved significantly in terms of collection of waste and we envisage the next step will be to manage the entire municipal solid waste. For this purpose, we have taken some significant steps. To overcome the challenge of untreated waste, we have moved a step ahead for setting up waste-to-energy plant. We understand when a city aims to become an economic powerhouse, a very serious problem of sanitation arises, for which we have already constructed sanitation related infrastructure at a fast pace and today
we are certified Open Defecation Free ('ODF') city.
What recent projects have been introduced by corporation for Ghaziabad's urban growth?
We understand very well that planning today means planning for tomorrow and we are focussed towards making Ghaziabad top ten performing cities in terms of Swachhata ranking. For that we are planning many smart solution to make Ghaziabad a smart city. We have many urban challenges such as, safety and security, traffic congestion, ageing infrastructure, effect of climate change and disasters that needs to be addressed. We wish to address these challenges by following various initiative under PPP economic powerhouse, implementing best of waste management and environmental solutions are on my agenda table. Switching from conventional streetlamps to LEDs presented an interesting opportunity on which we have already started working upon.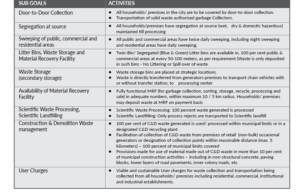 What special Waste Management schemes have been implemented under Swachh Bharat Mission?
Ghaziabad Nagar Nigam has its own functional waste to compost plant with waste processing capacity of 300 MT per day. Also, another waste to compost plant is adopted with neighbouring ULBs under cluster model for the waste processing 200 MT per day. Keeping Solid Waste Management concern in mind waste-to-energy plant at Galand is being setup in Ghaziabad. The site – at Galand will be equipped with a waste-to-energy plant . This will help generate power for the city. The site is far away from habitation and also away from the Hindon airbase's flying zone.
What are your plans for city's urban development?
We have a trust based relationship with KPMG and senior professionals like Nilachal Mishra have been mentoring the team deputed here so we believe that all our plans are rolled out in successful manner. It's a high time that we maintain the pace with what we have been working over past one year. Because getting into pace of development may be easy but sustaining the pace of development may not be easy.
Let us join hands be it our public representatives, safaikarmi (the backbone of Ghaziabad Municipal Corporation), Health Department, Civil works wing, Water works wing or revenue wing of Ghaziabad Municipal Corporation. We all have worked together in past and intend to do so in the comping times too.
Follow and connect with us on Facebook, Twitter, LinkedIn, Elets video