Naya Raipur is set to become India's first Smart Greenfield City. Naya Raipur Development Authority (NRDA) engaged a host of City planners, professional consulting organizations, special interest groups and IL&FS Technologies Limited (ITL) to come up with the design of a world-class city. Thence, IL&FS Technologies, along with Schneider Electric, have worked extensively to bring to life the vision of NRDA.
Naya Raipur Smart City brings some key innovations to urban living such as Green Building Concept, which will save electricity by virtue of its design allowing ample sunlight and ventilation during the day and use of solar power plant, underground power distribution system, with 12 indoor 33KVA Sub stations, a Public Private Partnership (PPP) model for the city's water supply system as well as 10 water bodies and an Oxygen zone for its citizen's well being.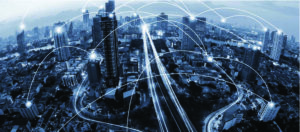 To further this dream of innovative living, ITL brought together a multitude of systems to turn the new capital of Chhattisgarh into a truly Integrated Smart City. The Command and Control solution will integrate technologies like CCTV/Surveillance, Traffic Management (Over speeding, Automated Challans), Water supply system, Electricity distribution system as well as public vehicle tracking for a world class BRTS which includes conductor less buses with emergency push button, Passenger Information system and smart cards for seamless mobility.

A unique feature of ITL's solution for Naya Raipur Smart city is its "disable friendly" citizen portal. This portal encompasses all services NRDA has to offer to any citizen living in Naya Raipur. From land allotment to building plan approvals, property tax to utility bill payments, registration to new connections, all citizen services fall under the gambit of this portal. It enables the Naya Raipur citizens to experience a true windowless government service delivery.
Commenting on this state-of-the-art smart city project, Mr. Durga Prasad, CEO, IL&FS Technologies said, "We are delighted that as part of our endeavor to bring global technologies to India, ITL delivered a first of its kind citizencentric smart solution to facilitate an inimitable standard of living for the citizens of Naya Raipur and help NRDA transform the day to day city governance through decision making based on Data and cutting edge Analytics"
ITL's expertise lies in delivering smart infrastructure through integration of technology into everyday life. ITL offers solutions that transform G2C service delivery through safe and secure online transactions on citizen's desktop/ mobile. Headquartered in Gurgaon, ITL has delivered successful e-governance solutions in India, South East Asia and SAARC nations. The organization has a distinct position in the industry as it delivers global solutions with a local flavor through flexible business models such as PPP, BOOT, BOO to name a few.
Follow and connect with us on Facebook, Twitter, LinkedIn, Elets video