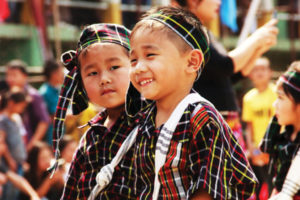 With a lot of cities in the country vying each other developing as a Smart City, Aizawl doesn't wish to lag behind. Such a sentiment seems to be deriving the State machinery of Mizoram to develop this capital city as the Smartest City of all, observes Ritika Srivastava of Elets News Network (ENN).

The Government of Mizoram, powered by Urban Development and Poverty Alleviation Department (UD&PAD) , is leaving no stone unturned to realise Prime Minister Narendra Modi's favourite dream of developing smart cities in the country. Aizawl is one of the 100 shortlisted cities in the Smart Cities Mission. It's putting in every possible effort to make Digital India a success.
Mizoram already has e-governance domain and State Wide Area Network, State Data Centre, Common Service Centre for a delivery channel, and is developing G2C and G2G services for common man's easy accessibility. The City at a Glance Situated along a ridge, Aizawl is a hill town. Besides its breathtaking beauty, it is the centre of administration containing all important Government offices, State Assembly House and Civil Secretariat. The local population strongly reflects different communities of the ethnic Mizo People where they maintain a peaceful co-existence.
Its strategic location, pleasant climate, hilly topography and enchanting landscape along with high concentration of Government amenities and facilities has attracted many people from its nearby villages, turning it into a city of 2.6 lakh people. The economy of Aizawl is basically sustained by government services as it is capital of Mizoram. Major banks are located within Aizawl, which is about 30 km from Lengpui Aiport.
The airport provides connectivity to Kolkata Netaji Subhash Chandra Bose International Airport, Guwahati Lokpriya Gopinath Bordoloi International Airport and Imphal International Airport. In Swachh Survekshan 2017, Aizawl was ranked 105th among the 434 cities. Mizoram State has 92 per cent literacy rate.
Mizoram Taxation department has extended its e-services by enabling payment of tax through the Internet, leaving behind the tradition of making long queue to pay taxes since 2014. By availing the convenient e-payment facility, people can now pay their taxes through Industrial Development Bank of India (IDBI). The Taxation Department has taken active steps since it started its project of e-governance, as a result of which a number of e-services have been launched, much to the ease and convenience of the people.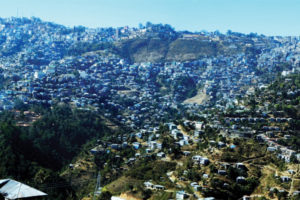 At the moment, the State Government through ICT department has put in hard work to ensure success in fulfilling the Prime Minister's vision of Digital India. The State already has an e-governance domain and State Wide Area Network, State Data Centre, Common Service Centre for a delivery channel, and is developing G2C and G2G services for common man's easy accessibility.
Apart from Bharat Net project, the State has taken steps to improve internet connectivity for all Government departments in districts through a wireless system under the State Government's flagship programme New Economic Development Policy (NEDP).
Furthermore, the department has completed application development of Content Management System (CMS) for all government websites, Online Water Billing, Online Power Billing, Inventory Management System, Online Property Return System, Online Leave Application.
The State Government of Mizoram has extended its horizon by introducing 'IT Education Programme for 100 Schools' and 'Interactive Digital Classroom for Development of Science and Mathematics'. Under Skills Development programme, IT has been introduced at the high school level. Mizoram has also mandated IT proficiency for all recruitments under the State Government wherein Course on Computer Concept (CCC) is the minimum prescribed.
So, in near future, all State government employees will turn IT literate. "The influence of e-governance in a small State with high literacy like Mizoram has been tremendous," says Dr C Vanlalramsanga, Secretary, Urban Development and Poverty Alleviation Department, Government of Mizoram. "However, we will need credible, reliable and flawless internet connectivity to effectively implement e-governance in the State to be able to transform public administration in a very significant manner."
The Government of Mizoram has a dedicated ICT Department to closely monitor the growth of ICT projects in the State. The ICT Department has set up the State Data Centre for data security, and they are also proposing to set up Cyber Security Centre. Solar project in Aizawl Mizoram's Solar Power Project Approval Committee (SPPAC) has approved the proposal for setting up of a 20 MW solar park.
The project will be implemented by the State power and electricity department and Zoram Energy Development Agency (ZEDA). A meeting chaired by Secretary for Power and Electricity H Lalengmawia discussed wide ranging issues concerning generation of power through solar energy recently. The Solar Power Policy of Mizoram, 2017 envisaged all government office buildings should harness solar energy in their building premises.
Mizoram Joins Uday
Mizoram has signed a Memorandum of Understanding (MoU) with the Central Government to improve the power distribution in the State last year. The MoU was signed under the scheme Ujwal DISCOM Assurance Yojana (UDAY), making it the 27th state to join the UDAY scheme which is meant for revival of debt-stressed discoms.
Mizoram is expected to earn Rs 198 crores by opting to participate in UDAY, by way of cheaper funds, reduction in Aggregate Technical and Commercial (AT&C) losses and transmission losses, interventions in energy efficiency, etc during the period of turnaround.
The reduction in AT&C losses and transmission losses to 15 per cent and 2.50 per cent respectively is likely to bring additional revenue of around Rs 166 crores during the period of turnaround. The reduction in AT&C losses and transmission losses to 15 per cent and 2.50 per cent respectively is likely to bring additional revenue of around Rs 166 crore during the period of turnaround.
The Central Government will provide incentives to the State Government for improving power infrastructure in the State and for further lowering the cost of power. The ultimate benefit of signing the MoU would go to the people of Mizoram. Reduced levels of transmission and AT&C losses would mean lesser cost per unit of electricity to consumers.
The scheme would also allow speedy availability of cheaper power to 22,007 households in the State that are still without electricity. Road Infrastructure The Indian government has partnered with the the Japan International Cooperation Agency (JICA) for Phase I of the North East Road Network Connectivity Improvement Project. JICA will give an aid of Rs 4,000 crore to improve the connectivity in the northeast by constructing national highways and bridges. Modern slope protection technologies will be used in the project to address the problem of landslides in the northeast.
In the first phase of the project, NH-54 and NH-51 in Mizoram and Meghalaya will be developed. NH-54 is located in central Mizoram and the stretch of the targeted section of NH-54 is from Aizawl to Tuipang in Mizoram stretching to 350km. The improvement of NH-54 would enhance the connectivity of the Kaladan Multi Modal Transport Corridor, which connects the northeastern states with the rest of India through Myanmar by roads, inland water transport and marine transport. National Highways and Infrastructure Development Corporation Limited of the Ministry of Road Transport and Highways will complete this project.
MAJOR PROJECTS IN AIZAWL:
Zodin Smart (Robotic) Multi-Level Car Parking at Aizawl, Mizoram
• Mizoram State Convention Centre
• Smart Water Metering
• 4. Septage Management Plant at Aizawl
• Solid Waste Management centre at Aizawl
Follow and connect with us on Facebook, Twitter, LinkedIn, Elets video