Uttar Pradesh Investors Summit 2018 is an endeavour to achieve a goal of generating an investment of Rupees 5 Lakh crore investment and employment for 20 lakh people in five years, says Dr Anup Chandra Pandey, Infrastructure & Industrial Development Commissioner, Government of Uttar Pradesh, in an interview with Arpit Gupta of Elets News Network (ENN).

What is the main objective of organising Uttar Pradesh Investors Summit 2018?
To be inaugurated by Hon'ble Prime Minister Narendra Modi, the Uttar Pradesh Investors Summit 2018 is being held in Lucknow on 21st and 22nd February. Being organised for the State's holistic development and exploring investment opportunities for industries and generating employment, it will give boost to the Uttar Pradesh Government's aim to generate five lakh crore investment and employment for 20 lakh in five years. Many important industrialists from all over the country and abroad are expected to participate in the Summit.
We are determined to make Uttar Pradesh a nationally and internationally preferred investment destination, thereby generating maximum direct and indirect employment and selfemployment for both skilled and unskilled workforce and igniting sustainable, inclusive and balanced economic growth of the State. Uttar Pradesh, with its 22 crore population, offers a huge market which also provides a good lot of skilled hands. Establishing industries in the State will lead to job creation at a large scale and provide opportunities to investors.
To attract investors, we have conducted six roadshows in industrial cities of the country including in Delhi, Hyderabad, Kolkata, Bengaluru, Mumbai and Ahmedabad and interacted with the captains of the industries.
Why should one invest in Uttar Pradesh? What steps have been taken by the Government of Uttar Pradesh to promote 'Ease of Doing Business'?
To set up industries in Uttar Pradesh and provide employment, the Uttar Pradesh Government is committed to improve investment climate. We have taken a number of initiatives to create a conducive environment for industries, including providing various facilities by the State government to establish business in Uttar Pradesh.
The government is also taking steps in consonance with the Government of India's policy of 'Ease of Doing Business'. Under this, processes are being simplified and all industrial services, clearances, approvals, permissions and licenses will be provided through a single, dedicated portal which is being developed and to be monitored by the Chief Minister's Office.
The Department of Industrial Policy and Promotion (DIPP), GoI has approved UP's 333 out of 372 Reforms, signifying doing business in UP has become easier. We have finalised the single window concept to curb the human interface. We also have a regular grievance redressal system for the industries through "Udyog Bandhu". In line with the 'Make in India' programme, the 'Make in UP' programme will adopt a strategy that inspires, empowers and enables in equal measure to make UP a manufacturing hub of India.
The Government believes that a complementary framework of investment promotion is essential with an overarching strategy of building a 'safe, secure, corruption free, industry friendly – most preferred investment destination' image of Uttar Pradesh. Towards this, the State Investment Promotion Board (SIPB) will institutionalise investment promotion activities and fast track decision making and clearance for industrial projects in the State. The Board has many prominent industrialists.
What is Nivesh Mitra and how it is helpful to entrepreneurs?
Nivesh Mitra is a unique platform designed specifically to facilitate entrepreneurs for getting faster approvals/ online clearances from various government departments. This is highly beneficial for entrepreneurs setting up new units in UP or planning for expansion of their units. Udyog Bandhu is the nodal agency and single point of contact for the investor facilitation and 'Nivesh Mitra' single window system of the State.
What are the investor-friendly facilities, incentives and policies the UP Government is offering to entrepreneurs?
We have identified a lot of land banks and tweaked our policies to ensure that industries come here.  various level of interaction, we've understood investors' requirements in Uttar Pradesh. We have already come out with our Industrial Investment and Employment Promotion Policy 2017 as well as sector-wise policies have been promulgated which contain attractive provisions for industries' establishment. Many incentives have been rolled out under this comprehensive policy.
We have come up with 14 top-up policies in various sectors. MSMEs constitute an important segment of the economy of Uttar Pradesh in terms of employment generation and as a source of foreign exchange earnings through exports. The sector is also strategically important for attracting capital investment, increasing industrial output and enhancing the GDP of the State.
The Industrial Investment and Employment Promotion Policy has created an overall favourable environment for expansion of existing as well as opening new businesses in the State. To reduce pressure of population on agriculture and to increase the income of farmers, an investor- friendly Agro and Food Processing has also been implemented by the State government and on similar lines, a new Solar Energy Policy, UP Information Technology and Start-up Policy and UP Electronics Manufacturing Policy has also been implemented. Very soon, a handloom and textile, tourism, film and dairy policies will also be implemented.
In which sectors, the Government is focusing much upon and laying emphasis to attract investment?
We have identified 11 sectors. The main areas we are focusing upon are Agro and Food Processing, Infrastructure, Electronics Manufacturing, Information & Technology and Startup, Dairy, Film, Handloom and Textile, Renewable Energy, MSMEs, Tourism, Civil Aviation etc.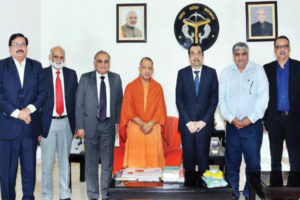 The State government is paying special attention to development of industrial parks. Specific parks like Pharma, food parks, IT parks, leather parks, textile parks, plastic parks etc. are being developed. Our emphasis has also been on promotion of locally specialised businesses at the level of each district of the State like China clay utensils of Bulandsahar, sports items of Meerut, glass work of Firozabad, locks of Aligarh, knives of Rampur, brass work of Moradabad, mint of Sambhal, furniture of Bareilly, perfume of Kannauj, shoes and petha of Agra, leather work of Kanpur, carpet of Bhadohi, sarees of Varanasi, sugar of Balrampur, jaggery of Muzaffarnagar and Chikan work of Lucknow etc.
How will the Uttar Pradesh Investors Summit 2018 help enhance jobs and employment opportunities for the youth?
Employment will be the main focus, be it direct employment or indirect employment. With special benefits for creating job opportunities in Bundelkhand, Poorvanchal and Madhyanchal regions of the State, the policy will also incentivise industrial units creating employment opportunities for both skilled and unskilled workers in these regions of the State. We want Uttar Pradesh Investors Summit 2018 to be very dynamic, through which Uttar Pradesh will have more prosperity and more employment.
Uttar Pradesh's Advantages
4th largest state occupying 7.3% of India's land area
3rd largest economy contributing 8.5% to the India's GDP
Highest consumer base with 16.5% of Indian population
Highest PPP infrastructure projects in India (15%)
Strongest agriculture and food processing base in India Amongst top 5 manufacturing States in India
2nd highest no. of MSMEs (organised & unorganised) in India
Most competitive sector specific policies and incentives
Follow and connect with us on Facebook, Twitter, LinkedIn, Elets video