The vision of Uttar Pradesh Investment Summit 2018 is to establish Uttar Pradesh as a nationally and internationally competitive investment destination to generate employment and for sustainable economic growth of the State, says Suresh Rana, Minister of State (Independent Charge) Sugarcane Development, Sugar Mills and Minister of State for Industrial Development, Government of Uttar Pradesh, in conversation with Arpit Gupta of Elets News Network (ENN).

Give us an overview of Uttar Pradesh Investment Summit 2018 and its preparations.
Under the leadership of Hon'ble Chief Minister Shri Yogi Adityanath ji, the Uttar Pradesh Government has adopted zero tolerance against corruption and crime, which gives an impetus to an investor-friendly environment in the State. Our Government has created conducive business-friendly environment across the State over a short span of time by ensuring simplification of procedures, timely clearances benchmarked with the best and responsive facilitation services. Hon'ble Chief Minister had created a group of senior ministers to study and understand the industrial policies of various state governments in the country and now the Industrial Investment & Employment Promotion Policy of Uttar Pradesh 2017 is all set to be launched.
The policy will be unveiled at the Uttar Pradesh Investment Summit 2018 that envisions establishing Uttar Pradesh as a nationally and internationally competitive investment destination thereby generating employment and igniting sustainable, inclusive and balanced economic growth of the State. Since we are inviting industries to invest in Uttar Pradesh, we realised the need for an effective implementation of a mechanism to provide all industrial services under one roof. Hence, a dedicated Single Window Clearance Department directly under the Chief Minister's Office has been created, which will be the sole interface of the Government for providing all industrial services/ clearances/ approvals/ permissions/ licenses online.
How has been the response from industries and what expectations do they have from the Government?
We have received overwhelming response from the leading corporate houses and industry captains like Ambani, Hinduja, Tata, Adani, Birla etc. during our roadshows. I express my gratitude towards them for accepting invitation from the Government of Uttar Pradesh. We have exchanged thoughts and ideas how we can realise the vision of Hon'ble Chief Minister and Hon'ble Prime Minister. In line with the 'Make in India' programme of the Government of India, our 'Make in UP' programme will adopt a strategy that inspires, empowers and enables in equal measure making Uttar Pradesh a manufacturing hub of India.
Our Industrial Investment & Employment Promotion Policy 2017 will strive to leverage the inherent strengths of the State while developing new ones and tackling its underlying weaknesses, considering the economic dynamics at play at the Indian, Asian and global level. The policy aims to create a framework to stabilise and make existing industries more competitive as well as attract and realize new international and national investments in the industrial sector.
Uttar Pradesh is a State of 20 crore individuals providing the biggest workforce in India. We are aiming at employment- led investment up to five lakh crore leading to employment for 20 lakh people in the next five years. We are determined to make Uttar Pradesh as the most preferred investment destination of our country.
Where do you see the future of MSME clusters of the State? What is 'One District One Product' (ODOP) scheme?
Uttar Pradesh has contributed 11.55 per cent of the total number of Micro, Medium and Small enterprises (MSMEs) in India in 2015-16, opening a bright future in the major MSME clusters of the State. The 'One District One Product' (ODOP) scheme launched by Hon'ble Chief Minister aims to preserve, develop & promote local crafts and skills. We are linking villages with industries. If villages will prosper, nation will flourish. Hon'ble Prime Minister has set an example in Gujarat by connecting villages with the industries. We have the highest number of MSMEs in India. We have a number of locally specialised business clusters such as sports items in Meerut, brassware in Moradabad, perfumes in Kannuaj, leather in Kanpur, shoes in Agra, embroidered sarees in Varanasi, carpet in Bhadohi, chikan work in Lucknow etc. 'One District One Product' scheme will be a historic initiative of Hon'ble Chief Minister offering immense possibilities to create more opportunities for growth and sustainability.
What are your plans to advance the infrastructure and promote industrial and investment regions?
The Government of Uttar Pradesh intends to create such regions with the most advanced infrastructure and outstanding facilities tailored to suit the requirements of modern industries along major expressways such as Lucknow Agra Expressway and major road networks of the State. We intend to develop Lucknow-Kanpur, Kanpur- Allahabad and Varanasi-Allahabad zones on the lines of Noida and Greater Noida and promote industrial and investment regions and private industrial parks in these zones. With special benefits for creating job opportunities in Bundelkhand, Poorvanchal and Madhyanchal regions of the State, we will also incentivise industrial units creating employment opportunities for both skilled and unskilled workers in these regions of the State.
The economy of Uttar Pradesh is primarily dominated by the tertiary sector, followed by primary and secondary sector. The State is known as the food basket of India, as it is the leading producer of sugarcane, pointed gourd, peas, potato, muskmelon, watermelon, pumpkin, milk and milk products in the country.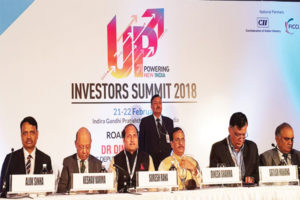 Uttar Pradesh is also amongst the top manufacturing destinations in India contributing more than eight per cent of national manufacturing output. The State is a leading electronic hardware exporter in the country and has also emerged as a key hub for IT/ ITeS and service sector including software, captive business process outsourcing (BPO) and R&D services. The tertiary sector has been driven by trade, hotels, real estate, finance, insurance, transport, communications and other services.
What message do you have for industrialists?
Our visionary Hon'ble Chief Minister has expanded the industrial and investment regions. On one hand, we have planned a major expressway in Poorvanchal and Bundelkhand regions. We are already well connected with national capital New Delhi through Yamuna expressway, on the other. We are also connecting Meerut to Delhi with a 14-lane highway to strengthen transport connectivity in Western region of Uttar Pradesh. We have a very big land bank and opportunities in Bundelkhand and Poorvanchal. Investment conditions are better in Uttar Pradesh because we have ample amount of power generation and electricity supply as well. This makes Uttar Pradesh the most preferred investment destination of our country
Follow and connect with us on Facebook, Twitter, LinkedIn, Elets video