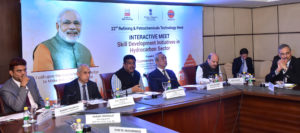 Union Minister of Petroleum & Natural Gas and Skill Development and Entrepreneurship, Dharmendra Pradhan has urged  global companies of repute in refining and petrochemicals technologies  to collaborate with premier technical institutes of Odisha.
This will not only provide special training to youths of the State but also increase their employability.
During the 22nd Refining Technology and Petrochemicals Meet in Bhubaneswar, Odisha, Pradhan chaired a special meeting with industry representatives and academicians to explore options of technical collaborations with international tech-driven companies and local skill development institutes, technical institutes.
"Odisha offers a very optimistic eco system to develop it as skill & knowledge centric hub with the presence of premier academic institutions under the state and private sector as well as world class training institutions like CIPET and Central Tool Room,''  he said.
He further emphasised that these platforms must create networking opportunities to collectively upgrade the human resources capital. He said that we must ensure that people's skills keep pace with technology.
The Japanese Ambassador  Kenji Hiramatsu, who was part of the deliberations, said that Odisha offers tremendous potential for developing knowledge and skill-based industries with support from Japanese business sector.
Skill development has been accorded a top priority in the Hydrocarbon sector, in line with the National Skill Development Mission of Govt. of India.  The Hydrocarbon sector in India has evolved rapidly over the years.
The enormity of this sector and its rapid growth promises remarkable contribution to Indian economy, in terms of GDP and employment opportunities – both direct and indirect employment.
The availability of sufficient number of skilled personnel for business operations and the associated challenges related to attracting, training and retaining of personnel etc. are gaining critical importance today.
Considering the pioneering initiatives introduced in Odisha by the Ministry of Petroleum & Natural Gas, putting it strongly on the road of being the' Energy Gateway to Eastern India', it is opening up a world of opportunities for progress and prosperity of the region.  In this context the Petroleum, Chemicals, Petrochemicals, Investment Region (PCPIR) being developed at Paradip, shall require manpower with varied skill sets for hydrocarbon as well as for allied sector.
Rajesh Agarwal, Joint Secretary (Skill), Government of India, while setting the context said that this networking shall promote positive interaction between employer and trainer and who deliver skills on ground. 
Representatives from skill development institutes from Odisha like IIT, Skill Development Institute, CIPET, CV Raman Engineering College, Shikasha O Anusandhan, Kalinga Institute of Industrial Technology & Kalinga Institute of Social Science, central Tool Room, Centurion University, and Sri Sri University, participated in the interaction.
Follow and connect with us on Facebook, Twitter, LinkedIn, Elets video