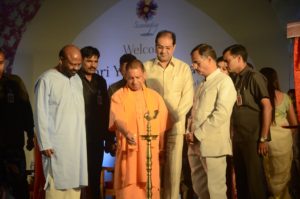 HCL Technologies has started a project titled 'Samuday' with an aim to create model villages in Uttar Pradesh. The project was unveiled by Chief Minister of Uttar Pradesh Yogi Adityanath.
The project, started in 2o15, is already being implemented in three blocks of Hardoi district of Uttar Pradesh.
Since its launch, Samuday has been able to turnaround lives of around  six lakh people in 90,000 households across 720 villages through various interventions in the fields of education, agriculture, health, water, sanitation and hygiene, infrastructure and livelihood.
"I congratulate HCL for launching 'Samuday' in Uttar Pradesh. It makes me proud that HCL, which started its journey from Uttar Pradesh and is now grown into a global conglomerate, has chosen Uttar Pradesh for its biggest CSR project. I am confident that the spirit with which the project is being implemented will certainly help the last man on the ground," said Adityanath.
Through Samuday, HCL wants to empower people to help them make informed decisions and enhance the quality of life for themselves and their children.
The programme has also engaged 5,000 farmers under various interventions and has constructed 5,500 toilets, which are currently under usage.
"We, at HCL Foundation, believe that positive social change can be brought by innovative and creative models of development. Our proximity to the place from where we started our journey makes Uttar Pradesh the right fit for the project to begin. This project is not about driving changes in the rural sector as an external partner but taking communities with us in this transformational journey. We feel that through the Samuday model, we will be able to develop a blueprint that is sustainable, scalable and replicable throughout the world," said Roshni Nadar Malhotra, Chief Executive Officer, HCL Corporation and Chairperson of the CSR Committee for the HCL Technologies Board.
"HCL Samuday will help us bring a positive impact through its various interventions in the areas of Education, Livelihood, Health, Infrastructure, Wash & Sanitation and Agriculture.  We thank Uttar Pradesh government for their continued encouragement and support," said Navpreet Kaur, Director, Project Samuday.
 HCL, a diversified global enterprise, is committed to its core belief of 'Touching Lives' and through HCL Foundation established in 2011, the enterprise aims to build inclusive growth and development of the larger social consciousness, which is essential for the unified progress of the nation.
Follow and connect with us on Facebook, Twitter, LinkedIn, Elets video