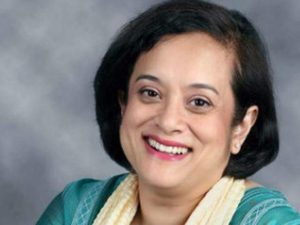 Debjani Ghosh, the former managing director of Intel South Asia, is set to be the first woman President of Nasscom, it has been revealed in a statement.

She will succeed R Chandrashekhar, President, Nasscom, upon completion of his term in March 2018, the apex software body has announced.
The National Association of Software and Services Companies (Nasscom) has named Debjani Ghosh as its President-Designate, who will succeed R Chandrashekhar after completion of his tenure in March next year.
Debjani Ghosh at our event in the past
Ghosh has been a member of Nasscom's Executive Council and a trustee of Nasscom Foundation.
"The industry is today at a very interesting inflection point and Nasscom has a key role to play in catalysing the next phase of growth of the sector. Under Debjani's leadership, Nasscom will further enhance its initiatives in innovation, disruptive technologies, skilling and new market access," Raman Roy, Chairman of Nasscom said.
Ghosh's appointment is a reflection of the importance of diversity and inclusion for the industry, he added.
"…I firmly believe that Nasscom is much more strategically placed than any other forum to drive the IT agenda of the country," Ghosh reacted to the development related to her appointment.
Having been one of the growth drivers for the economy, the Indian IT and business process outsourcing industry is presently a $150 billion sector. It represents multiple sub-sectors.
NASSCOM is focused on building the architecture integral to the development of the IT BPM sector through policy advocacy. It helps in setting up the strategic direction for the sector to unleash its potential and dominate newer frontiers.
Follow and connect with us on Facebook, Twitter, LinkedIn, Elets video