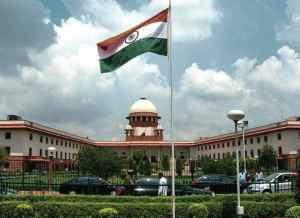 Giving a massive blow to the government's Aadhaar push, the Supreme Court has ruled that Right to Privacy is a fundamental right.
"Right to Privacy is an integral part of Right to Life and Personal Liberty guaranteed in Article 21 of the Constitution," the apex court's nine-judge bench said. (Read the full text here.)
However, SC has not ruled on the validity of sharing information under Aadhaar yet. A five-judge bench of the court will test the validity of Aadhaar from the aspect of privacy as a Fundamental Right.
"The government welcomes the view of the Supreme Court, which is consistent with all the necessary safeguards that the government has been ensuring in its legislative proposals which had been approved by Parliament," said the Ministry of Law & Justice.
"The judgement reads that personal liberty is not an absolute right but liable to the restrictions provided in the Constitution which will be examined on a case to case basis," the ministry said.
Supreme Court has said that #RightToPrivacy is not absolute and is subject to reasonable restrictions.

— Ravi Shankar Prasad (@rsprasad) August 24, 2017
We welcome all the principles laid down by Supreme Court in the #RightToPrivacy verdict.

— Ravi Shankar Prasad (@rsprasad) August 24, 2017
In the wake of increasing incidents of data leaks and hacking, Aadhaar critics say that biometric data linked to the card is easily prone to misuse by the government agencies.
Experts are saying this judgement is a massive jolt to Aadhaar. Now the Centre has to convince SC that asking citizens to give a sample of their fingerprints and their iris scan does not violate privacy.
Do you think future of #Aadhaar hangs in balance now? https://t.co/TFmvNP7rre ##FundamentalRight#RightToPrivacy#SupremeCourt#eletsonline

— eGov Magazine (@egovonline) August 24, 2017
LIVE from 3 PM: Press conference by Union Minister @rsprasad, on Supreme Court verdict on #RightToPrivacy https://t.co/99S17ctxL9

— PIB India (@PIB_India) August 24, 2017
Follow and connect with us on Facebook, Twitter, LinkedIn, Elets video