Smart colonies make cities smarter. It is much required to make smart colonies which will ultimately make smart cities. We cannot depend on central or state government for all the things. We have to take charge and make our cities cleaner and smarter, says Anand Singhania, Managing Director, Avinash Group in conversation with Gopi Krishna Arora of Elets News Network (ENN).
Avinash Developers began its operations in 1996, creating a belief 'Avinash hai to vishvas hai' (Avinash is a synonym of trust), how has been this journey? 
The journey has been really very good. The main objective was to create a change in lifestyle, the way people live, shop, club, dine, watch movies and the way they work. Avinash Group is doing this for all the segments of the society. In residential segment, we are doing a project of seven lakh to one crore per unit. Even in the seven lakh unit, we are providing access to all amenities like 24×7 power and water supply, club, parking, water treatment plant and many more.
"Our team is self motivated and strong. We have passion to develop innovative projects and differentiator services which help to change people's lifestyle."
Our tagline says "Creating Lifestyles" and to some extent we have been able to do that by creating international malls, biggest club in central India, affordable homes as well as premium villas.
How has the market performed last year?
Last one year was very tough. People buy properties when they are in their comfort zone. Last year, a lot of things happened like demonetisation which created negative sentiments and insecurity among the people. Lots of jobs were also laid off during that phase. Apart from this, difference in demand and supply was also there which required correction. Now that correction has taken place and people are getting what they wanted in their given budget, things are again back to normal.
Ease of doing business is very important for any sector. What is the average time to secure real estate project approvals in Chhattisgarh? 
In the present administrative system, it normally takes 18 months to secure all the approvals for a project after acquisition of land.
Do you think this entire approval process requires correction? 
The government is positive about making changes to enhance the ease of doing business but nothing is happening on the ground. It takes 18 months from acquiring land to the commencement of the project, as many departments are involved in this process. There is lack of coordination among all of them. There is no industry participation in policy making without which ease of doing business will be a major challenge. The government should monitor all departments involved in the approval process as well as consult with all the stakeholders for a friendly business environment.
How is Avinash Group contributing towards government's ambitious plan of 'Housing for All' by 2022? 
We are doing around 3,000 units in affordable segment. We are the first one to start affordable segment around four years ago and got wonderful response. Today, Pradhan Mantri Awas Yojana-Housing for All is acting as a catalyst for affordable housing. But I still feel that despite all these initiatives we are not able to attract end users as lot of documentation is involved in the scheme which can be reduced, looking at the risk of Non-Performing Assets (NPA) which is around three per cent. Though the government is doing great job but still it looks difficult to achieve 'Housing for All' by 2022.
How is the luxury segment performing?
What is the threshold in your city? Luxury segment is around 15 per cent of overall real estate market.
How do you view the Real Estate Regulatory Bill and GST Bill? How it will help the real estate sector?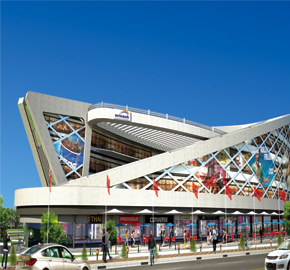 As far as GST Bill is concerned, there are many things which are not clear like what will be the taxation and other related aspects. I am hopeful that this bill will create an ease of doing business, as there will be one point of taxation across country provided that it should not increase the cost of real estate to end users. The Real Estate Regulatory Bill is a wonderful thing. This bill was much required because end users were not able to differentiate between right and wrong. Earlier, end users were always in a state of confusion about whether if they were buying right property from the right builder or not. However, at the same time, there will be a slight increase in the costing of the product. There is another major aspect missing from the Real Estate Regulatory Bill as all the stakeholders are not part of this Act except builders. There are many departments responsible for giving No Objection Certificates (NOCs) like banks, municipals corporations, planning department and revenue department. They are not part of this Act. In case of any delay in the process from above stakeholders, there is no way to hold them accountable.
You headed CREDAI in the past and very well understand the relation between end users and the builder, why there is a huge gap between buyers and developers?
There was a lack of transparency between buyers and developers but in the last 4-5 years this has reduced a lot. I completely understand that there was an image deficit of builders but CREDAI has played a very commendable job in creating transparency between buyers and developers. With an aim to transform the lives of women who are employed at construction sites, CREDAI recently launched its first All Women Mason Batch under its skill development initiative.
What is your vision for Smart Cities?
We have decided to use waste management solutions and put zero load on municipal corporations for garbage. I believe that smart colonies make cities smarter. It is much easier to make smart colonies which will ultimately lead to smart cities. We cannot depend on Central or State government for all the things. We have to take charge and make our cities cleaner and smarter. At the same time, the government also needs to encourage who are contributing towards the vision of Smart Cities through Smart Colonies.
What is your take on overall Chhattisgarh real estate market? 
Chhattisgarh needs bigger job opportunities. We need to encourage core industries as well as non-core industries should be incentivised. We need to encourage our core industries like steel, cement, rice and mineral so that they can contribute towards State's growth on a large scale. All these steps from government side will help real estate market to grow. Secondly, all builders need to understand the exact requirement of end-user and based on that we should execute our projects. Thirdly, builders need to enter Tier-3 and Tier-4 cities of Chhattisgarh, as there is huge scope of development.
Recently you received 'Chhattisgarh Entrepreneurs and Excellence Awards Raipur, 2017'. To whom would you like to give its credit to?
We, the Raipurians, have always been enterprising by nature. It's in our blood. Firstly, I would give credit to my city and my family for showering immense love, support and blessings upon me. Secondly, I am a selfmotivated person and I have passion to develop good buildings through which I am able to create a change in the lifestyle of Raipur people. It gives me immense pride when someone says we have good malls, clubs, societies and Raipurians do not lag behind anyone.
Follow and connect with us on Facebook, Twitter, LinkedIn, Elets video