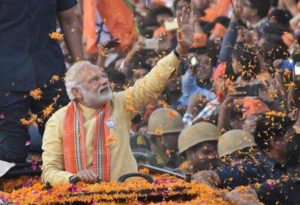 In the 403-seat Uttar Pradesh Assembly, the Bharatiya Janata Party (BJP) registered a massive win with over three-fourth majority. Modi 'tsunami' is said to be one of the major reasons of landslide win of BJP.

The BJP and its allies have bagged victory in 325 seats while Samajwadi Party and Congress alliance won mere 54 seats. It is the biggest majority for any party in Uttar Pradesh since 1980. People of Uttar Pradesh have voted for performance-based politics and governance, claimed senior party leaders.
"I thank people of UP from bottom of my heart. This historic victory of BJP is for development and good governance," Prime Minister Narendra Modi tweeted.
This victory will change the course of Indian politics in the coming days. It will end the politics of casteism, parivaarvaad and appeasement, said President Amit Shah, in a press conference, adding that the party workers will welcome PM Narendra Modi tomorrow at 6 pm and then will decide on leadership in states that BJP has won.
BJP Uttar Pradesh chief Keshav Prasad Maurya said, "It is a Modi wave. The wave which started with 2014 Lok Sabha elections is continuing in 2017 and the momentum will go beyond the 2019 general elections."
Follow and connect with us on Facebook, Twitter, LinkedIn, Elets video