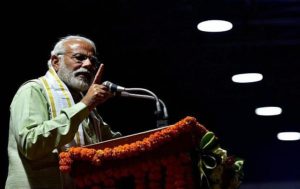 The Prime Minister Narendra Modi has appealed to the citizens to take the pledge for a New India and express commitment, while addressing a gathering at the BJP headquarter in New Delhi and thanking the people of Uttar Pradesh, Uttarakhand, Manipur, Goa and Punjab for turning out in large numbers to vote.
The Prime Minister said on his Narendra Modi Mobile App, "A new India is emerging, which is being powered by the strength and skills of 125 crore Indians. This India stands for development."
He added, "When we mark 75 years of freedom in 2022, we should have made an India that will make Gandhi Ji, Sardar Patel and Dr. Babasaheb Ambedkar proud."
Prime Minister said that elections were about 'Lok Shikshan' and deepening the bond between people and democracy. "There are many reasons for a win but such an empathetic win after such a record turnout is special and makes everyone think. Development is always a central issue during every election. But, earlier parties were scared to fight elections on development," Modi remarked after the massive poll victories in Uttar Pradesh and Uttarakhand.
The Prime Minister further said that a new India was rising. "A new India of the dreams of its Yuva Shakti is taking shape. A new India that fulfils aspirations of its Nari Shakti is taking shape. A new India about giving opportunities to the poor is taking shape."
Prime Minister Modi stated that election results of five states were about assuming more responsibilities and serving the people. He added, "Power is not about posts. Power is an opportunity to serve. Generations of individuals have given their lives to build this party. They travelled all over India to make the party strong."
Recalling the ideals of Pandit Deen Dayal Upadhyaya, PM Modi remarked, "Antyodaya is integral to our work. We understand the strength of India's poor. Reposing faith in the power of the commons, he further said, "The burden on the middle class should reduce. This will enable our middle classes to shine. The strength of the poor and the aspirations of the middle class will take India to new heights."
The PM further added, "I am not someone who looks at things only from an election perspective. I see things for the well being of the people. In 2022 we will mark 75 years of independence. This will be a landmark moment for the nation."
At the end, Modi said that the Government is for everyone. "Government is formed with 'Bahutmat' but runs through 'Sarvamat'. Ours is a government of everyone."
Follow and connect with us on Facebook, Twitter, LinkedIn, Elets video