In one of its kind services, Greater Hyderabad Municipal Corporation (GHMC) has started a social bonding initiative that will cope up with urban solid waste of the city. Dr B Janardhan Reddy, IAS, Commissioner, GHMC and Raghu Ram Goud, Consultant, Swachh Bharat Mission, National PMU KPMG reveal various initiatives of the municipal corporation to Elets News Network (ENN).
Solid Waste Management (SWM) is a growing concern for city administrations nowadays. Cities are struggling to cope up with the increasing magnitude of the urban solid waste. With factors like increasing population, affluence and enhanced quality of life, the consumption pattern in urban areas has grown exponentially. As a result, urban solid waste is increasing exponentially. The unscientific disposal of solid waste is giving rise to serious public health and environmental consequences. In view of the facilities like health, education, employment, recreation, etc., the cities continue to attract inward migration. Hitherto it was considered that the basic concern of the city administration is to increase its physical infrastructure like water, power, transport, etc. Now, it is felt that scientific management of urban solid waste is equally important as its indiscriminate disposal on city outskirts is no longer sustainable.
With the growing health and environmental concerns, the SWM assumed new importance. The city administration of GHMC under the stewardship of Dr B Janardhan Reddy, IAS, has left no stone unturned in its efforts to bring about a turnaround to upkeep city in recent years. These efforts coincide with "Swachh Bharath Mission" initiatives of the Government of India. However, with the keenly extended support of the state government, Hyderabad administration has moved an extra mile. Initiatives like distribution of twin dustbins to about 21 lakh households, putting in 2,000 auto tippers brought swiftness in garbage lifting process both in terms of quantity and frequency, creation and refurbishing 21 temporary transfer stations all around the city, phasing out obsolete vehicles, reforms in transport section, etc are some of the revolutionary steps that are unparallel in any other city of the country in recent times.
All these efforts resulted in increased quantity of waste disposal as the average transportation is increased from 3,400 Metric Ton per day to 4,500 Metric tonne . Besides, there is drastic reduction in the number of dustbins on city roads. Efforts like colourful painting of city wall some of which are known earlier for their stinky environs, elimination of Garbage Vulnerable Points (GVPs) that are the places where people used to dispose garbage and sustaining them through efforts like cleaning, tree plantation, depiction of Rangoli with colourful theme have caught t he attention of common citizens and helped them to become real partners in the cleanliness initiative. Despite all these, there is one area of concern and that is lack of citizen initiative in "segregation of waste into wet and dry at the source", i.e., at the level of household. Unless it is achieved there is no hope to reduce the quantum of disposal. For this to be achieved involvement of citizens is required. Even at the launch of "Swachh Bharath Mission" in October 2014, it was specifically mentioned that unless this becomes the "Citizen Movement", the mere initiatives from the government would not help in achieving the cleanliness objectives. Then how to involve the citizen as a major stakeholder is a moot point. Information, education and communication are the primary tools to reach out to the maximum stakeholders on a sustainable basis. Greater Hyderabad Municipal Corporation (GHMC) has chosen the right plank of seeming ly un-relevant, but rather strikingly relevant concept of "Unite the Families and Divide the Waste".
How is the concept relevant?
The theme definitely caught the attention of common citizens as whoever listen it will sure ponder over and try to find the relevance between the two objectives. For many, it was difficult to find the connection and naturally there were murmurs that the GHMC is venturing into irrrelevant fields. But through a series of press meetings, radio talks and television shows, Dr B Janardhan Reddy, GHMC Commissioner, has made use of his oratory skills and elucidated the uncanny connection between the two.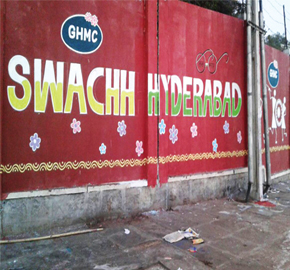 With the globalisation, the world has become a global village! The communication revolution eliminated the information gap between the youth across the globe, and now they are able to interact with their acquaintances anywhere on the globe on real time basis. Thus, there is a growing trend among some sections of the society, especially the youth, to ape western lifestyles, attitude and western way of life. Coupled with this, the growth of service sector in India helped the urban citizens with increased employment opportunities – both for men and women. Consequently, the age old tradition of "Joint Family" system has given way to nuclear families. With changing personal priorities, cultural values, changed lifestyles, the youth in the cities, especially the young working families are facing a distress. We hear several news about people resorting to suicides or divorce on the flimsiest grounds like work pressure, professional failures, lack of accommodation, to respect each other's perceptions etc. The GHMC is striving to transform Hyderabad into a world class city. For this it needs to be the most livable and inclusive city!. Increased investment in physical infrastructure alone would not help in bringing the peace and amity among the society. The distress at the basic unit of the society i.e. family needs to be addressed first. The separation of families will leave the children in real distress and affect their overall development. This does not augur well for an aspiring city. Here lies the link between uniting families and separation of waste, as both are inimical to the growth and development of a city into a global/world class/inclusive/livable city. Apart from highlighting these core essentials, the concept has come in handy for the commissioner, GHMC to drive home a point and impress upon the citizens to give a thought to these two core essentials. A mammoth ceremony organised on 25 January 2017 in Hyderabad's famous cultural centre "Ravindra Bharathi", where about 158 estranged couples were brought to one platform with proper counseling and helped them to reunite has made a news headline and helped in bringing the real objectives to the drawing table of citizens of Hyderabad.
Marriage is one of the most important occasions in a lifetime, a serious commitment. This engagement between a man and woman is a promise of love during both difficult and happy times. Both have obligations towards one another as well as rights. Marriage is essential for the propagation of humanity. The modern married life has become mechanical where people have become highly ambitious. Everybody wants to earn more but they are not able to manage time adequately, hence everything becomes unorganized, which ultimately results in either tensed marital life or divorced life. Due to this many developed nations have higher number of orphans.
The holistic innovation of uniting the family is taken by the commissioner of GHMC for socialistic pattern of the society, defining the basic creation of social gain and the pattern of development which will structure the socioeconomic relationship. It is so planned that not only results in uplifting family socio-economic status but also greater stability of the society by uniting the family members. In Indian context family is the most important primary group in society, and larger families are still prevalent in many part of the country. Family and marriage are considered to be the two pillars of Indian society and in India, traditionally and from time immemorial, marriage has been hallowed as sacred. Once the couple enters into the bond of marriage, the relationship is considered perpetual till death do them apart. What distinguished marriage in India from marriage in the west world was the sanctity attached to marriage. A sense of perpetual bonding and an element of divinity in it. In India the divorce rate is very low when compared to western world however in recent time the divorce rate is growing at alarming rate.
A UN report on the
marital discord in some of
the countries
Ranking
Countries
Divorce Rate/1000
1
2
3
4
5
6
7
8
9
10
13
15
24
28
30
41
47
51
85
100
101
Belgium
Portugal
Hungary
Czech Republic
Spain
Luxembourg
Estonia
Cuba
France
United States
Russia
Germany
United Kingdom
EuropeanUnion
Australia
Japan
China
Singapore
Ireland
Sri Lanka
India
71
68
67
66
61
60
58
56
55
53
51
49
47
44
43
36
30
28
13
2.9
1.3
Divide the Waste Divide or Separate the waste to protect the environment before it is late.. The World Bank defines municipal solid waste as including 'non-hazardous waste generated in households, commercial and business establishments, institutions, and nonhazardous industrial process wastes, agricultural wastes and sewage sludge. Segregation of waste is the first and most important step in waste management and environment preservation. It allows for better disposal of waste and encourages more recycling and reuse of matter. Lack of segregation is the root cause of clogged landfills, blocked drains, soil and water pollution and can hinder the entire process of waste disposal, recycling and reuse.
In India, cities generates about 4.2 million tonnes of solid waste per year generating about 0.6 4 kg per person per day and by 2025 there will be 1.4 billion more people living in cities worldwide, with each person producing an average of 1.42 kg of municipal solid waste (MSW) per day – more than double the current average of 0.64kg per day.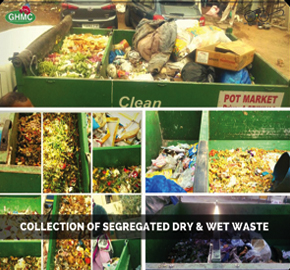 On 25 January 2017 with the initiative of Commissioner GHMC the Urban Community Development wing of GHMC along with the NGO named SRACo has united 158 families and efforts are put to unite 100 more families by April 2017.
Greater Hyderabad Municipal Corporation has distributed 44 lakhs bins to 22.02 lakh households with a cost of INR 23.93 crore and 2,000 Swachh Auto Tippers are operational in all 150 wards for collection of wet and dry waste from house to house. Due to the innovative initiative by the commissioner of GHMC, the collection efficiency has increased from 3,200 MTP to 4,500 MTP. And out of the waste generated, about 60-70% of the waste is segregated at source and the same is maintained till Jawahar Nagar Dumping yard.
Few recent innovative programmes taken by GHMC Parichyam – Knowing each other or making gesture of friendship with the sanitation workers, is an innovative program conceptualised and designed by the Dr B Janardhan Reddy, Commissioner, GHMC, a programme to facilitate the knowledge of sanitation workers details in local ward/street level, by passing the contact information of sanitation workers to the citizens would establish a relation of knowing and owning the sanitation workers responsible in cleaning the area and making the place better, the idea of decentralising the work and engaging the citizens in decision making has won the hearts of citizens and motivated the workers, thus leading towards a holistic approach towards sanitation in the city.
The holistic innovation of uniting the family is taken by the commissioner of GHMC for socialistic pattern of the society, defining the basic creation of social gain and the pattern of development which will structure the socioeconomic relationship.
Name and contact details of the sanitation workers hierarchy-wise are written on all major street nodes where citizens can easy reach out and a small programme is organised in RWAs to introduces the staff. If any part of the street, colony is not cleaned, the citizens can reach out to the concerned sanitation workers and have a dialogue for cleaning the area on priority basis. This kind of collaboration has worked for inclusive participation and over all development of the area.
Good Practices Day– Well performing workers are honored by the Commissioner, Zonal Commissioner and Deputy Commissioner on "Good practices day" conducted by offices on first Saturday of every month.
Special Thematic Drive – GHMC has organized more than 18 special thematic drives from April 2016 still date under Swachh Bharat Mission. These includes cleanness drives in slums, RWAs and Housing societies Registered sports clubs, etc to sensitize people on Sanitation
Elimination of Garbage Vulnerable Point– Integrated solid waste management is practiced in GHMC by collecting 100% door to door collection of waste by Swachh Auto/Tri cycle in residential areas and 100% collection of waste from commercial and industrial areas. The areas cleaned in due process were implemented with various activities like doing Rangoli at the GVP. Some areas have taken up wall paintings with a message of Swachh Hyderabad. There were also banners tied and plantations done, initiatives of relocating the road side vendors, hawkers (tea stall, vegetable cart, pan stall) in these points so that the area could be maintained tidy for a prolonged period. GHMC identified 1116 GVP and eliminated and sustained from time to time all the GVP.
Follow and connect with us on Facebook, Twitter, LinkedIn, Elets video