While opinions over the government's demonetisation move may differ from being positive to lacking planning before implementation, it has undeniably proved to be a great push towards making India a cashless economy. Propelling this push is the country's ability in cutting-edge information technology, writes Priyanka Sharma of Elets News Network (ENN).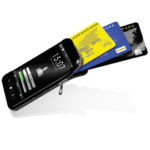 On the night of November 8 this year, people waited with bated breath as Prime Minister Narendra Modi appeared on TV to address the nation in a 25-minute speech. He repeatedly mentioned phrases like "black money", "fake currency", or "counterfeit" as he made the most important announcement of the evening – the withdrawal of currency notes of Rs 500 and Rs 1,000, which formed nearly 86 per cent of the country's currency in circulation, and replacing them with new currency notes of Rs 500 and Rs 2,000. It was quite clear from his speech that the move was aimed at containing the evil of black money, which he mentioned 18 times in his 'thought provoking' speech.
However, many national newspapers on the morning of November 9 carried full-page advertisements from the mobile payment app PayTM hailing the Prime Minister's decision. By November 28, only 20 days since the announcement of demonetisation, the Prime Minister started mentioning the term ""digital" or "cashless" as many times as "black money" in his public addresses across the nation. This significant shift in the narration of demonetisation forms the centerpiece of India's tryst with cashless economy.
Sensing that this shift would translate into a huge future opportunity, a number of payment gateways like Paytm and Freecharge, which were already in big demand, and wholesale retailers such as Metro Cash & Carry are working on helping small traders and kirana shop owners to adopt digital payment options to push India towards a cashless economy. Demonetisation also fuelled the growth of many relatively new mobile apps and payment gateways which have come to the rescue of the general public to make digital payments a viable option in every nook and corner of the country.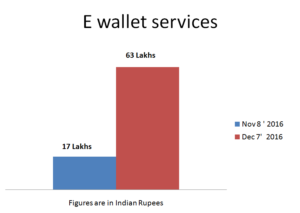 Demonetisation: A boon to e-wallets' business
The government's demonetisation move was followed the subsequent cash crunch due to short supply of new currency and on account of technicalities involved in making ATMs across the country compatible to new currencies, which had different physical dimensions than the older ones that were withdrawn. This led people to move towards digital payments, specially the e-wallets.
According to the Finance Ministry data, the number of daily transactions through e-wallet services such as Oxigen, Paytm and MobiKwik have shot up from 17 lakh — recorded on November 8 when demonetisation was announced — to 63 lakh as on December 7 (a growth of 271 per cent). In terms of value, the surge has been 267 per cent, from Rs 52 crore daily to Rs 191 crore till the time data was recorded.
Transactions through RuPay Cards (e-commerce and point-of-sale) were up 316% at 16 lakh daily (3.85 lakh on November 8), while in terms of value the growth has been 503% at Rs 236 crore (Rs 39 crore).
The government and digital payment companies are expecting this trend to stay strong, at least till easy availability of new currency.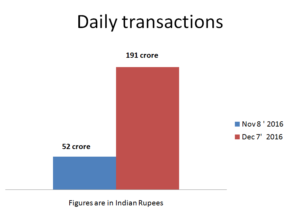 "CCAvenue has been the digital payment facilitator of choice for a large majority of online businesses, and we have witnessed a massive spike of 30 per cent in transactions on our payment gateway during this period," says Vishwas Patel, CEO of CC Avenue.
This growth is in line with the government's digital India dream focusing on digital transactions to make India a cashless country. Post demonetization, the government has asked all banks to install 10 lakh additional points of sale (PoS) terminals within four months to give a boost to digital transactions across the country.
There are about 15 lakh PoS terminals currently deployed to facilitate card-based payments. As part of the plan to expand the digital payments ecosystem and facilitate the move towards cashless transactions, the government has decided that an additional one million new PoS terminals should be installed by March 31 next year.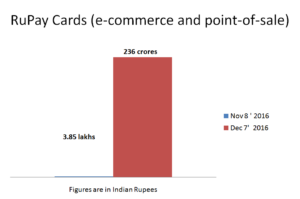 But is it possible to achieve the target of achieving the dream of cashless economy in totality keeping in view the vast geography of India? Aakash Jindal, Global Economist and Tax Expert, answers this question.
"India doesn't live only in Delhi and Mumbai where people were already cashless before demonetisation. People in small towns and villages are still not using the debit and credit cards. The challenge lies in making vegetable vendors, chaiwallas cashless but it will not be easy for the government. We are trying to be cashless, but it is difficult to achieve this target, if not impossible," he says.
United Payments Interface (UPI) 
Even though the government backed UPI is not as popular as e-wallets like Paytm and FreeCharge, it has still managed to do 358,000 transactions in the first nine days of December, shooting past November's 287,000 total, according to a data released by the Central Bank of India.
"Currently, we are implementing the RBI-backed UPI payments with several leading banks. UPI is set to make a paradigm shift in the digital payment space by facilitating instant online payments from a smartphone through a unique personalised identifier without disclosing account numbers or other bank details," added Patel of CC Avenue. On the other hand, digital-payments provider Paytm Mobile Solutions has claimed that
On the other hand, digital-payments provider Paytm Mobile Solutions has claimed that currently 165 million users are making use of their payment gateway and the company is expecting to process 2 billion transactions by the end of this year.
"In the shorter term, demonetisation is a great exercise but non availability of Rs 500 and Rs 1,000 notes are creating problems. It is badly affecting the GDP as well. In the longer term it will be a good exercise because, black money hoarders will be trapped. Demonetisation will increase our GDP growth and our per capita income. Our inflation stands to reduce in the longer term. It's a game changer and it would increase our country's credibility," added Jindal.
Long term benefits of demonetisation
Rise of the cashless economy: According to experts, spread of the digital payment culture will start the 'formalisation' process in the economy. It will reduce the use of physical cash. Once bulk of the economic transactions are digitised it will result in revealing the expenditure made by individuals to the tax authorities especially big transactions.
Large number of new taxpayers may appear with demonetisation: This is because demonetised money will reveal their income size and tax officials may check them in future, compelling to pay tax.
Rise in financial savings: At present, more than 50 per cent of household savings are in physical savings like gold and land. Significant portion of these are in black money. Now with the low reward in the real estate and gold holdings, people may tempt to save in financial forms like bank deposits, mutual funds etc.
CCAvenue has been the digital payment facilitator of choice for a large majority of these online businesses, and we have witnessed a massive spike of 30 per cent in transactions on our payment gateway during this period," says Vishwas Patel, CEO of CC Avenue.
Challenges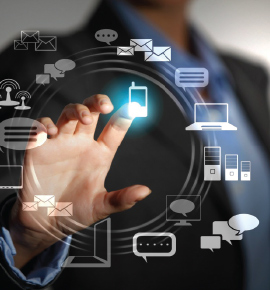 Pushing ahead digital transactions: The major challenge for the government is to take this digital transformation deep into the rural parts of India. Payworld, one of India's largest assisted wallets, which had over 100 million users and 1 lakh retail touch points across 630 cities and 80,000 villages till the first week of November, has registered 25 per cent jump in new users — mostly from rural and semi-urban areas — over the last two weeks.
While most players, including Chinese e commerce major Alibaba-backed Paytm and Snapdeal-owned FreeCharge, are catering to the top 10 per cent people of India, ItzCash plans to keep its focus on rural India where roughly 66 per cent of the country resides. The company, with an omni-channel presence through outlets, mobile wallets and cards, is present across 3,000 towns and cities, and claims to have seen a 40 per cent spike in transaction volumes since November 8. Rural India indeed looks like a land of golden opportunity for marketers, including mobile wallet players.
The Rural Development Ministry, too, wants to rope in digital wallet firms to make the 40,000 crore turnover of women's selfhelp groups (SHGs) cashless and broaden financial inclusion.
The ministry has tied up with banks to smoothen the transfer of money given through welfare schemes following the demonetisation of high-denomination currency notes.
"We do feel that there is still an urgent need for higher literacy rates, improved banking infrastructure, greater financial inclusion and a tech-savvy mindset among the populace. Once all these fall in place, the transition towards a cashless economy will be smooth, fast and acceptable," says Patel.
Also Read: India's Tryst With Cashless Economy?
According to The Economic Times, there are about 1.5 crore shops, but only 14.6 lakh point of sale devices that can handle credit or debit cards.
Aimed at promoting digital transactions, the government think tank Niti Aayog has announced two schemes – Lucky Grahak Yojana and Digi Dhan Vyapari Yojana – involving a rewards programme based on lucky draws, entailing a spending of Rs 340 crore. The Lucky Grahak Yojna is targeted at consumers and the Digi Dhan Vyapari Yojna at encouraging merchants to transition to digital payments. Such initiatives will really push the benefits of demonetisation to each and every household of India.
Follow and connect with us on Facebook, Twitter, LinkedIn, Elets video