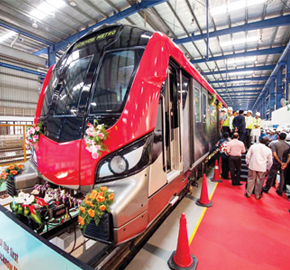 Uttar Pradesh, India's most populous state with tremendous growth potential, is witnessing a paradigm shift in governance with new digital initiatives. From health to roads, security to education, the State is exhibiting a new growth model to the country, finds Arpit Gupta of Elets News Network (ENN) , while reviewing the efficacy of the steps taken up in the last four and a half years.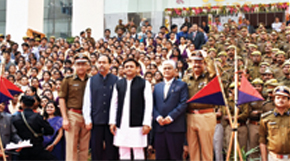 When Akhilesh Yadav, the country's youngest chief minister, took over the reins of power in Uttar Pradesh in 2012, there were high hopes of a real change to take place. People wished the state's potential to get unlocked in real way with pioneer – ing socio-economic initiatives under his shadow.
A close look at the past and present style of administration and state of affairs does reflect there has been tremendous improvement after four and a half years of the chief minister's first stint. The state looks at the cusp of an unprecedented growth.
The developmental works in industrial sector being carried out in the State recently earned appreciation of none other than Ratan Tata, who is now the interim Chairman of the Tata Sons.
"The development which has taken place in Uttar Pradesh or which is on the cards that I have come to know in my meeting with Chief Minister Akhilesh Yadav… I can only say that I am very much impressed," he said.
The state is set to usher in a new era, where access to world-class infrastructure and facilities wouldn't be a far-fetched dream for millions of its residents. The state government has not only been able to deliver on its promises but in some areas, it appears to have exceeded public expectation.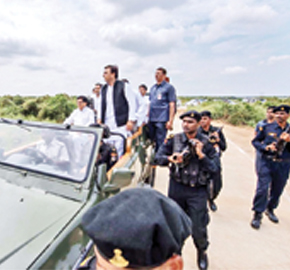 Lucknow-Agra Expressway
The key project, highlighting the progress of the State is the 302 km Lucknow-Agra Expressway, inaugurated by the Chief Minister a few days ago.
The Indian Air Force fighter aircraft flew over this newly constructed expressway in Ganj Moradabad area of Unnao district at a speed of 300 km/ hour, as part of a trial to use national highways for emergency landings.
This expressway, a dream project of Akhilesh Yadav, was realised in a record time of 22 months at a cost of ` 3,200 crore, connecting Firozabad, Shikohabad, Mainpuri, Etawah, Kannauj and Mohanlalganj.
The Agra-Lucknow Expressway is expected to relatively shorten the time taken to commute between Delhi and Lucknow, ensuring a smooth traffic movement. Agriculture produce markets (mandis) are also being developed along this expressway that would benefit thousands of farmers.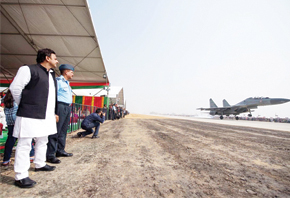 Along this expressway, many industries and enterprises would be established to pave way for improvement in the State's economy and employment generation.
Advance Traffic Management has been adopted for this expressway which would help traffic movement in fog.
For completing the project, 3,500-hectare land was procured from 30,000 farmers with agreement in only six months.
With a provision of eight-lane expansion, all bridges, culverts, underpass and other structures have been constructed keeping this in view. For completing this project, eight lane bridges have been constructed on Ganga and Yamuna rivers. Beside four railway overbridges have also been constructed. This expressway has been linked with Delhi Agra Yamuna Expressway as well.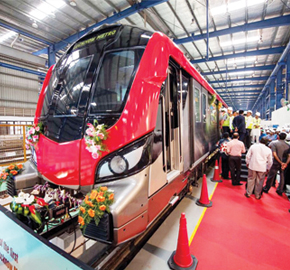 Lucknow Metro
Lucknow Metro – another project initiated by the Uttar Pradesh Chief Minister — is being accomplished in the state capital and is set to become a reality soon. The project does reflect the testimony of the government's commitment to lead the State into a modern era.
Having commenced its civil work on 27th September, 2014, Lucknow Metro Rail Corporation (LMRC) is now slated to commission the trial-run of its trains for the 8.5 km long 'Priority Corridor' between Transport Nagar and Charbagh on 1st December, 2016.
The civil work is almost complete with finishing, electrical and mechanical (E&M) and the lift and escalator work going in tandem to complete it before the trial runs.
"Even contemporary Metro projects in the country have not been able to match the speed of deliverance in the country as compared with LMRC's strength in project execution within a very stiff target," said Kumar Keshav, Managing Director, LMRC.
The Phase 1A of the project was completed in just 26 months at a cost of Rs 1,069 crores  a record for any metro project in the country.
Lucknow Metro's Transport Nagar depot is already well prepared to receive the first metro train set of four coaches, for testing and starting the trial runs inside the depot on December 1.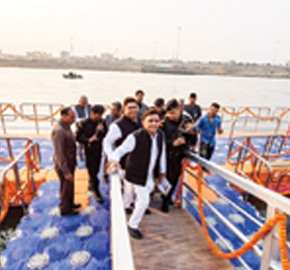 UP 100 
The Chief Minister recently launched one of the most ambitious projects in his tenure – the Uttar Pradesh Police Emergency Management System (UP 100). It has been established to provide integrated emergency services relating to public safety across the state on 24×7 basis. A centralised contact centre has been established at Lucknow for receiv ing all emergency calls directly from across the state, including remote rural areas. The centre will receive not only the mobile or phone calls but also respond to all other modes of communications like e-mail, social media, etc.
UP 100 is designed to empower citizens to get government protection in an impartial and honest manner in emergencies threatening their life or property.
The UP 100 centre at Lucknow will directly control police response vehicles – 3,200 cars in the first phase and additional 1,800 motorcycles in the second phase – deployed in 75 districts of the state. After the police would reach the incident site, the UP 100 would hand over the case to them for further legal actions.
The UP 100 system is unique in many ways. Most importantly, it is citizen-centric. It is designed to empower citizens get government protection in an impartial and honest manner in emergencies threatening their life or property. And it makes the police establishment account – able for their actions.
Urja Project
In the energy sector, the state government has initiated the Urja Project, providing 22 hours of electricity to the urban areas and 18 hours of electricity to rural areas. The government of Uttar Pradesh has allocated a substantial amount in the budget to this project.
Lohia Gramin Awas Yojna
The Chief Minister also started Lohia Gramin Awas Yojna for weaker sections of the society. The state government provides solar light and fan package under this scheme. Every year around one lakh Lohia houses are being built. In comparison to the Indira Awas Scheme, which allowed only 70,000 to people for building houses, now the grant's limit has been raised to 3 lakhs.
"People are realising that the development is actually happening in the state of Uttar Pradesh. As the Chief Secretary of the government, I monitored 22 key projects of the government. I continued monitoring even after I got retired and was appointed Chief Advisor of the government because all the projects are near completion," says Alok Ranjan, Chief Advisor to Akhilesh Yadav.
Other Key Initiatives In
In agriculture sector, the state government connected seeds availability with direct benefit transfer scheme. By registering farmers online, the state government is supplying subsidy directly to their account.
Over 55,00,000 families are covered under Samajwadi Pension Yojna under which 500 is provided to the female member of the house.
In the health sector, the UP government is giving more emphasis on the cleaning of the government hospitals, providing better lab facilities to patients, better hospital management, providing more specialist doctors, free medicines and implementing its inventory control system. The state government has increased medical seats from 1,100 to 1,800. New medical colleges are also being opened.
All these aspects of the existing scenario do underline the kind of transformation that is going to ensure a bright future for the people of Uttar Pradesh in years to come.