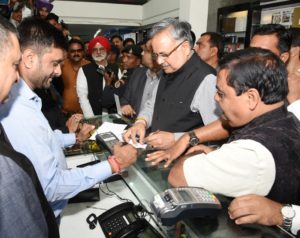 In the Digital Financial Literacy Programme organised in Chhattisgarh, more than 4 lakh 70 thousand people have been provided training in cashless transactions in last 10 days. CHiPS CEO Alex Paul Menon informed that Central Government had given the target of providing training to three lakh 89 thousand 360 people in 9734 Gram Panchayats of Chhattisgarh by December 31, whereas more than 5 lakh 20 thousand people have been trained in cashless transactions to date.

Chief Minister Dr Raman Singh has praised and congratulated the officials and employees of CHiPS as well as all the people who have supported the training programme, for this achievement.
Menon informed that in his address to the Master Trainer Financial Literacy Training Workshop organised by CHiPS on December 9, 2016, Chief Minister Dr Raman Singh had expressed the belief that Chhattisgarh will become the leading state in providing training under Digital Financial Literacy Programme. Dr Raman Singh has given the target of training more than 10 lakh people of State. To achieve this target, more 4 lakh 70 thousand people are being trained in 10 days by Grameen Lok Sevak, appointed by CHiPS.
It is noteworthy that Chhattisgarh has always been pro-active in adopting new technology. When Pradhan Mantri Jan-Dhan Yojana was launched, more than one crore people did not have bank accounts. Chhattisgarh Government, with cooperation of public, has opened Jan-Dhan bank accounts of nearly 90 lakh people. Aadhar cards have been issued to nearly 96 per cent people of state.
Central Government has launched website portal www.digitaljagriti.in/contents/counters/beneficiaries/state for monitoring the target achievement of all the states of nation.
According to the database of this website, Chhattisgarh has provided training to maximum number of people, in comparison to other states. After Chhattisgarh, more than one lakh 72 thousand have been trained in cashless transactions in Uttar Pradesh and more than one lakh 55 thousand people have been trained in Odisha. On this website, district-wise details of trainings provided are also available. Visit the link below for cashless transaction training related information of all the state
Chief Minister Dr Raman Singh personally visited the busiest Malviya Road market and made cashless payments in the capital to promote Digital payment. Dr Raman Singh also dedicated 'Smart Bazaar-Smart Raipur' at the Jaistambh Chowk  Ravi Bhawan. There are 530 shops located at the Ravi Bhawan and the consumers are provided with POS, UPIA and other modes of cashless digital payments. The shopkeepers welcomed the Chief Minister with warmth at the shopping centre.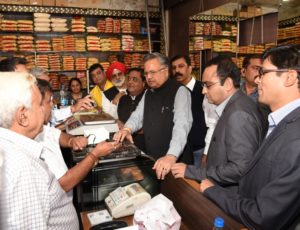 Dr Raman Singh purchased a cover for his favourite mobile phone. He bought a pen and a packet of 'namkeen' at the centre. He congratulated the shop-keepers for joining the cashless mode of payments. Dr. Raman Singh added that after several years he had the opportunity of purchasing items of his choice.
Chief Minister Dr. Raman Singh also dedicated Raipur Municipal Corporation App 'More Raipur'. The citizens can obtain details of payments of municipal body via this App. He presented certificates – Digital Army Ambassadors- to eight candidates.
Dr Raman Singh walked along the Malviya Road and called upon the citizens to adopt cashless transactions. There is no need for cash anymore. MLA (Raipur-North) Sreechand Sundrani, Chamber of Commerce Chairperson Amar Parwani, corporators, office-bearers of business organisations, along with Chief Minister's Joint Secretary Rajat Kumar, Raipur Collector OP Chowdhary, Municipal Corporation Commissioner Rajat Bansal and a large number of citizens were also present.
Follow and connect with us on Facebook, Twitter, LinkedIn, Elets video