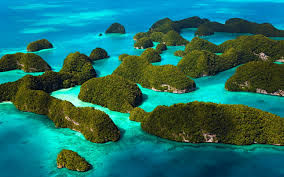 Andaman and Nicobar Islands will soon have the country's first battery storage solar power plants, replacing the polluting diesel generators that are presently the main source of electricity in the picturesque archipelago in the Bay of Bengal.
The National Thermal Power Corporation (NTPC) will establish two solar storage plants with a total capacity of 25 mw (mega watt) in the capital Port Blair. This will ensure uninterrupted power supply even to the remotest areas of the islands.
These power plants will also help in realising Prime Minister Narendra Modi's vision of pollution-free Andaman and Nicobar islands. According to the agreement between NTPC and the Andaman administration, one plant with 8 MW capacity would be built at Chiria Tapu and the other with a capacity of 17 MW will come up at Manglu Tan.
Both will be linked to the Port Blair grid. The Central government has asked NTPC to set up a total of 50 MW solar storage capacity in phases.
The Ministry of New and Renewable Energy will meet 40 per cent of the cost through grant meant for special areas. At present, some remote villages in Ladakh and other hill states have storage solar power plants but they are miniscule in comparison with capacities ranging between 11 kw (kilo watt) and 125 kw.