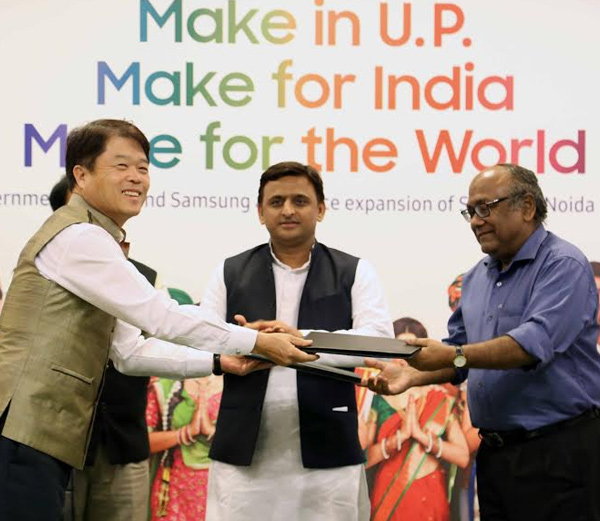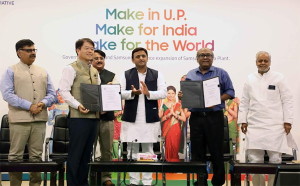 The Uttar Pradesh Government has signed a Memorandum of Understanding (MoU) with mobile phones giant Samsung for setting up a manufacturing unit in Uttar Pradesh which will give a boost to the Make in UP campaign.
The pact was inked in the presence of Chief Minister Akhilesh Yadav and SouthWest Asia President & CEO HC Hong, along with other senior officials of the government and Samsung.  As per the MoU, Samsung would be investing Rs 1,970 crore in the State.
"The UP Government has a very investor-friendly policy that is the reason we are expanding our business in the State. We had already opened a Research Centre with the investment of Rs 500 crore. Now Samsung will open 2.5 lakh new retail shops in Uttar Pradesh, which will create job opportunities for over two lakh youth," said HC Hong, SouthWest Asia President & CEO of Samsung.
Besides, a manufacturing plant would also be set up in Noida to produce refrigerators, televisions and mobile sets and the company would also be making smartphones for the ambitious free Samajwadi Smartphone Scheme, announced by the Chief Minister, Hong added.
Chief Minister Akhilesh Yadav thanked the Samsung management for having trust on investor-friendly policies of the Uttar Pradesh Government and making such a big investment in the State.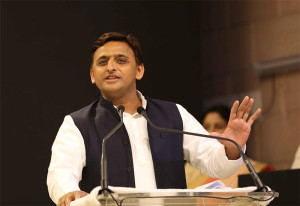 The Chief Minister said that the company had earned a name for itself across the world for its world class products. "Necessities of people are increasing by leaps and bound, not only in urban areas but also in semi-urban and rural areas. Thus, the production of refrigerators, televisions and mobile sets will come as a big boon for the people of the State," he added.
Yadav further said that Samsung had been working with the country so far, now the company would work with Uttar Pradesh. "I am happy that Samsung has not only understood the wide market potential of the State but have also come forward to invest here as a result of the investor-friendly policies of the State Government," he added.