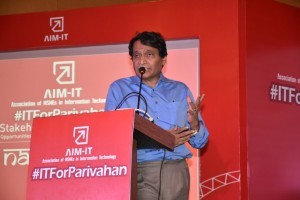 By Arpit Gupta
Implementation of effective technological solutions can unlock the true potential of India's transport & logistics sector, says Union Minister for Railways Suresh Prabhu.
Speaking at an
event of the Association of MSMEs in Information Technology (AIM-IT) in Mumbai on Sunday, Suresh Prabhu disclosed that the Indian Railways has embarked on a project to integrate its operations using enterprise resource planning (ERP) in order to synergise them and save on costs.
The event, carrying a theme – "Challenges and Opportunities of Modernising Indian Railways through Implementation of IT" – saw participation from all key stakeholders of the sector, including, central and state government ministers, bureaucrats, IT and logistic companies, start-ups, innovators and policy makers. The occasion saw informed discussions on various important subjects, such as, Role of MSME Companies in Railways, Shaping the Future of Railways, Internet of Things and Indian Railways, and 'Smart Cities: Smarter Roads – Smarter Transport'.
Addressing the audience, the Union Minister announced a slew of initiatives taken by his ministry to revamp and modernise the Indian Railways. He remarked that the ERP project undertaken by Indian Railways is the largest such IT project undertaken by any country.
On the need to support indigenous IT solutions, the minister said, "The Rail Ministry has started a special fund of Rs 50 crore to support IT companies coming up with innovative solutions for Railways. We are looking for solutions in critical areas such as customer interface and also IT security. Cyber Security is of utmost importance to us."
AIM-IT, which is India's first sectoral organisation for MSMEs, was founded by well-known technocrat Vinit Goenka in 2015. The association was set up with an aim to represent, advocate and promote interests of IT-MSMEs to ensure economic and technological advancement of the country.
Speaking on the importance of including IT-MSMEs in building and implementation of technology in infra projects by the Government, Goenka said, "India is the fourth-largest base for new businesses in the world and home to over 3,100 tech start-ups. It is time that the government taps into these new, technology-driven companies to help India solve infrastructural issues, which have been stunting its growth since Independence."
He maintained, "Currently India is deprived of research and innovation due to irrational and biased policy strategies of large corporate houses and IT MNCs from the West, who dominate the IT sector. We strongly feel that if the government includes MSMEs in IT, then we will see path-breaking and cost-effective solutions in the transport sector."
The other highlight of the event was presentation of the draft policy document of the revolutionary technology – On Vehicle Smart Module (OVSM) to Suresh Prabhu by Goenka.
OVSM was one of the top five recommendations, which were selected after a nationwide campaign conducted by a special policy group – #ITforParivahan. This policy group was set up by the Government of India's IT task force members and renowned technocrats Padmashree Dr. Mohandas Pai and Vinit Goenka as a platform to crowd source ideas to improve Indian infrastructure.
Speakers felt that implementing IT will help government build transparent, economic, fast and scalable solutions through disruptive and inclusive ideas.
Follow and connect with us on Facebook, Twitter, LinkedIn, Elets video