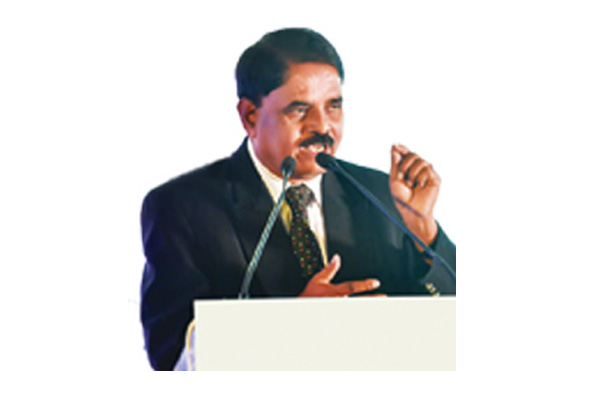 The Government is aiming to make Andhra Pradesh one among the top three states in the country by 2022, No. 1 state in India by 2029 and the No. 1 state in the world by 2050, says Shri Palle Raghunatha Reddy, the Hon'ble Minister of Information Technology, Government of Andhra Pradesh, in an interview with Arpit Gupta & Sudheer Goutham of Elets News Network (ENN)
What efforts have been made by the Department of Electronics and Information Technology to develop Andhra Pradesh as the sunrise state of India?
Under the dynamic leadership of Chief Minister N Chandrababu Naidu, Andhra Pradesh has undertaken a lot of initiatives in the area of Electronics and IT. Before bifurcation, in united Andhra Pradesh, total IT turnover was Rs. 65,000 crore with an employment potential of 3.3 lakh. However, after bifurcation, now the employment is only 21,750 with the turnover of Rs. 1,600-1,700 crore. So, after the bifurcation, it was a big challenge for us to rebuild the new State into a sunrise state of India.
The Government of Andhra Pradesh strongly believes that technology is the backbone of economy. Therefore, soon after resuming the charge as the Chief Minister, N Chandrababu Naidu brought a blueprint for holistic development of the State. The vision of the blueprint was to develop it as a knowledge society of global repute with a focus on enhancing the quality of life of citizens through high quality education and healthcare, increasing the productivity in agriculture and allied industries, and creating requisite employment by promoting IT and electronics industries in the State.
Keeping that in mind, we have started some activities. We want to make at least one person e-literate in every household of Andhra Pradesh. Similarly, we want to create one entrepreneur in each and every family. We have set a goal to create employment for one lakh people in IT industry and for four lakh people in the electronics industry. We want to attract investments of up to $2 billion in IT industry and $5 billion for the electronics industry by 2019.
How do you view the economic potential of Andhra Pradesh?
We are proud to say that Andhra Pradesh is the first State in India in terms of quality and quantity of e-transactions. According to a World Bank report, the State of Andhra Pradesh has been ranked as No. 2 state in ease of doing business. Similarly, Gross State Domestic Product of Andhra Pradesh is more than the average GSDP of the country. The current GSDP of country is 7.1. Although after bifurcation, we have faced so many difficulties and challenges, the current GSDP of Andhra Pradesh is 9.71. It will reach double digits with no time.
It is one of the beautiful states in the country with a coastal region of 970km. We have many world famous temples and some of best tourism destinations. We have planned to construct 18 airports in the State, out of which some are underway, while some of them have already been completed. There is a lot of scope to invest in Andhra Pradesh, because we have rich talent pool available here. If you want money power, go to America, if you want manpower, go to China and if you want mind power, come to India, primarily Andhra Pradesh. One wouldn't find this kind of talent pool anywhere in the world. We have 287 degree colleges in the State with annual intake of 2.4 lakh students. Similarly, we have 1,238 technical colleges with an annual intake of 3.6 lakh students. Altogether, about 5.6 lakh youths pass out from our educational institutions every year.
How investor-friendly are the IT policies of Andhra Pradesh?
We have very good policies for the growth of IT and electronics industries. We have introduced three policies – IT Policy of 2014, Electronics Policy of 2014 and Innovation Startup Policy of 2014. This kind of policy is rare to find in any other state of the country. We offer so many incentive and facilities regarding land, power, infrastructure and other amenities. Before framing our policies, we had examined all policies in the country. We have taken best out of them and incorporated in our policies. We can say Andhra Pradesh has the best policies for investors, compared to other states.
If you want money power, go to America, if you want manpower, go to China and if you want mind power, come to India, primarily Andhra Pradesh. One wouldn't find this kind of talent pool anywhere in the world
Recently, the University of Texas signed an MoU with the Andhra Pradesh Innovation Society and IC2 to set up a world-class integrated incubator at Tirupati and a tripartite Expression of Interest has been signed among Andhra University, AP Innovation Society and MIT FABLAB, for setting up FABLAB at Andhra University.
The government has unveiled single-window system for speedy issuance of necessary permissions to enable these companies to open their units at the earliest. We are expecting more growth of IT in Andhra Pradesh, because we have our CM as the icon and the brand ambassador. He is the best asset to AP. He is not a politician but a statesman.
What kind of response are you getting in attracting investments to Andhra Pradesh – a new State?
After taking charge as the IT Minister, I have given permission to 37 companies with investment of Rs. 6,000 crore and they are providing employment to 50,000 candidates. We are expecting more foreign investors in Andhra Pradesh. Moreover, we have introduced a special type of project – ePragati. This is first of its kind project in the country, in particular, South-East Asia. Among 186 countries, only 10 countries have adopted this kind of eProject. We will complete this project within a span of 24 months. Under this project, we are coordinating and integrating all 318 departments under the Government of Andhra Pradesh.
With the total investment of Rs. 3,165 crore, the government has recently signed 63 MoUs with small and medium sector players in the IT sector. Many countries are keen to invest in Andhra Pradesh because of the ease of doing business in the State, its sound policies, rich talent pool of skilled professionals and efforts to provide 4G network in the entire State in two to three years and emphasis on eGovernance.
What are your future plans?
We are extending the net facility of 4G to every nook and corner of the State at a cost of Rs. 4,300 crore. Each and every village will be covered under this scheme. We are also developing our beautiful capital city Amravati with an estimated cost of Rs. 10,000 crore. These are the important projects we are implementing in the State. So, this is the right time and appropriate time to invest in Andhra Pradesh.