Bridging the Gap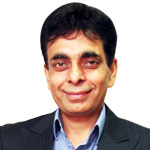 Digital India theme practically has two stories: the rural side of things where 70 per cent of people live but the problems there are very different. Problems of teachers not being there, problems of hospitals where doctors are not there, banking and many others.
Looking at some of these problems where we say whether technology can play a role and bridge the gap where doctors, teachers and banking experts are available to take these 70 per cent of people to stay there is something which we certainly can help. On the other hand, problems where perhaps the 30 per cent of people live in cities, but cities contribute to almost like 60 per cent of the GDP which practically is even increasing further.
The problems there are quite different. Expectations from people who move into the cities having better quality of life, better jobs, security, healthcare and these kinds of things perhaps our cities are not able to give those kind of facilities. But certainly as tchnology can play an amazing role in all these applications. Technology can bridge a lot of gap.
Follow and connect with us on Facebook, Twitter, LinkedIn, Elets video