Doing It Differently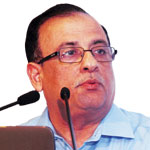 "You do everything, but can you do it differently is the mantra for smart cities," said the Chief Minister. We decided to take three larger issues in Mumbai, issues which impact a large population and specially the weaker sections. For instance, buses carry a major portion of Mumbai, which is a part of the first category. Can you have a passenger information system? We are running buses, but can we tell the people waiting at the bus stop how soon your bus is coming? If this is done, people's lives will become easy.
The second category involves keeping the pre-eminence of Mumbai established. We are the bsiness city of this country and the engine of growth of this country. We are the employment geneerators and we generate it well for the country. Thirdly, environment is an issue which we said we must take up. Today, we put 50 per cent of our sewage into the sea untreated. Can we treat it?
You make the oceans and sea more cleaner because the sea is actually an asset for Mumbai and also that much water comes back into the city to be reused. This is the larger vision that we have for Mumbai.
Follow and connect with us on Facebook, Twitter, LinkedIn, Elets video