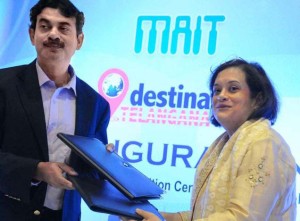 In a significant move to take public services to the rural households through digital connectivity in the State, the Government of Telangana, in association with technology giant Intel, has embarked on a project called 'PC on Stick', which will turn television screens into computing devices.

An MoU was signed between Intel, Manufacturers' Association for Information Technology (MAIT) and the State Government in this regard recently.
Telangana IT Secretary Jayesh Ranjan and Intel Corporation Managing Director for South Asia Debjani Ghosh, in an interaction at IT Asia conference held in Hyderabad, said that under the 'PC on Stick' project, TV screens, which are available in every rural household, would turn into PCs through a minor device attachment.
As part of its 'Digital Telangana' campaign, the State Government is planning to provide internet access to all the rural households across the State in order to create a channel for people to access government services.
"Most of the households have a screen in the form of TV. All they need is a keyboard and a little device to connect with the TV to function it as a PC," said Ghosh, who is also the president of MAIT, a body of IT equipment makers.
"After a series of tests, the product prototype is ready now. We are working with the Government to customise it and the system will be developed locally and completed in two months. Our goal is to complete the project here and use it as reference point for other States," she added.
She described the 'PC on Stick' project pursued by the Telangana Government as a well-thought citizen-centric delivery platform. "It is the biggest end-to-end partnership," she said.
The technology giant also signed an MoU with the Telangana Government for technical support in creating an electronic hub in Hyderabad.
Jayesh Ranjan stated that with the support of the Central Government, two electronic clusters in Hyderabad are already in the making. However, the State Government's aim to create holistic world-class infrastructure for an electronic hub needs technical expertise like that of Intel, he said.
The IT Secretary added that Intel has formed a dedicated team for Hyderabad, which in turn will prepare an implementation plan.
Also, the company is doing a study at the end of which it will recommend to the State Government the measures to standardise and implement best practices related to hardware — from procurement, upgradation to maintenance.
Besides morphing TV screens in rural households into computing devices, Intel has also partnered with the Telangana Government as part of its initiative to spread digital literacy and other digital initiatives.
Follow and connect with us on Facebook, Twitter, LinkedIn, Elets video