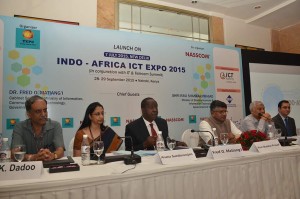 To further consolidate the relationship between India and the African countries, the National Association of Software and Services Companies (NASSCOM) in collaboration with Telecom Equipment and Services Export Promotion Council (TEPC) on Monday organized a two-day conference and exhibition — Indo-Africa ICT Summit 2015 in Nairobi, Kenya.
The event was aimed at building synergy among India and African Countries to showcase innovative products and services and bring together thought­ leaders across the entire ICT value chain to discuss solutions to regulatory issues. In addition to this, NASSCOM also launched a report titled, India – Africa: Partners in Growth, aimed at understanding the business relationship between the two regions.
The event was inaugurated by Najib Balala, Minister, Cabinet Secretary Government of Kenya and Rakesh Garg, Secretary Telecom, Government of India. Scores of senior Government officials and business representatives from India, Kenya, Tanzania, Uganda and Rwanda attended the event which witnessed the presence of over 2000 visitors and 300 conference delegates.
As digitalization and mobility continue to transform business operations and everyday life, Indo­-Africa ICT Expo 2015 showcased latest technologies that will help companies in Africa to evolve and maintain a competitive edge in the communications and digital world. Indian companies can take this opportunity and foray into the continent and specifically enter Kenya. The bilateral trade between Kenya and India amounts to $4.47 billion as of 2013-14, with India's exports to Kenya at $4.18 billion; The balance of trade is heavily in India's favour. The focus of the expo was on Kenya and its neighbouring countries – Uganda, Ethiopia, Tanzania, South Sudan, Burundi, Rwanda and Somalia; bringing together 100+ companies from India and Africa at the Kenyatta International Conference Centre (KICC), Nairobi, Kenya.
Shivendra Singh, Vice President, Global Trade Development, NASSCOM said, "Africa is turning into one of the fastest growing regions in the world, offering huge domestic market potential and growing economically at more than 5 per cent per year. The conference proves that India and Africa are well on their way to collaborate and become the next global leaders in technology."
Najib Balala, Cabinet Secretary, Ministry of Mining, Government of Kenya said "ICT is set to drive global development in an unprecedented way. The Kenyan government recognizes ICT as one of the key drivers of the economy to transform Kenya into knowledge economy. Indian companies are using Innovation to create world class products that can be used in India and other markets. I am sure the summit will encourage the already strong network between both countries."
Department of Telecom and Department of Commerce, Government of India supported the event. The host and partner association in Kenya for the event was ICT Authority, Kenya and was supported by the Ministry of Information, Communications and Technology, Republic of Kenya.