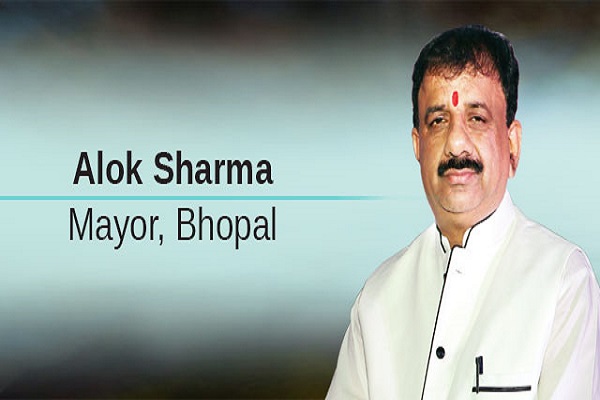 Known as the heart of Madhya Pradesh, the State capital Bhopal has tremendous scope for development. So, the Bhopal Municipal Corporation has taken up the gauntlet to develop it as a Global, Digital and Heritage city, says Alok Sharma, Mayor, Bhopal, talking to Arpit Gupta of Elets News Network (ENN)
What is your plan to develop the capital city of Bhopal as a Smart City?
Bhopal, the city of Lakes, has already been selected for Union Government's Smart City programme. There is a huge scope to develop this city. We feel proud that our state capital has scored 93 out of 100 points on the basis of its capacity to generate revenue, availability of infrastructure relating to transport, expenditure, drinking water and solid waste management, among other things. The competition is going to be very tough once all cities get finalised. We are adhering to the guidelines laid by the Central Government for Smart Cities. Recently, the Mayor in Council has approved a proposal for the strategic development of Bhopal and sent it to the Government.
The BJP Government rules at the Centre, in State and the Municipality. Will it help in smooth implementation of the scheme?
At Centre, Prime Minister Narendra Modi has come up with the '100 Smart Cities' project, along with the launch of affordable 'Housing for All by 2022' scheme. On the other hand, Shri Shivraj Singh Chouhan-led Madhya Pradesh Government built nearly 12,000 houses and recently allotted to the poor. We are also going to develop around 50,000 more affordable houses in the near future. So, the objective of both the Central and the State Governments is the same. We are committed to undertake development projects in larger public interests. As far as Smart Cities are concerned, BJP is in power in Madhya Pradesh and Chief Minister Shivraj Singh is leaving no stone unturned to make each city smart, and not only Bhopal. There is no perfect definition of a Smart City, but experimenting with something new or smart can be termed as one of its crucial components.
Can Elets Technomedia, in association with the Bhopal Municipal Corporation, play a constructive role in this context?
Now that we are stepping towards developing Bhopal as a Smart City, we need better ideas, suggestions and expert view to make it a clean and green city, thereby making it a dream city. With this determination, we are working with the government. Our joining hands with Elets Technomedia for Smart City Conclave to be held in Bhopal on August 20-22 has brought the government, corporates and the industry leaders under one roof, which will throw up some very constructive suggestions and concrete conclusions. For example, we have toilets for men across the country, but it's not the same in the case of women. So, we have introduced 'She Lounge' project. This idea can click with other municipal corporations also and they can learn from us. Similarly, we can also get more ideas from different people at the Conclave, and together we can make a difference.