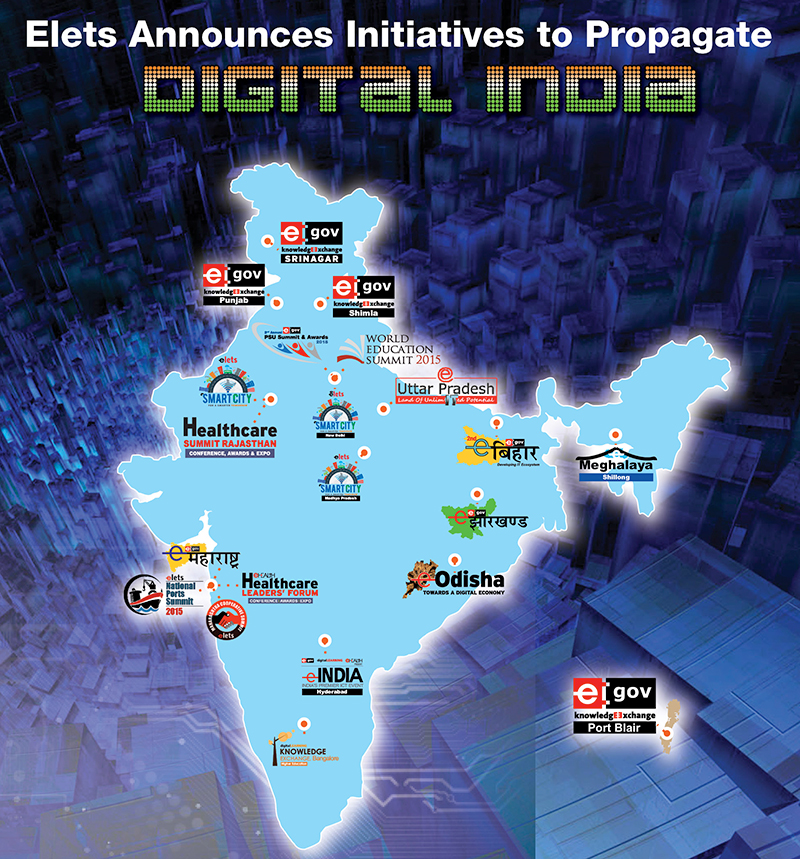 New Delhi, July 1, 2015: As Prime Minister Narendra Modi kicks off 'Digital India Week' to empower people of the country through the ambitious 'Digital India' programme, it is time to join hands for building an ICT-empowered nation.

For the last two decades, Elets Technomedia Pvt Ltd has been promoting the use of ICT in nation building through its Print & Digital publications – eGov (focussing Governance), digitalLEARNING (on education), eHEALTH (technology in healthcare) and Banking & Finance Post (focussing BFSI sector), and a digital magazine Smart City. The publications highlight importance of ICT in their respective domains.
To provide further impetus to the Digital India initiative, we will be holding a number of conferences in association with Government organisations and key stakeholders across the country in the coming year.
The objective of organising these conferences is to generate awareness on the pivotal role played by ICT in Governance, Education, Health and Banking & Finance sectors, in line with the Government of India's vision of changing India through the Digital India programme.
Elets Technomedia looks forward to greater engagement with the Central Government, various State Governments, Stakeholders as well as Corporates working together to make the Digital India initiative a success.
Smart City, BharatNet, Electronics Manufacturing, Education, Health and various other aspects form part of the ambitious Digital India programme, and Elets' conferences will cover all these aspects through various Events throughout the country.
We invite you to be part of Elets initiatives to make the most of the Digital India opportunity!.

For more information on Elets Technomedia Conferences, please visit: http://www.eletsonline.com/
Follow and connect with us on Facebook, Twitter, LinkedIn, Elets video