The State Bank of India has been consistent in adoption of IT across the branches in Goa. Sudhir Dubey, Chief General Manager (Mumbai Circle), State Bank of India, tells Manish Arora of Elets News Network (ENN) how technology has helped the Bank in improving its costumer services
How has been adoption of Information Technology in the banking industry so far?
Basically, adoption of ICT tools has entirely changed the working of banking industry. The number of accounts being handled by banks was increasing at a fast rate. So, handling of all these accounts manually was becoming difficult for bankers. We have adopted technology in several ways, including one in our internal working and second one in our customer interface to make it more user-friendly.
Around 65 per cent of the transactions happening in the banks are done through alternate channels like ATMs, Internet Banking or Mobile Banking. If these 65 per cent would have also been done with people standing in queues, it would have been very difficult for the banks to handle the situation.
So, IT has helped the consumers as well as the bankers equally in reducing time framework.
What is the concept of SBI In Touch branches? Please tell us something about that. 
On 1st July last year, Finance Minister Arun Jaitely inaugurated one of the six digital branches of SBI InTouch in Delhi. Other branches are situated in Mumbai, Bangalore, Chennai and Hyderabad.
In SBI InTouch branches, one can open an account in barely 10 minutes using the 'Account Opening Kiosk' having smart interactive machines enabled to do all necessary formalities, be it taking photographs or scanning documents.
Customers can also get personalised ATM debit cards instantly using another machine there. Besides, remote expert advisors are always available to entertain the queries of the customers regarding products, such as mutual funds, life insurance, etc., and instant loan facility is available for home and car loans.
These branches are called 'Digital Stores',and the employees are given tags, such as Go Digital Manager, Go Digital Lead and Go Digital Assistants. Branches are equipped with state-of-the-art infrastructure. The complete area is divided into five parts: Smart Table(Initial point equipped with tablet devices with all the products related information), Online Booth (to get Internet Banking services),Dream Zone (to display information about all upcoming products and schemes on touchscreen LED devices), Expert Pod (for connecting with expert advisors) and Express Banking(Account opening kiosk, personalised ATM printing device, Smart ATM, Money Depositing Machine, etc.).
The idea behind this initiative is to generate leads and cross-sell various banking products offered by the bank, apart from providing quicker and more efficient services to attract the rising users of such facilities, especially among the younger generation, in the country. The organisation wants to capitalise on the increasing use of technology. Internet Banking, both as a medium of delivery of banking services and as a strategic tool for business development, has already gained wide acceptance in India, with more and more services and features being added every day.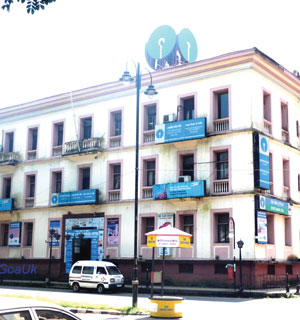 What kind of challenges do you face in implementation of Information Technology in your organisation?
Our biggest challenge is that we have a very large user base, and technology acceptance among these diversified users is a matter of concern for us. So, making sure that whatever we are implementing is glitch-free for all consumers is the biggest challenge for us.
For example, if a technical error occurs in the server, a large number of complaints flood the customer care centres, which at times becomes very difficult for us to handle.
The initiative of 'Chhota ATM' has turned out to be a big success towards reaching out to remote areas. The State Bank of India and Ezetap, the mobile point-of-sale service providers,have ensured availability of Chhota ATM in various states of the country
What best practices does SBI adopt to reach out to remote areas?
The initiative of 'Chhota ATM' has turned out to be a big success towards reaching out to remote areas. The State Bank of India and Ezetap, the mobile point-of-sale service providers,have ensured availability of Chhota ATM in various states of the country.
Chhota ATM helps grocery store owners,taxi drivers, small businessmen, traders, etc,who have to deal with customers, turn their mobile device into both a cash with drawal point as well as a credit/debit card payment terminal.
How do you keep bank staff updated about the latest technology innovations?
Before introducing any service in the market,we organise training sessions for our staff giving them complete knowledge about the upcoming initiative, so that they could become a helping hand for the people coming to banks as well as in remote areas. They teach consumers about end-to-end solutions.
How do you view the Pradhan Mantri Jan-Dhan Yojana (PMJDY) initiative?
It is a wonderful scheme available to every citizen. It takes into account people of all ages between 18 and 70. Under three social security schemes launched recently by Prime Minister Narendra Modi, in the pre-launch week in Goa alone, a total of 1.18 lakh applications were received by various banks.
Follow and connect with us on Facebook, Twitter, LinkedIn, Elets video