GEL's idea of 'Plan, Build, and Manage' provides a cohesive solution that enables government departments to focus on business and ensure success, says Revati Mujumdar, CEO,Goa Electronics Limited. In an interaction with Manish Arora of Elets News Network (ENN), the officer also talks about a number of ways to implement IT in administration domain
 What is Goa Electronics Limited (GEL) all about?
The Goa Electronics Limited (GEL),a subsidiary of EDC Limited, was started way back in 1978. It was originally involved in the manufacturing of CCTVs, B/W television sets and audio sets. Later, GEL diversified into the Information Technology sector and now provides IT support to the government departments in the State of Goa.
GEL has its focus on three critical areas of IT – Business Consultation, Providing Software Solution, and Hardware Supply and Maintenance. GEL's capabilities include areas like IT- Project Management, Business Analysis,Application Development, Database Administration,System and Network Administration, Hardware Supply and Maintenance, etc. Software technologies supported by GEL encompass Web Development, Client Server, Object Oriented Development, Legacy System, Project based Development, Conversion and Integration.
Share with us some of the recent initiatives undertaken by GEL.
Some of our recent initiatives are PRISMS, Griha Aadhaar and eAgri. PRISMS is a jail booking and management system that provides information on incarcerated adults and juveniles. It is designed with easy-to-use menus and a comprehensive security system, so that even non-technical personnel can also use
Without any unnecessary repetition, data is entered in a natural flow. Further, the design is compatible to meet the requirements of any correctional facility and agency-defined code tables facilitate efficiency and accuracy of data entry.
Griha Aadhaar is a scheme introduced to address the problem of spiralling prices and to provide support to the housewives/homemakers from middle, lower middle and poor section of the society, to help them maintain a reasonable standard of living for their families.
eAgri being a critical department of the Government,and considering its wide-spread activities,the Directorate of Agriculture intends to implement a complete technology-based system to monitor and deliver its services efficiently to the farmers.
The Directorate of Agriculture approached GEL for development and rolled out an enterprise software solution, which had a prime focus on registration of farmers and issuances of "Krishi Card" to each farmer. Another major component of the software would facilitate linking of the "Krishi Card" to the benefits availed by the farmers for effective management of the various schemes implemented by the Directorate of Agriculture, along with managing their subsidy availed.
Who all have been your major clients?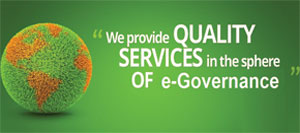 We are associated with many of the government departments in Goa and some other clients.They include:
Office of the Chief Electoral Officer
Kadamba Transport Corporation Limited(KTCL)
Goa Board of Secondary and Higher Secondary Education
Directorate of Women and Child Development
PRISMS is a jail booking and management system that provides information on incarcerated adults and juveniles. It is designed with easy to-use menus and a comprehensive security system, so that even nontechnical personnel can also use
Goa State SC & OBC Finance Development Corporation
Directorate of Transport
Directorate of Social Welfare
Department of Electricity
Directorate of Mines
Directorate of Information and Publicity
What are your views on 'Digital India' campaign?
Some clarity is still required regarding the Digital India campaign. The vision is praiseworthy,and the first focus of this plan is to develop infrastructure across the country. Some places are still facing the issue of poor connectivity. It should be firstly taken care of and then only the Digital India plan should be implemented.
How do you plan to attract new IT companies to set up their businesses in Goa?
There are many states which provide land to the IT companies at very low costs, so that the IT infrastructure in those places could improve. But, if you sell them the land at a high cost, they would not be much eager to set up their businesses in that state.
Similarly, Goa needs to revamp the IT policy of the State, so that more and more IT companies show interest, come and set up their businesses here. That being the reason, the State Government recently came up with a number of initiatives to attract IT companies in Goa.
The Government of India is now focusing on the use of mobile platforms for eGovernance services. How do you seethe emergence and future of mGovernance?
Every project coming up these days has mGovernance aspect attached to it. We are passing through a transition period now, where things are fast moving from the web to the mobile.People are now using their mobile phones for virtually everything — looking for ways to do a certain thing, solutions to their various issues,better opportunities, etc., apart from making financial transactions. The Government is also trying to roll out all their initiatives on mobile for better connectivity and ease of services.
Follow and connect with us on Facebook, Twitter, LinkedIn, Elets video