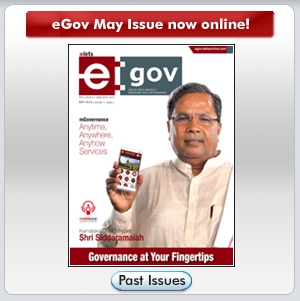 This issue of the eGov magazine delves into the involvement of mobile friendly innovations launched by the Government of India to bring convenience and timeless service to the citizens of the country. The highlight of this magazine is the exclusive interview of Shri Siddaramaiah, the then Chief Minister of Karnataka.
EDITORIAL
COVER STORY
SPECIAL INTERVIEW
'We Serve Masses Anytime, Anywhere'
FACE TO FACE
'Road to Digital India Starts from Bangalore'
Mobility with Safety Must in Smart Cities
Corporate
Assisting Govts in Modern Governance
KYOCERA Document Solutions Inc. Takashi Kuki is New President
Tackling Info Hacking in Digital India
Video Banking Push to BFSI Sector
Mobility Times Around the Corner!
Adding Wheels to Mobility Revolution
BFSI
Payment Banks The Game Changers
Social Security
Entitlement-Based Governance in MP
Company Profile
Smart City
Bhopal Takes to The Smart City Lane
CYBER WORLD
Net Neutrality Myth or Reality?