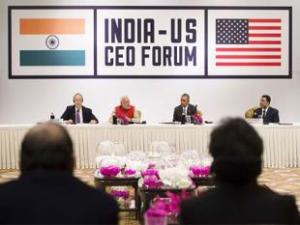 Prime Minister Narendra Modi vouched to change the image of India as unfriendly nation for carrying out business in a joint meet of US and Indian businessmen attended by US President Barack Obama as well.  During the meet, he promised the US businessmen of easing the tax regime and to encourage innovation in India.
While addressing the delegation, PM Modi assured of solving the issues related to intellectual property in India as it was the reason of discontent among potential investors in Asia's third largest economy during the tenure of previous government. President Barak Obama, who was presented on the occassion applauded the new thinking at the top level of Indian Incorporation, however, mentioned of "too many obstacles" for businesses that are willing to investment into Indian markets.
PM also promised of the brining India into top 50 countries of the world on the basis of ease of doing businesses and improve India's ranking from 142 among 189 countries according to World Bank's last ranking.
Addressing the CEOs as Pepsi Company Chairman Indra Nooyi and MasterCard president Ajay Banga, PM assured them of offering an environment that is not only open but also welcoming. During his speech, Modi also admitted tax regime to be harsh in India and promised to ease it. He said, "We have removed some of the excesses of the past. We will soon address the remaining uncertainties."
Modi counselled attracting more foreign investment into India as a measure for sustainable growth and firmly advocated "Make in India" campaign as a measure to turn the country into a manufacturing hub.
Obama appreciated the efforts of the BJP government at center for making business friendly environment and briefed about investments worth $4 billion including an announcement of assistance of $2 billion for renewable energy projects in India by US Trade and Development Agency.
Obama further added that there a lot is yet to be accomplished in economic relationship of India, "We have to keep working to make it easier to do business in both of our
In a statement last week, the US ambassador to New Delhi, Richard Verma told bilateral trade between both countries occurring around $100 billion a year—five times more than it was a decade ago and it yet can grow another five times.