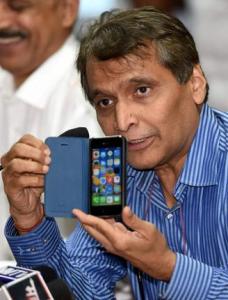 To put a curb on rising incidents of crime against women travellers on Indian  Railways, Railway Minister Suresh Prabhu launched a mobile app at the Western Railway building close to Churchgate station in Mumbai recently. The app, especially designed for women travellers on local trains, will enable them to seek immediate help from RAF (Railway Protection Force) in case of any threat.
On the occasion of launch of the app, Prabhu said, "A feeling of insecurity is increasing among women passengers. It is the responsibility of the transport agency (railways) to ensure that this feeling goes away. After taking oath as minister, the first matter posed to me in Parliament was related to the safety of women passengers. This mobile application is an effort towards removing this feeling of insecurity.''
This new state-of-the-art mobile app for the security of women commuters offers three unique features i.e., immediate aid from the Railway Protection Force (RPF) when travelling in Mumbai's local trains, automatic location SMSs from the registered traveller's mobile number after two consecutive missed calls between 9 pm and 8 am and a manual emergency SMS service, stating location of the user.
To use the services of this app, a passenger needs to open the M-Indicator homescreen and click on the RPF 'safety' icon. In the settings menu, one will need to input two emergency numbers of people who will rush in case of an emergency. Once the contacts are registered, the 'safety' icon will be automatically created on the mobile phone homescreen. In case of an emergency, when a passenger clicks on the 'safety' icon on the homescreen, an emergency SMS will be sent to the immediate contacts and the relatives will receive a traveller's approximate location.