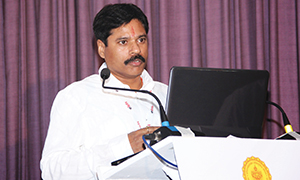 With an apparent shift in the approach of various managements, their vigilance wings are being integrated into the mainstream activities, feels Deepak Shrivastava, Chief Vigilance Officer, Mahanadi Coalfields Limited. An interaction with Nayana Singh & Kartik Sharma of ENN
Tell us about the mandate of your work as the CVO of Mahanadi Coalfields Limited (MCL).
When we talk about coal sector, two things instantly come in mind – one is theft and another is mafia. As Chief Vigilance Officer of a coal company, it becomes mandatory for anybody working as CVO to think of ways and means of improving transparency in the field of operations to avoid any malpractices. I believe a CVO is expected to have a focussed intervention to curb the malpractices to ensure smooth functioning in the management.
In any organisation, CVO has to face a management that is anti- vigilance. How do you strike a balance?
There is always a perception disconnect between the management and the vigilance. People think vigilance is anti-management, and thus, sometimes CVOs are treated as villains. But things are changing as both the Central Vigilance Commission and the Union Ministry of Coal have been emphasising on how vigilance acts as a management tool and vigilance activities are required to be integrated with the management's goals. Somehow, with the IT intervention taking place in the Coal India Ltd and its subsidiaries, it has made people realise that vigilance is not anti-management. Thus, perception is changing now, as there have been some welcome changes on the part of the management to get the vigilance integrated into its mainstream activity.
A CVO is also concerned with the IT operations of an organisation. Can you brief us about the latest IT tools in use at MCL and other tools you intend to introduce?
CVOs do not actually head IT activities, but they follow it. They do constant follow-ups and monitoring of all the IT initiatives taking place in the company for the betterment of operational efficiency. In MCL, it is being done by the systems department and by the management, since those IT initiatives are likely to reduce corruption. That is why, a CVO has to play an important role there.
Also Read: UP Road Transport Goes Hi-Tech
Several key initiatives like introduction of in motion roadway bridges with RFID tag, auto refund of EMDs and geo-fencing of the mine area are some of the key initiatives which are taking place in Coal India and its subsidiaries in order to improve not only the operational efficiency, but also transparency and account- ability on the part of the officials.
Please brief us about the CSR activities undertaken by MCL.
Corporate Social Responsibility (CSR) is totally management-related activity. But as the CVO, I am informed that a sizable amount of funding, that is Rs. 100 crore, has been contributed towards CSR activities. This funding is utilised to improve education, empowerment, promotion of sports, healthcare, sanitation, drinking water and other important segments.
As a CVO, I have the responsibility of not only keeping track of the funds that we utilise for a particular organisation but also make sure that those utilisation certificates should be there with the funding organisation, so that we are 100 percent sure that funds are being utilised for a specified purpose. For promoting corporate social responsibility, it is mandatory for big organisations like MCL to make available necessary funds for social sector programmes, but at the same time, we also need to make sure that funds have been utilised for the right purpose.
"For promoting corporate social responsibility, it is mandatory for big organisations like MCL to make available necessary funds for the social sector programmes; but at the same time, we also need to make sure that funds are being utilised for the right purpose"
What is the reason for your success and how you address the mindset that has already built up?
After being in bureaucracy in public life for 18 years and working outside your home state to with different cadres, you develop a kind of perception that you cannot be treated as an outsider anywhere. Thus, it becomes important to ensure that people are integrated into your scheme of things. The main mantra behind is that whoever comes to you, you should listen, try to sort out the problem, share your views with the management and be open minded.
This kind of behaviour on your part changes people's perception towards you. I believe that as a CVO, one should try to help as many employees as possible, so that they refrain from going in the wrong direction. This can be done by sensitising and educating them on important issues. Vigilance should also be the best friend of the management.
What have been you key achievements?
My key achievement would be how I changed the perception of the management regarding a CVO. CVO is not an outsider and he too can think of the betterment of the company.
Key initiatives have been implemented in all the system-driven technology like introduction of in-motion roadway bridges with RFID tag, geo-fencing of the mine areas, vehicle tracking machine in providing drinking water to the peripheral villagers, redressal of the grievances of public on an expeditious basis and system-driven refund of EMDs, which has resulted into drastic reduction in the corruption-related complaints in refund of EMDs. This has boosted the morale of contractors and improved their participation in e-procurement.
At the end of the day I feel satisfied because when I joined MCL, there were certain appre- hensions in my mind. But after working for three years, I realised that if you work with a positive frame of mind, then things will change. MCL has come to that phase where there will be more e-initiatives and IT implementation for the better of the company.
How was your experience at the Lonavla Knowledge Exchange?
I must congratulate the Government of Maharashtra, e-Gov team and all the media partners for giving me a wonderful opportunity to realise various e-initiatives that others have implemented in their organisation. This is the best knowledge-sharing platform where people across all the segments are participating. Many positives can be taken out of issues like financial inclusion, economic empowerment, IT intervention, healthcare. IT is a common thing which can be implemented anywhere. I have learnt a lot by attending this conference and I will disseminate the information for the betterment of my company.